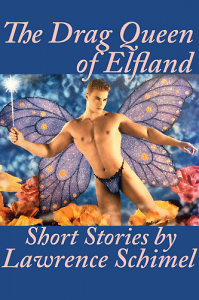 Format Read: ebook provided by author
Number of Pages: 144
Release Date: May 13, 2012
Genre: Urban Fantasy
Publisher: Circlet Press
Formats Available:  ebook, paperback
Purchasing Info: Goodreads, Powells, BookDepository
Book Blurb:
The Drag Queen of Elfland is a collection of fantastical stories imbued with a refreshingly queer sensibility. These seventeen stories feature a lesbian werewolf taking back the night, a gay vampire discovering the perils of going to the gym (too many mirrors, for starters), a young lord's son undertaking a quest to obtain a magical sword and win the heart of the boy he loves, and much more. Sometimes funny, sometimes moving, sometimes sexy, and always imaginative, these stories show readers the secret worlds that lurk beneath the surface of our own.
My Thoughts:
Excellent! An uneven number of stories. There won't be a tie like last time.
As before, each story will get a blurb, and a + or – indicating if it's …

3 1/2 Stars,Draconismoi,Fantasy,featured

17 Jul 2012

3 comments