Today we're very happy to welcome Suzanne McLeod on Book Lovers,Inc. The Cold Kiss of Death, Suzanne's 2nd book in the Spellcrackers.com series is being released as a MassMarket paperback today. Let's celebrate with Suzanne! Keep your eyes open for a giveaway at the end of the post. =)
Hi there Book Lovers Inc. Thanks for inviting me to be a guest. I'm delighted to be here and I hope you all enjoy my post (and please forgive my current parentheses affliction =) )
I LOVE books, and always have done. I was lucky enough to have a mother* who thought reading was the best thing she could teach me. Since then I have never been without a book on the go. I love all sorts of genres: romance, fantasy, crime, historical, thriller, action adventure, and of course my favourite – urban fantasy – which manages to almost combine it all. My reading addiction means as soon as I finish one book, I have to start another (or race to the library, or bookstore, or re-read a keeper), and the books that I have always loved most are those with returning characters.
I love knowing that when I finish a book that it's is not the end of the story. And that I can pick up the next one in the series and experience a whole new adventure along with characters and a world I've already met. It's great to see what the characters will get up to next, and how they're going to extricate themselves from whatever nasty and downright evil surprises life (a.k.a. the author *g*) is going to throw at them. I love seeing how their own lives change, and how their characters evolve, and what relationships develop, or not, between them all**. Plus it's always exciting to visit (and re-visit) a world that isn't our own for whatever reason***, and to discover how a world's different cultural mores can affect folk's behaviour, and bring new and interesting dimensions to both the individual, and overarching series plots.
So when I started writing my Spellcrackers books, I always knew that they would be a series, one that would feature the same main characters in each book, with the addition of various secondary characters (both goodies and baddies) who would come and go (some permanently, others not so much: death has a way of being final – *most* of the time ;)). And each book in the series would have a main mystery plot that would tie in with what is happening in my characters' lives (a storytelling method that Joss Whedon is the master of; and if I manage to emulate, even by a tiny percentage, his style of character/plot arcs then I'll be a very happy author), so by the end of each book the mystery would be resolved, leaving some minor threads to lead into the next book, or books in the series.
And that's how my main character, Genevieve (Genny) Taylor, a sidhe fae, was born, and why she finds herself with more problems in a week than most of us experience in a lifetime. In The Cold Kiss of Death – Spellcrackers.com #2, Genny has to deal with desperate ghosts, seductive vampires, vindictive witches and tricky, scheming fae. At the same time she's on the run after being framed for the murder of one of her human friends, and she's determined to find the killer and bring them to justice. Oh, and she bumps into a few other nasties who are up to no good, but to find out who and what, you'll need to read the book *g*.
*Thanks, mum =). Reading also kept me quiet and entertained – every mother's wish – so it benefitted us both. LOL!
**Team Eric FTW! =)
***Whether it's because the book is fantasy, dystopian, science fiction, historical or just set in another part of the world. A great series that does this is Nalini Singh's Psy series.
Question: Which kind of series do you like more the one with the same POV in each book or the one with changing POVs through the series? And most importantly…WHY? (Titles?)
The HEA Lover: Thank you Suzanne for coming today! Don't worry I have the same parentheses affliction lol


~~~~~~~~~~~~~~~~~~~~~~~~~~~~~~~~~~~~~~~~~~~~~~~~~~~~~~~~~~~~~~~~~~~~~~~~
About the author:
Growing up I was always the child that hid behind the settee, or took a torch to bed, or walked around ignoring the rest of the world, because I was reading a book. The highlight of my week was the trip to the library. Now, the highlight of my year is when I get to take a suitcase of brand new books and escape with it to somewhere hot, with plenty of sea and sand and Margarit.
Other than reading, my hobbies usually involve knocking down walls, the odd bit of plumbing, and hacking down the weeds that are going for world domination in the garden. My favourite meal is anything fishy, preferably sushi or shellfish, and when not indulging in the holiday Margaritas, I like the odd glass of red wine, or a single malt. Oh, and chocolate, of course! Strangely, for someone who loves all types of fiction, I didn't consider writing any of my own until six years ago.
I was born in London, but spent most of my childhood in the Midlands. Since then I've been a bit of a nomad, having lived and/or worked in most parts of the UK. Now I'm settled on the South Coast about a mile away form the sea, along with my husband and our two rescue dogs, a hyperactive Jack Russell/Lab cross, (she's about the size of a whippet!) and a couch-potato German Shepherd/Lab, who doubles as a tummy on legs.
About the Book: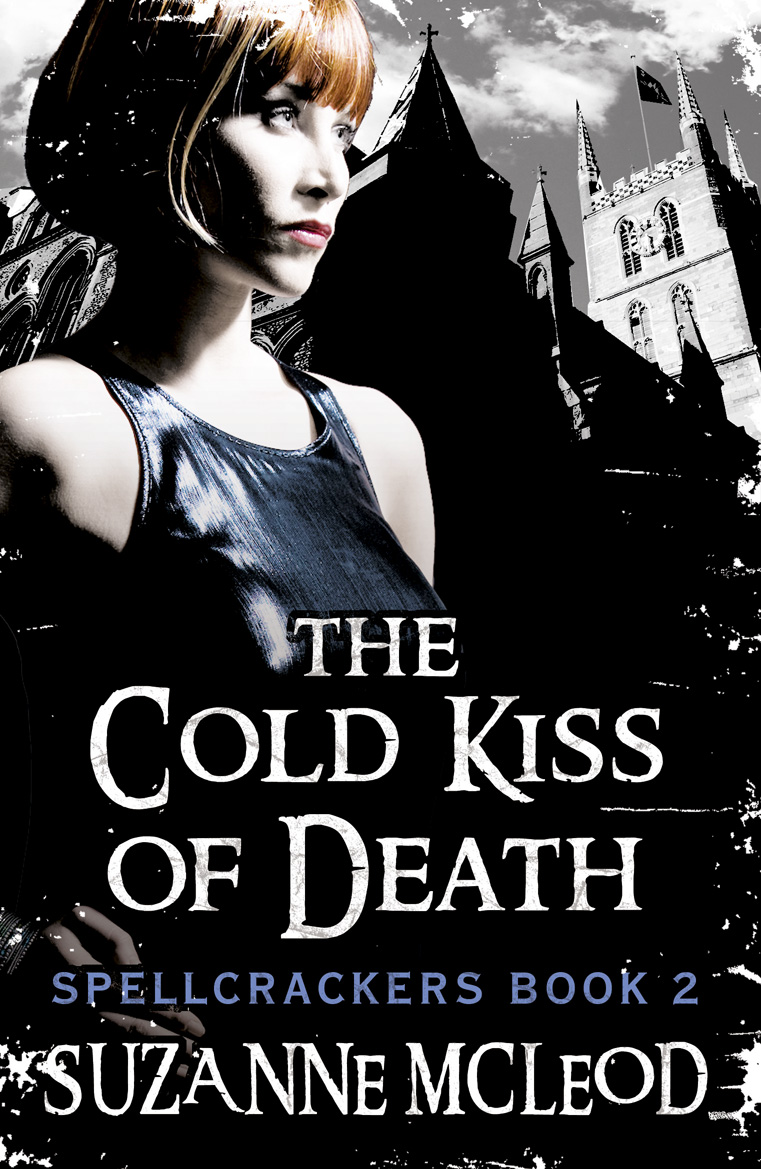 All Genny wants is to live the quiet life and to do her job at Spellcrackers.com but there's her tangled personal life to sort out first. She's being haunted by ghosts who want her help. Her witch neighbours want her evicted. Genny's sort-of-Ex – and now her new boss – can't decide whether he wants their relationship to be business or pleasure now he knows all her darkest secrets. And then there's the queue of vampires all wanting her to paint the town red – how long will it be before they stop taking 'no' for an answer and Genny's life becomes even more complicated? But when one of her human friends is murdered by sidhe magic, Genny is determined to find the killer. Her efforts to find the real murderer lead her to some of the most dangerous and seductive fae – but her search is hindered by the vampires, who have their own political agenda. Then when all the evidence points to Genny – she's the only sidhe fae in London – and she's named the main suspect; it's not long before she's on the run – and not just from the police – but from some of London's most powerful supernaturals.
~~~~~~~~~~~~~~~~~~~~~~~~~~~~~~~~~~~~~~~~~~~~~~~~~~~~~~~~~~~~~~~~~~~~~~~~
Suzanne McLeod has generously offered personalized prizes for two (2) lucky winners! Look what you can win:
1 Signed UK copy oh The Cold Kiss Of Death
1 Signed German copy of Der Kalte Kuss des Todes
All you have to do is fill this
FORM
You can get an EXTRA entry by answering the question or just leaving a message or question for Suzanne in the comment section. (Only the form is required!)
Giveaway is International.
Please leave us a way to contact you (Email in blogger profile or twitter name is okay).
Giveaway ends
Saturday July 25
and we will announce the winner on Sunday.
Bonne Chance everyone!