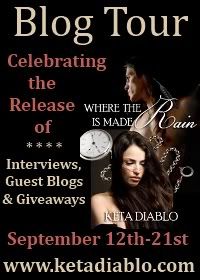 Welcome to the blog tour for Where The Rain Is Made. Keta and I are glad you stopped by.
BLI: Thank you, Keta, for agreeing guest blog at Book Lovers, INC.
Keta: And thank you for agreeing to host my blog tour for Where The Rain Is Made.
BLI: When did you seriously sit down, and say to yourself, I'm going to write a novel?
Keta: I really never sat down and said, "I'm going to write a novel." I wrote a sensual historical romance based on a family history story, one slow chapter at a time. When I was finished, a few friends encouraged me to submit. I knew very little about the craft when I wrote it, but submitted to a very small press. With a lot of help from one of their editors, the book was eventually ready for publication. And I learned a lot during that process. I'm very indebted to them for accepting my first story.
BLI: What do you find the most difficult to write? Dialogue? Back story? Emotion?
Keta: Dialogue has always been the easiest for me. I think it's because I people-watch and always have. I love to sit at the mall and watch them interact. Whether it's a couple or a customer with a clerk, I listen for the inflections in their voices and watch their expressions. It's really quite an experience once you're consciously aware you're studying them. And, you can learn so much from observing.
BLI: Have you ever found that you didn't like your Hero or your Heroine? If so, what did you do to change that?
Keta: I always like my hero and heroine. Wish I could say that for some of the reviewers. (lol). On more than one occasion, reviewers have said they'd like to strangle Olivia from Decadent Deceptions. I don't think I write the typical character, but show them with all their warts and blemishes. We all have flaws, and I think it's only fair our characters do too. I guess that's why epublishing has been good for me. They allow you to write outside of the box more.
More about Decadent Deceptions here, a 2008 Molly Contest finalist.
BLI: If you were to start again, with the knowledge you have now, what would be the first thing you do?
Keta: Oh, boy, see above. I knew virtually nothing about writing. I'd like to think I've learned a lot and have improved over the years. I don't know that I'd do anything different because writing is a continual learning process for me. The only way to get better is to keep on writing. I think we all have those manuscripts that now collect dust under our beds. I hope mine stay there because I don't think they're salvageable.
BLI: Do you write full time, what is your schedule for the day? Or do you have a full time job, if so, when do you find the time to write?
Keta: I do write full time. I'm rather obsessive no matter what I do in life. Five years ago I was fortunate enough to give up my job outside the home and devote my time to writing. Sometimes that's at night, sometimes it's during the morning. I have a peculiar schedule and nothing is set in concrete. When everything gels, I write, whether that's 4:00 in the afternoon or 4:00 in the morning. Some days are smooth, others we're sailing on heavy tides.
BLI: Do you have the support of family and friends?
Keta: Very much so. My youngest son was the inspiration behind Where The Rain Is Made. Of my three children, he's my geeky bookworm. He took a sudden interest in American history about 6 years ago, specifically Native American history. We spent many hours at the library reading everything we could about the various tribes. He took a particular interest in the Cheyenne Dog Soldiers, so I knew more about them than I ever dreamed I would at the time. His interests finally shifted and I was left with all these research notes and articles. It made perfect sense to me that I should write a book about the dog men, and so I did, incorporating some paranormal elements into the story.
BLI: What has been the biggest challenge of your career?
Keta: Probably the same challenges every writer faces– where do I go next? Right now the industry seems to be in high flux. Barnes and Noble and Borders are struggling and brick and mortar bookstores are closing. Everyone is on the sidelines watching the game play out and wondering who will be standing when the buzzer rings. No one knows for sure. We do know that ebooks surpassed print sales last year, and I don't see that changing any time soon. At this rate, I wonder if twenty years from now anyone will know what a paperback or mass market trade book is.
BLI: Where do you expect to be in five years?
Keta: When it comes to my writing, I have no clue, and I don't spend much time dwelling on that (too busy writing that next story). I hope to be a better writer, more polished, more learned about the craft. Like everyone else, I have to wait and see where the industry is headed when the dust settles.
BLI: Are you a plotter or a pantser? If you are a plotter, what are you methods?
Keta: I'm a plotter, but in my head. I might write down some thoughts about characters or perhaps in what direction I'm headed, but every scene, every conversation is played out in my head many times before I even sit down at the computer. I like to think it's a way of getting to know my characters before I write about them. I've tried outlines, note cards, hanging up inspirational pictures and none of those scenarios work for me. I must be a heavy thinker because once I have written the last scene in my head, I sit down and get to work.
Again, thanks so much for having me.
About Where The Rain Is Made:
A decadent savage has captured Francesca DuVall and her brother, Marsh. Now she must spend every waking moment planning an escape. However, she didn't count on the powerful draw of desire interfering with her scheme in the camp of the brutal Cheyenne dog soldiers.
:
Ethan Gray is a curator at a national museum . . . most of the time, but when he travels through time to help his beloved People he becomes Meko, leader of the most revered and feared tribe of the plains.
Although their worlds are decades apart Meko can't resist the dark beauty he kidnapped during a raid. He has many battles to fight but none he wants to win more than the one that will capture Cesca's heart forever. From the windswept plains of Colorado and the harsh life of a Dog Soldier to the placid life of a curator their love was fueled by passion and kindled by destiny.
You can find out more about Where The Rain Is Made by visiting the publisher's site, Decadent Publishing.


You can also read Chapter One and part of Chapter Two here.


Keta is very active on Twitter and would love to have you follow her: @ketadiablo.
You can also find her at her website and her blog.


You can read my review of Where the Rain is Made here.
We hope you enjoyed stopping by Book Lovers Inc. Tomorrow, you can have another 2 chances to win Where The Rain Is Made by stopping by Seriously Reviewed and The Black Raven Erotic Cafe.
Keta will be giving away one copy of Where The Rain Is Made in PDF today. To be eligible, do these three simple things:
1. Follow our blog
2. Follow Keta's Erotic Romance Blog, http://ketaskeep.blogspot.com and,
3. Leave a comment below with your e-mail address (Email addy in blogger profile is okay).
A winner will be selected in 2 days (September 19th) and announced here on the blog, so be sure and check back to see if you won. Keta will be notified by me and will send the book directly to you.
Good luck everyone, and again, thanks for dropping by,
WHERE THE RAIN IS MADE BLOG TOUR SCHEDULE:
September 12th Leilani Loves Books.com
September 13th Bitten By Paranormal Romance
September 14th Lovin' Me Some Romance
September 15th The Divas Bookcase
September 16th That's What I'm Talking About, The Geeky Bookworm
September 17th Book Lovers Inc. Jojo's Book Corner
September 18th Seriously Reviewed The Black Raven Erotic Cafe
September 19th Not Really Southern Vamp Chick
September 20th Sapphire Realm Romance Hanging With Bells Blog
September 21st Happily Ever After Reviews Talk About My Favorite Authors Blog