Format read: e-Book galley from Manic Readers Review Depot
Length: 17 pages
Formats available: e-Book, Kindle
Release Date: December 20, 2010
Publisher: Noble Romance Publishing
Purchasing Info: Noble Romance Publishing, Amazon Kindle Diesel eBook Store
It's Christmas Eve, and Grady Hobart is feeling anything but "nice." Not only is he working the graveyard shift at the Traffic Town Truck Stop, but he hasn't had a customer in over two hours! All that changes when a comely stripper from the Booty Barn strolls in, still in costume as Mrs. Nasty Claus, complete with a black lace thong, matching bra, sheer red cape and six-inch Lucite heels!

Unfortunately, Cherry isn't there to tempt Grady with her feminine wiles; only to buy her nightly stash of lottery tickets, one more sucker hoping to strike it right with a little bit of luck—and a heaping dose of Santa's good will.

Shortly after Cherry leaves, Grady clocks out and wishes his replacement a "Merry Christmas," only to find Cherry still sitting in her van in the parking lot. Shrugging and zipping up his hoodie for the long walk home, he's surprised when Cherry pulls up to offer him a lift.

He's even more surprised when, instead of driving him home, Cherry whips around to the back of the Traffic Town and parks. Maybe Christmas won't end on such a downer, after all.
My Thoughts
"Nice 'N Naughty", is a short erotic story told in the first person POV by Grady, who as noted above works at a Truck Stop situated in the middle of a nowhere little town. Things look up for Grady during a long boring Christmas Eve shift when "Cherry" (whose name is really Susan Shapley) walks in to spend the tips she earns working at the local strip bar on lottery tickets. They share conversation, some spiked coffee and Cherry departs the establishment presumably to return to work. She surprises Grady by waiting for him after he finishes his shift.
There is something to be said for an author who can develop characters that readers feel they know and weave them into a storyline that makes sense in 17 pages. RJ Fury did succeed in accomplishing these basics and Grady and Cherry were given an HFN ending to their little story. However, while I enjoy a hot sexy erotic short story there was extensive eye rolling that went on while reading "Nice 'N Naughty". Why you may ask? Well, while I have no problem with love scenes being sexually explicit, for me sensual prose is a must and IMHO the description of the sex scene in this story did not fulfill this requirement. In fact, the description of the foreplay, during play and after play, which took place in the back of Cherry's pink van housing a large round bed, was full of prose and euphemisms describing the male and female private areas that hurtled me back to 1970's when I was reading some of the more bawdy historical romances. Further, I found Grady's introspective thoughts using said euphemisms to be inappropriate given he, at least initially, presented as a well spoken, college educated young man who was stuck in a job he hated because of family commitments.
I have to admit if asked if there are certain euphemisms and prose used in erotic literature that ruin a love scene I'd be the first one to raise my hand and say "yes". So when Grady starts discussing Cherry's "volcanic juices sizzling on the tip of my tender, throbbing dick", and referring to her vagina as a "snatch" the eye rolling was accompanied by a 'yuck'. In addition, these people, as near as I could tell, used no protection during the act, which to my way of thinking is basic given the intimacy was being shared with a woman who stripped at a place called the "Booty Barn", and takes place in a pink van parked behind a dumpster. o_O I'm not saying her occupation should make a difference, people are forced to do work they would rather not be doing all the time. However, another of my issues when reading an erotic is that when the guy isn't some sort of paranormal creature who is immune to all the various STD's that can infect humans, HELLO a condom is a must.
Perhaps the prose and storyline written for "Nice 'N Naughty", was the author's attempt at mirth and I just didn't get it, and, thankfully Grady did not have a "flaming, throbbing Lance of Love" (YIKES). Anyway, these are my purely subjective thoughts about this story and if you enjoy a very short erotic tale told from a male first person POV you may like to give "Nice 'N Naughty" a try.

I give "Nice 'N Naughty" 2 out of 5 bookies.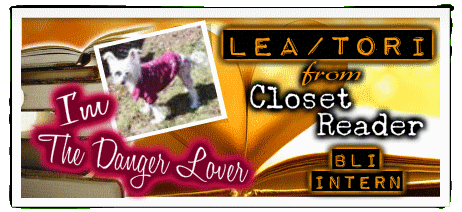 ***FTC Disclaimer: Most books reviewed on this site have been provided free of charge by the publisher, author or publicist. Some books we have purchased with our own money and will be noted as such. Any links to places to purchase books are provided as a convenience, and do not serve as an endorsement by this blog. All reviews are the true and honest opinion of the blogger reviewing the book. The method of acquiring the book does not have a bearing on the content of the review.