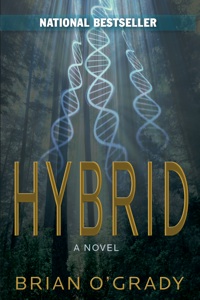 Format Read: Paperback provided by publisher for review.
Publisher: Fiction Studio
Length: 368 Pages
Genre: Fiction, Medical Thriller
Release Date: April 5, 2011
Formats Available: Paperback, Kindle, Nook
Purchasing Info: Publisher, Author's Website, Amazon.com, Barnes & Noble, Amazon.ca, Borders, Goodreads, Kindle, Nook
Book Blurb:
Seven years earlier, Amanda Flynn returns from a rescue mission to Central America carrying a miracle, and a curse. She is the sole survivor of a terrifying outbreak of a mysterious new virus: EDH1. Most of its victims die a gruesome, agonizing death. Others are reduced to violent savages. But a precious few, like Amanda, survive. They survive…and change.

Amanda's homecoming is to a cold, sterile hospital room, where for three months scientists become increasingly irritated with their inability to identify her unique resistance to this new virus. As their frustration grows, Amanda slowly evolves into something new. At first she believes that grief and isolation have driven her mad, but in time realizes that the voices in her mind are the thoughts, emotions and desires of those around her. After her three month quarantine is broken a new Amanda is released. Confident and convinced of her own infallibility, she succumbs to the seductive nature of unrestrained power, with murderous consequences. Confronted by her family and faced with the darkness that the change has awoken within her, Amanda isolates herself from society.

Seven years later, against a backdrop of a new flu outbreak, an epidemic of violence threatens a peaceful Colorado town. Amanda begins to fear that a mutated strain of EDH1 has arrived in America, as she senses the mind of another: Klaus Reisch, the original survivor of EDH1. A man of menace: tall, amoral, relentless, his mission is more global than his employers, who wish only to infect the United States. With all of Amanda's abilities Reisch envisions the end of human society and the dawn of a new order of the evolved.

As Amanda's worst fears are realized, others around her are swept into the same maelstrom. A coroner whose strict regimen barely controls his obsessive-compulsive autism, a priest whose faith is shaken by the cancer that ravaged his sister – against their will, they evolve. Suppressed desires and emotions become manifested as their minds grow stronger and their control grows weaker.

A reluctant Amanda reconnects with the society that would reject her if they knew her true nature in an effort to save it from a man who would destroy it.
My Thoughts:
Hybrid opens with an alarming e-mail exchange between the novel's protagonist Amanda Flynn and Dr. Nathan Martin, the Director of Special Pathogens, at the CDC (Centers for Disease Control) in Atlanta. Amanda became personally acquainted with Dr. Martin and the CDC seven years earlier when she was the sole survivor of an outbreak of a deadly virus named EDH1. Amanda was with an American Red Cross team working in the jungles of Honduras at the time of the outbreak. She asserts that she was detained—essentially kept prisoner by the CDC in America for 3-months following her exposure to a disease that wiped out the population of an entire village, including Amanda's team. During what becomes a rapid exchange of e-mails, we learn that Amanda vanished following her release from the CDC and despite having the resources of the FBI at his disposal; Nathan Martin was unable to find her to continue his research into EDH1. There is, however, much more to Amanda's story.
What has prompted Amanda to let her guard down and contact the good doctor, despite her lack of trust in him and his motivations? She is convinced that Pandora's Box has been opened, EDH1 has been unleashed and is spreading amongst the populace of Colorado Springs. How does she know this? Incidence of a flu-like illness has been reported in the city coupled with an unusually high outbreak of random violence, similar to the events that occurred in Honduras. What Dr. Martin doesn't know is that as a result of her exposure to the virus Amanda has changed. EDH1 left her biological enhancements that are fascinating as well as terrifying. I would describe Amanda Flynn as an anti-heroine, she has endured a lifetime of losses, but is also quite creepy.
Using the e-mails as an introduction set a solid foundation for a meticulously crafted medical/psychological thriller that at the very least caused chills to run up my spine. Multiple well-developed characters are introduced who all serve major and minor roles in advancing a plot that is rife with revelations and surprising twists and turns. Klaus Reisch, another EDH1 survivor is a terrifying maniacal sociopath, he too has powerful enhancements that he uses to satisfy his sadistic urges leaving a path of carnage in his wake. Reisch experiences no remorse; in fact he enjoys his 'exploits', this guy is one scary antagonist. We learn the origins of EDH1 are deeply rooted in a terrorist plot, and the destinies of four key players intersect as a result of exposure to the virus.
Using graphic descriptive prose, Dr. O'Grady doesn't hold back when detailing the ravages of diseases other than the virus and the impact on families. As well, the author doesn't spare the grisly in violent, bloody, action-packed scenes. O'Grady is a neurosurgeon and he does use a fair amount of medical terminology, which for the most part is explained. It is quite evident this novel was extremely well researched particularly regarding the evolution of the fictitious virus.
There is extensive up front character building in this novel and O'Grady frequently steps back in the plot's timeline to show where, and more important what is happening to a specific character. I found this assisted my understanding of what was happening at any given time, and reminded me of who was who. Its not all grim gloom and doom, there are humorous moments and a miracle or two that touched the heart.
As the plot progresses, the highest level of government is involved and special police forces and the military are mobilized across the country. I became completely engrossed in Hybrid and kept turning the pages to find out how the terrorists would be contained and millions of people saved. As well, two Goliaths emerge whose powerful biological enhancements result in a battle that is waged on a field well above a normal human's understanding. I wanted to know how the evil guy would finally get his and I wasn't disappointed. I will say, the ending of Hybrid does offer potential for a sequel. If you enjoy a thought provoking, very intelligent medical/psychological thriller you may like to give Hybrid a try.

I give Hybrid 4.5/5 Stars
***FTC Disclaimer: Most books reviewed on this site have been provided free of charge by the publisher, author or publicist. Some books we have purchased with our own money and will be noted as such. Any links to places to purchase books are provided as a convenience, and do not serve as an endorsement by this blog. All reviews are the true and honest opinion of the blogger reviewing the book. The method of acquiring the book does not have a bearing on the content of the review.