Today I am very happy to welcome back to Book Lovers Inc. one of my new favourite urban fantasy authors, please welcome the wonderful Sierra Dean! Sierra pens the fantastic Secret McQueen urban fantasy series, the first novel of which Something Secret This Way Comes
 was released on 10 May 2011 (you can read my review here) and as the prequel novella The Secret Guide to Dating Monsters
 was released yesterday (again for a spoiler-free first taste of the story you can check out my review), it's time to celebrate! Read on to get to know Sierra and Secret better and for your chance to win an ebook copy of The Secret Guide to Dating Monsters!
Stella: Sierra can you please tell us a bit about yourself?
Sierra: I'm a fun-loving, trouble-making, book-reading kinda girl. I work hard, and play hard (when there's time left) and I try to love every minute of my life. When I can't do that, I read a good book.
Stella: Do you have typical writing days? A schedule? Are you a planner or pantser?
Sierra: Normally I'm a die-hard planner. I try to set daily word goals, and milestones for getting my work done. I'm also an insane outliner. But sometimes you have to write when the mood takes you. And sometimes the mood takes you way off course from your outline. I try to roll with the punches my writing brings.
Stella: What do you think is the difference between a reader and a real Book Lover?
Sierra: Readers are those who maybe "like" reading, and do it casually. Book Lovers are people who would probably have to seriously debate the question "Lose an arm, or never be able to read another book?" I'm a book lover, for sure. I live and breathe books. I could live without TV, but not the written word.
Stella: What can we expect of The Secret Guide to Dating Monsters
?
Sierra: A fun, sassy read that introduces readers to Secret's life BEFORE she got mixed up with those pesky wolves. It's funny, action packed and I'm told the kiss alone is worth the price of admission.
Stella: The Secret Guide to Dating Monsters is the prequel novella to Something Secret This Way Comes, the first novel in the Secret McQueen series. Can you share with us a behind the scenes secret: how did the inspiration for this prequel novella come? Was it that when you were writing Something Secret This Way Come you thought a mere scene, a past event you mentioned would beg to have its own story? Or how did The Secret Guide to Dating Monsters come to be?
Sierra: I had just finished preliminary edits on Something Secret, and there was an event mentioned throughout the book, one that had put Secret on pretty shaky footing with the Council. I really loved the idea of that story, and wanted to explore it more thoroughly, but knew it didn't need its own book. So the novella was born.
Stella: Could you present your heroine Secret McQueen to those readers who are not yet familiar with your series?
Sierra: I read a review recently that summed Secret up brilliantly: half-vampire, half-werewolf, all sass. Secret is a tough girl whose life hasn't been great to her. She rolls with the punches as well as she throws them, and she's dedicated to her close friends and will do anything to protect them.
Stella: Secret is on a blind date and in a bar. Let us get to know Secret better and tell us what would be … her drink of choice?
Sierra: Secret is a bit of an odd ball when it comes to booze. Her metabolism means she's a bit of a cheap drunk. That said, her most commonly ordered beverage in later books is a shot of whiskey with a Guinness chaser.
Stella: … sports bar and a beer or restaurant and wine?
Sierra: She'd be way more into a restaurant and wine.
Stella:  … is she a sports watching girl? If so what would be her sport?
Sierra: Secret's not a big sports fan, but she did grow up in Canada and has been known to watch a hockey game now and then.
Stella: … favourite weapon?
Sierra: She's pretty flexible. Her go-to weapon of choice is a SIG 9mm.
Stella: I have to admit that the Japanese sword she is using in The Secret Guide to Dating Monsters had me fascinated. Did you ever get close to such a sword or do you simply have a very vivid imagination?
Sierra: An ex of mine had a katana, but in general I've always just thought they were incredible pieces of art. The description of Secret's katana is purely out of my imagination. I wanted her to have something really special and unique.
Stella: All your action scenes are brilliant: they are fast paced yet not just a list of events happening, it is as if they were playing out in a movie, do they come easy to you? Which scenes are the easiest/hardest to write?
Sierra: Action scenes are a hell of a lot of fun to write because it's like explaining the movie in my mind. I definitely find action sequences easier to write than love scenes. Love scenes are some of the hardest for me (no pun intended) because I don't want them to come across as too cheesy. I really want to capture the emotions and chemistry between my characters appropriately.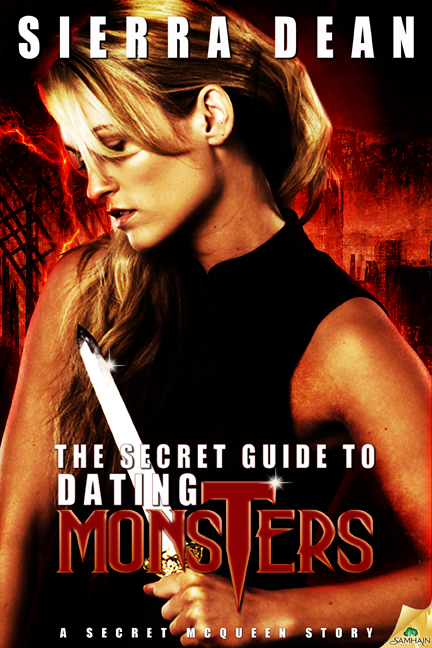 Stella: Let me mention once again how breathtakingly gorgeous your cover is! Eye catching, atmospheric, powerful and Secret's kickass heroine status is stated so clearly (though I have a hard time imagining her slicing through huge 6 ft vamps with that tiny knife ;-p lol). Did you have any input in the cover creation or did the art department nail it on first try? How did it happen? Did they read the novella or did you give a brief summary of it highlighting the important details you deemed should be reflected on the cover?
Sierra:
The art department at Samhain is totally amazing. Authors get to make requests, and the art department does everything they can to make our covers as perfect as possible.
Kanaxa
 always does such brilliant work, and this cover was no exception. The only thing off, like you mentioned, is that she obviously doesn't use a knife in the book (except a switchblade…), she uses a sword. Unfortunately there are always limitations to the availability of images, and we couldn't get it all in one cover. But I love how Secret is captured, and the model they use is such a knockout, I love her.
Stella: I really enjoyed that in The Secret Guide to Dating Monsters we get to know Holden a bit better, one of the main male characters who got relegated to supporting character in Something Secret This Way Comes. Will we get to spend more time with him and uncover more of the mysteries surrounding him?
Sierra:
Anyone who has read
Something Secret This Way Comes
knows I must have something up my sleeve. All I can say is that in
A Bloody Good Secret
, Holden definitely stops playing a supporting role and steps into the spotlight. He's one of my favorite characters to write, because no one surprises me nearly as often as he does.
Stella: And if we are speaking of characters, we promise to keep this between ourselves: can you tell us which character is especially close to your heart? Either because he/she is a riot, or because of their peculiar quirks?
Sierra: Ha! There are a few, actually. I love Secret because she's definitely the most like myself. But Brigit and Sig are two of my favorites. I absolutely adore writing any scene Brigit is in, and am sad she couldn't make an appearance in the novella. She's just hilarious.
Stella: Has any real life experience/acquaintance inspired a character or at least a scene/dialogue?
Sierra: I think most authors draw from real life. In the novella there are actually three direct references to dear friends of mine. Tyler, Secret's blind date is named after my friend Shawn, whose middle name is Tyler. The bar she and Tyler go to is called McCarthy's, the last name of two of my close friends. And lastly the false name Secret gives Charlie is Jessica, which is the first name of my two best girlfriends. I try to keep anything incriminating out of my books so my friends don't hurt me, but I like to show a little love wherever I can.
Stella: Will there be more books in this series? What is next on your schedule? Are you planning more novellas for the series?
Sierra: There's a Christmas novella, suitably titled Secret Santa, coming out in late November. Right now I'm in the process of writing the third Secret McQueen novel, Deep Dark Secret. Ultimately I plan to have 8 books in the series, not including novellas. Right now I have no plans for any additional novellas, but that can always change.
(
Stella:
ETA: and just yo you know Book #2 in the Secret McQueen series 
A Bloody Good Secret
will be released on 20 September 2011! Yay!ps. and as you can see Secret finally got her big mean katana sword! Double yay! :-D)
Stella: Can you tell us whether there is any difference in writing a novella or a full length novel? Any advantages/disadvantages to either?
Sierra: Writing a novella usually seems easier, but it's actually tricky to compress an entire story into such a small format and still make it seem complete. I definitely think novels are harder, just because they take longer, but it's nice to be able to tell your story over a longer arc.
Thanks to Julie and Lea for the kickass badge! 😀
Stella: Now can you tell us 3 reasons why people should read the Secret McQueen series?
Sierra:
1. Kick-ass heroine.
2. Sexy man-candy.
3. Awesome action, and relatable characters.
Stella: Can you summarize The Secret Guide to Dating Monsters or the Secret McQueen series for us Twitter style (140 characters or less)?
Sierra: How wrong can a blind date go? Throw in an a-list vampire rogue, a nosy liaison and one hell of a sword fight, and find out.
Stella: Thank you for stopping by Sierra and answering my questions! And as I've already told you (just a couple of hundred times): I cannot wait for more Secret & co. goodness! 😀
You can reach Sierra at
her website
  and
Twitter
.
~~~~~~~~~~~~~~~~~~~~~~~~~~~~~~~~~~~~~~~~
Sierra has generously offered an ebook copy (winner's choice of ebook format) of The Secret Guide to Dating Monsters
to a lucky commenter!
All you have to do is leave a question/comment to Sierra.
(You can read our full giveaway policy here)
Please leave us a way to contact you.
(Email in blogger profile or twitter name – no way to contact you – no entry).
Giveaway is open worldwide!
Giveaway ends on Saturday, 30 July 2011 and we will announce the winner on Sunday.
Good luck!