Format Read: e-ARC provided by NetGalley courtesy of Entangled Publishing
Length: Novella 107 Pages
Release Date: October 4, 2011
Series: Enchanted Destiny Book I
Publisher: Entangled Publishing
Genre: Paranormal Romance
Formats Available: Kindle, Nook, eBook
Purchasing Info: Author's Website, Publisher, Goodreads, Kindle, Nook
Book Blurb:
Destiny's never looked so good.

Kat never believed she'd fall victim to her family's stories about destined soul mates—she makes her own fate, thank you very much. When she walks by a construction site and admires the same sexy architect for the zillionth time in a week, the last thing she expects is to be slammed by a vision of his death.

Which activates the spell that will change their lives forever.

Jake is a single dad with a singular focus—create a stable life for him and his son. His ex-wife cured him of any desire to fall in love, but when an intriguing woman saves him from what should've been a deadly accident, he can't shake his fascination. Too bad she's crazy, claiming she's a witch and that they're soul mates—not exactly the "stable life" he had in mind.

Kat's destiny comes with a deadline. If they don't fall in love by her twenty-fifth birthday—a mere three weeks away—Jake will never find the peace he seeks and Kat will lose her magic forever.
My Thoughts:
Enchanted Destiny is a whimsical feel good romance about a young witch who discovers her destined soul mate and must convince him that he is the one for her. Jake Taggert doesn't know what hit him when Kat Richetti literally crashes into his life.
Jake is supervising a construction project on the street where Kat lives. Kat has caught his eye as she comes and goes but when said woman accidentally bumps into him, then saves him from being crushed to death in an accident his entire world turns upside down. You see, Kat experienced a vision, a premonition revealing the accident before it happened and is able to step in a save Jake. The thing is that when a witch experiences such a vision prior her 25th birthday it is said the man involved is her soul mate. To muddy the waters further Kat must convince the male in question that she is the girl for him before she turns 25 or she will lose her power. So, the fun begins.
I really liked Jake, he is certainly handsome and sexy but also a devoted single dad to sweet little 18 month old Cam. Jake suffered through a rather acrimonious divorce from his wife who left him and the baby for educational pursuits. Jake is therefore rather jaded regarding relationships and has no interest in settling down with another woman. Ms. Mennen paints a realistic portrait of a man who is doing his best to see to his son's needs while working full time in a demanding career. He is sensible, down to earth, and strong.
Kat co-owns a salon where she works as a massage therapist. She uses her powers to enhance her massage techniques as one of her powers enables her to promote healing for some of her client's aches and pains. Kat powers far exceed this ability, however and are revealed over the course of the story. Kat hasn't fully embraced her powers but her abilities are integral to the success of her massage business and the salon. The thought of losing her power is therefore horrifying for more then one reason. Kat is kind and full of life.
Jake is very attracted to Kat but when she explains she is a witch and the vision, and the soul mate thing he thinks she is crazy and runs for the hills. After giving the situation some thought Jake does come around, a little, but it is a rocky fun road to happiness for these two. Poor Jake has a lot to come to terms with and he turns to his best friend Eric for support and guidance. Ms. Mennen wrote great conflict into the storyline.
The author incorporates Kat's rather eccentric, very close family into plot which I thoroughly enjoyed. Kat's Grandmother, her mother and father play important roles in the storyline. Gina, Kat's feisty cousin who co-owns the salon is also her friend and confidant. Gina catches ladies man Eric's eye and I'm keen to see where Ms. Mennen takes her series next in their story Enchanted Desire.
Enchanted Destiny proved to be fast paced, very enjoyable paranormal romance with laugh out loud moments and light sensuality. IMHO the characterization was extremely well done and the author establishes an intriguing juxtaposition between the hero and heroine. If you enjoy a fun, light paranormal romance which has some surprises in store, you may like to give Enchanted Destiny a try.
I give Enchanted Destiny 3 1/2 Bookies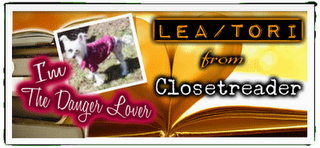 ***FTC Disclaimer: Most books reviewed on this site have been provided free of charge by the publisher, author or publicist. Some books we have purchased with our own money and will be noted as such. Any links to places to purchase books are provided as a convenience, and do not serve as an endorsement by this blog. All reviews are the true and honest opinion of the blogger reviewing the book. The method of acquiring the book does not have a bearing on the content of the review.