Length: Novel
Publisher: Carina Press
Genre: Romantic Suspense
Release date: November 21, 2011
Formats Available: e-Book, Kindle, Nook
Book Blurb:
Dr. Cameran Young knew her assignment wouldn't be easy. As lead biologist on the Environment Impact Assessment team, her findings would determine the future of a large mining project in the northern Canadian bush. She expected rough conditions and hostile miners—but she didn't expect to find a dead body her first day on the job.
Former SAS Sergeant Daniel Fox forged a career as a helicopter pilot, working as far from the rest of the human race as possible. The thrill of flying makes his civilian life bearable, and he lives by his mantra: don't get involved. But when he's charged with transporting the biologist to her research vessel, he can't help but get involved in the murder investigation—and with Cameran, who awakens emotions he's desperate to suppress.
In the harsh and rugged wilderness, Daniel and Cameran must battle their intense and growing attraction while keeping ahead of a killer who will stop at nothing to silence her…
Toni's heroine has diabetes and she is donating 15% of her royalties to diabetes research.
My Thoughts:
If someone told me a week ago I would read and thoroughly enjoy a book about a marine biologist who goes to an isolated area in Northern Canada to study fish migration I'd likely of said…um no. I'd have been forced to eat crow however, as I found Edge of Survival to be a gripping read.
Dr. Cameran Young is a postdoctoral research fellow who along with her friend Vicki, a Ph.D. student, travel to an isolated mining town in Northern Labrador to study how building a hydroelectric dam will impact the migration of Arctic char (a type of fish). Cam is a brilliant heroine. She is determined to be successful despite the inhospitable terrain, she is also very quick and funny. The thing is, Cam is a brittle diabetic, meaning she must carefully monitor her blood sugar and inject herself with appropriate types and amounts of insulin every day. She is extremely careful about her diet and must deal with a whole host of issues that folks with this type of diabetes cope with daily. Ms. Anderson paints a realistic portrait of a woman who refuses to be defined or limited by her condition. Cam and Vicki along with a couple of other student helpers are scheduled to spend 6 weeks in the bush to gather their research. A retired coastguard icebreaker, refitted as a research vessel is to be their home.
To get around the isolated area where the migration takes place they have hired a helicopter and the pilot is one Daniel Fox, a former British SAS (Special Air Service) officer. Daniel suffers from a litany of post-traumatic symptoms secondary to the horror and aftermath of his final SAS mission. These guys are tough, elite special forces trained warriors and Daniel is struggling to cope as a civilian. His guilt and self loathing is palpable but the one thing that has kept him from spiraling completely into the gutter is flying. He is however, dealing with some significant serious issues.
Things get off to a very rocky start when Cam and Daniel are plunged into an RCMP investigation when she finds a woman brutally murdered in the washroom of the town's bar. In addition, there are struggles at every turn, as she must deal with hostile Neanderthal roughneck miners, sabotage, poachers, and a growing attraction for the grumpy, very private helicopter pilot. Daniel tries to spurn Cam, but the feisty, diabetic doctor manages to break through the wall he has built around himself. It was very endearing to see how protective Daniel becomes when he learns about Cam's diabetes. Cam makes him laugh and she gradually earns his respect for a variety of reasons. Edge of Survival isn't an erotic novel, there is light sensuality and wonderful chemistry between the hero and heroine. What I loved is the progression of the relationship between two people who have faced more then their share of adversity in life, it just worked.
Secondary characters of note are Staff Sergeant Griff Kershaw, who leads the murder investigation. I really liked this guy and would love to read his story. Griff plays a pivotal role in the climax of the plot. The intriguing, curmudgeonly backwoodsman Tooly Grant, another well developed character also lept from the pages. I didn't much care for Cam's friend and colleague Vicki, who I found to be a self centered manipulative nymphomaniac. Vicki also plays an important role as the plot advances and despite my visceral dislike of her I understood why Cam called her friend.
Edge of Survival is full of fascinating insights regarding Cameron's research and Ms. Anderson addresses very real environmental issues that plague Northern habitats. She provided vivid descriptions of the beauty of the land and it's wildlife inhabitants. This is an extremely suspenseful tale, readers know the killer is lurking and watching, but the identity isn't revealed until the story's riveting conclusion which involves a life-or-death struggle for our heroine. Whoever thinks a story concerning a woman who does fish research would be boring hasn't read Edge of Survival! 😉

I give Edge of Survival 5 Bookies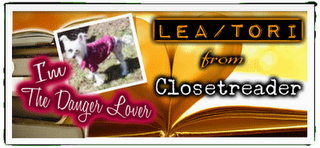 ***FTC Disclaimer: Most books reviewed on this site have been provided free of charge by the publisher, author or publicist. Some books we have purchased with our own money and will be noted as such. Any links to places to purchase books are provided as a convenience, and do not serve as an endorsement by this blog. All reviews are the true and honest opinion of the blogger reviewing the book. The method of acquiring the book does not have a bearing on the content of the review.