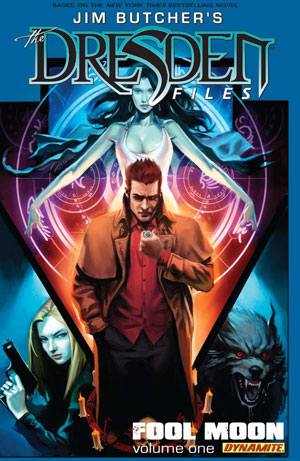 Format Read: e-Arc from Netgalley
Length: 104 pages
Genre: Comic.  Mystery, Fantasy, Action Adventure
Release Date: November 22 2011
Formats Available: Hardcover
Publisher: Dynamite Entertainment
Purchasing Info: Author's Website, Dynamite's Website,
Book Blurb:
Harry Dresden`s life is a mess. His top client (and close friend), Lt. Karrin Murphy, no longer trusts him. Chicago`s underworld and the cops alike think he's mobster Johnny Marcone's supernatural enforcer. And the enigmatic White Council continues to view him with suspicion. If all that weren't enough, a pack of werewolves have unleashed a wave of terror on the Windy City. But as is always the case when it comes to the creatures of the Nevernever, there's far more going on than meets the eye. Before it's all over, Harry will find himself caught between friends, enemies, and arcane forces bent on his destruction. Is it any wonder he can't find a date?
Expanding on Book Two of Jim Butcher's New York Times bestselling saga, and featuring writer Mark Powers and artist Chase Conley, Fool Moon collects the first half of the 8-issue series in one volume, complete with bonus material and a cover gallery.
My Thoughts:
I really love Harry Dresden, I do (understatement of the year). I've read all the books in this series and there's just ONE book I disliked and it was Fool Moon.  I didn't hate it obviously since I kept reading but the more I thought about it the more annoyed at it I got. I ended up telling everyone to "please keep reading because the series got better after that one". When my fellow Book Lover Jackie read it she didn't dislike it as much as I did, so I realized that maybe I should try to give it another chance. Here's the reason why I jumped on the occasion to review Fool Moon Volume 1: I'm giving this book a Second Chance!
I'm not usually a big fan of graphic novels but I have to admit this comic is very well done. I was worried about how Harry would look, that I'd hate it. But this is actually pretty nice. I like how he's pictured and while it IS pretty dark (true to the atmosphere of the book) it doesn't fall on the "it's dark so it has to be ugly" category. I can be such a girl 😉 But yeah I don't want to read something that is just ugly. I like this artist's view of Harry's world.
Now I'm glad I gave a second chance to this story. The graphic novel format works pretty well for this story. It's clear and it gives you just the right amount of info. It's what lost me in the novel, we got way too much info about all the sorts of werewolves and I ended up having trouble picturing them all (and yes I was bored). Here we have just what's necessary. The text is not overwhelming and the drawings bring you the rest of the info you need. I'm happy with the result. Harry is still Harry but his very characteristic humor is missing in this version. It's the reason I'm only giving it 4 stars.
 I got to the end way too quickly, now I'm desperate to read volume 2! I'll admit this graphic novel did improve my view of Fool Moon. It's a fast read, really just a bite, but it's tasty and makes you want more!
I give Fool Moon Volume 1, 4 Stars.
***FTC Disclaimer: Most books reviewed on this site have been provided free of charge by the publisher, author or publicist. Some books we have purchased with our own money and will be noted as such. Any links to places to purchase books are provided as a convenience, and do not serve as an endorsement by this blog. All reviews are the true and honest opinion of the blogger reviewing the book. The method of acquiring the book does not have a bearing on the content of the review.