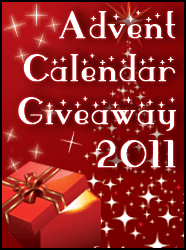 Welcome to the 7th day of Book Lovers Inc Advent Calendar. Each day we will offer you one great read in a giveaway on all 24 days till Christmas.
Today you will have the chance to win Something Secret This Way Comes, Book #1 in the Secret McQueen new urban fantasy series by Sierra Dean. It was love and (squeeing fangirl-dom) for me at first read, Sierra Dean's urban fantasy world and her well fleshed out characters spellbound me instantly, and I can reassure you that Something Secret This Way Comes was not a one book wonder, Sierra has been every reader's dream: releasing 3 more Secret McQueen stories since, and trust me all the instalments are fantastic! (Most recently I just read Secret Santa, the holiday novella, which was the perfect Christmas UF story *happy sighs*)
This series is so addictive, even with Sierra being this prolific it isn't enough! 😀 But here is your chance to discover Secret's world and win the first book, trust me, you most certainly don't want to miss this! 🙂
Release Date: 10 May 2011
Publisher: Samhain
Series: Book #1 in the Secret McQueen series
Formats available: ebook
Purchasing Info: Goodreads, Author's Website, Amazon
Blurb:

Some secrets are dangerous. This Secret is deadly.

Secret McQueen, Book 1

For Secret McQueen, her life feels like the punch line for a terrible joke. Abandoned at birth by her werewolf mother, hired as a teen by the vampire council of New York City to kill rogues, Secret is a part of both worlds, but belongs to neither. At twenty-two, she has carved out as close to a normal life as a bounty hunter can.

When an enemy from her past returns with her death on his mind, she is forced to call on every ounce of her mixed heritage to save herself-and everyone else in the city she calls home. As if the fate of the world wasn't enough to deal with, there's Lucas Rain, King of the East Coast werewolves, who seems to believe he and Secret are fated to be together. Too bad Secret also feels a connection with Desmond, Lucas's second-in-command…

Warning: This book contains a sarcastic, kick-ass bounty hunter; a metaphysical love triangle with two sexy werewolves; a demanding vampire council; and a spicy seasoning of sex and violence.
The Review:
You know the feeling when you have read only the very first couple of paragraphs/pages of a book and know that you are in for an amazing story? That's what I knew righat on the 2nd page of Something Secret This Way Comes, and boy was I proven right!
This novel was such an exhilarating ride for me I don't even know where to start. Let's start by saying that after I devoured Something Secret This Way Comes, debut novel and first book in Sierra Dean's urban fantasy series I knew that I had discovered a new favourite author to go on my must buy list just next to Kelley Armstrong! Something Secret This Way Comes is a fast paced, original story with a fantastic heroine and a fresh take on UF, it is one of the best books I have read this year and I cannot wait to read more!
~~~~~~~~~~~~~~~~~~~~~~~~~~~~~~~~~~~~~~~~
~*~*Giveaway*~*~

Thanks to Sierra's generosity we have an ebook copy of Something Secret This Way Comes for one lucky commenter!
All you have to do is tell us do you participate in doing Secret Santa? What was your favourite Secret Santa surprise that you received? 
(You can read our full giveaway policy here)
Please leave a valid email when placing your comment so we can inform you if you win.
This giveaway is open to everyone!
Giveaway ends on Saturday, 17 December 2011; and we will announce the winner on Sunday.
Good luck!