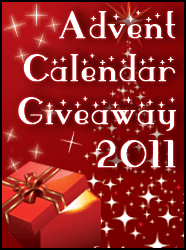 Welcome to the 9th day of Book Lovers Inc Advent Calendar. Each day we will offer you one great read in a giveaway on all 24 days till Christmas.
Today you will have the chance to win a signed copy of First Grave on the Right by Darynda Jones! *Whoo Hoo* First Grave of the Right, being a debut novel this year, had a cool back story and was a whole lot of fun to read/listen too. If you like quirky characters (obviously, I do :p ) then you'll really enjoy this one.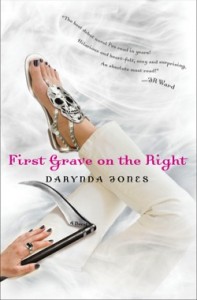 Purchasing Info: Amazon, Book Depository, Chapters, Author's Website, Goodreads

Book Blurb:
Charley sees dead people. That's right, she sees dead people. And it's her job to convince them to "go into the light." But when these very dead people have died under less than ideal circumstances (i.e. murder), sometimes they want Charley to bring the bad guys to justice. Complicating matters are the intensely hot dreams she's been having about an entity who has been following her all her life…and it turns out he might not be dead after all. In fact, he might be something else entirely.
The Review:
Still relatively new to the audiobook format, I listened to First Grave on the Right as a recommendation from Caroline at Secret HEA Society and Book Lovers Inc. (she's very influential on my listening these days. Again, Caroline was dead on the money with this book.
The concept here is quite different, that Charley is a Grim Reaper, and, what in fact the Grim Reaper has the responsibility of. But I really liked the twist. Read the rest of the review.
~~~~~~~~~~~~~~~~~~~~~~~~~~~~~~~~~~~~~~~~
~*~*Giveaway*~*~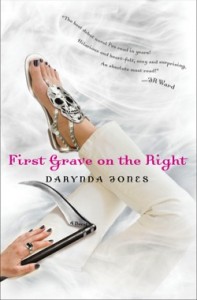 Thanks to Darynda we have an inscribed copy of First Grave on the Right for one lucky commenter!
All you have to do is tell us would you rather spend your holidays knee deep in snow, making angels and all that OR date the smokin' son of Satan, with the eternal fires always burning (in a good way 😉 )?
(You can read our full giveaway policy here)
Please leave a valid email when placing your comment so we can inform you if you win.
This giveaway is open to everyone!
Giveaway ends on Saturday, December 24th; and we will announce the winner on Sunday.
Good luck!