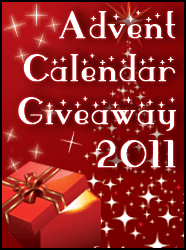 Welcome to the 23rd day of Book Lovers Inc Advent Calendar. Each day we will offer you one great read in a giveaway on all 24 days till Christmas.
Today, allow me to tell you a bit about a book by author Amanda Stevens: The Restorer. When I read the intriguing book description earlier this year, little did I know it'd end up being one of my absolutely favorite books of 2011. Sure, I was creeped out by the ghosty tale…but I loved every minute of it. The best way to describe this book is "atmospheric." The language used to describe the environments, the dialogue, the emotions within the protagonist…it's exquisite. This tale, about a woman who can (unfortunately for her) see spirits, has got mystery, the paranormal, and traces of romance. You will undoubtedly be struck by it long after you finish reading it. This book is the first in the Grave Restorer series, which will see the second book released in March 2012.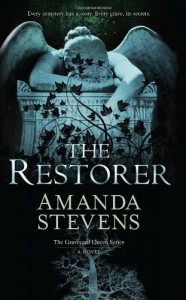 Purchasing Info: Goodreads, Amazon, Book Depository, Author's Website, Barnes & Noble

Book Blurb:
Never acknowledge the dead.
Never stray far from hallowed ground.
Never associate with those who are haunted.
Never, ever tempt fate.

My name is Amelia Gray. I'm a cemetery restorer who sees ghosts. In order to protect myself from the parasitic nature of the dead, I've always held fast to the rules passed down from my father. But now a haunted police detective has entered my world and everything is changing, including the rules that have always kept me safe.

It started with the discovery of a young woman's brutalized body in an old Charleston graveyard I've been hired to restore. The clues to the killer—and to his other victims—lie in the headstone symbolism that only I can interpret. Devlin needs my help, but his ghosts shadow his every move, feeding off his warmth, sustaining their presence with his energy. To warn him would be to invite them into my life. I've vowed to keep my distance, but the pull of his magnetism grows ever stronger even as the symbols lead me closer to the killer and to the gossamer veil that separates this world from the next.
The Review:
Freaking A, man. What an awesome book this is!
I must confess that, as a scaredy cat and ghost-story wimp, I was hesitant at first to read Amanda Stevens's trilogy opener. The book description sounded very intriguing, but it was obviously meant to give the potential reader a taste of the eerie setting and chilling theme of the full novel. Boy, am I glad I got past that hesitancy. I was thoroughly creeped out whilst reading this tale, but more importantly, I was exhilarated. Read the rest of the review.
~~~~~~~~~~~~~~~~~~~~~~~~~~~~~~~~~~~~~~~~
~*~*Giveaway*~*~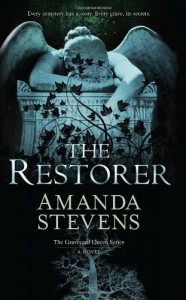 Thanks to Amanda Stevens, one lucky commenter will win a copy of The Restorer!
All you have to do is tell us what your favorite holiday song is.
(You can read our full giveaway policy here)
Please leave a valid email when placing your comment so we can inform you if you win.
This giveaway is open to everyone!
Giveaway ends on Saturday, January 7, 2012; we will announce the winner on Sunday.
Good luck!