Please join us in giving a warm BLI welcome to #1 New York Times Bestselling Author Robyn Carr! Robyn is known for her wildly popular Virgin River Series and Hidden Summit, the 17th novel in the series hit the stands on December 27, 2011!
After more than 20 years penning screenplays, historical romances and even a psychological thriller, Robyn found her genre — some would say her calling — writing a particular kind of women's fiction. Virgin River is a small town (pop. 600) of retired marines and the independent women they love and against a backdrop of northern California redwoods, the series is inspiration for those who, like Robyn, believe in the power of healthy, positive relationships.
Robyn is taking time out of her busy schedule to share a few Questions and Answers with us today & a giveaway opportunity follows the post!
Question: When you first created Virgin River and started writing novels based there, did you have upcoming characters—like Leslie and Conner from Hidden Summit—in mind, or has that come since you created the town? How has the series evolved?

Robyn: Most of the Virgin River novels have evolved out of the first. When I began I thought I was writing one novel. By the time I'd written 100 pages I knew there was potential for more. By 250 pages I realized that out of 9 marines in a squad that stayed tight, 5 were still single—including Jack and Preacher. It took me 4 books to settle 5 marines and then, since my readers weren't ready to stop, I tapped into the Army with Luke Riordan, the first of 5 military Riordan brothers. Others have come along the way—friends, relatives, newcomers to the town. Virgin River is a large canvas—lots of people coming and going all the time.
Question: Even though you write contemporary romance novels, your Virgin River series takes on major issues. Hidden Summit deals with everything from Leslie's drive to declare independence from her ex-husband to the witness protection program. And Redwood Bend addresses what it's like for single parents who lose their spouses in war. How do you manage to keep real topics approachable in each book? And how do you decide which newsworthy topic you're going to write about next?
Robyn: First of all, the Virgin River novels are 'real time' novels—the books that were published in 2007 took place in 2007, with current world events as the backdrop to the story. The 2012 books take place in 2012—it's easy to keep oriented that way.
We re-evaluate with every story—looking for those deeply emotional issues that challenge all women. They're called women's issues even though they belong to men and women—as an example, the widowed step-father who has inherited the step daughter from hell when his wife passed away. We—and by 'we' I mean the publishing team of agent, editor, anyone associated with the publication of these stories—discuss and consider these story platforms. These are the things my readers write to me about— losing a spouse, a child, medical issues, relationship problems from divorce and widowhood to reuniting with a lost lover. And, there's always a significant romance added in. That's the formula, if there is a formula—women's fiction and romance in a very special setting.
Question: When you start a trilogy like Hidden Summit and the forthcoming Redwood Bend and Sunrise Point, do you have the plots of all three books worked out? Or does each novel take on a life of its own as you write?
Robyn: I have an idea of the characters and plots to start with, but these stories tend to evolve and become much more complicated as I write. The characters begin with basic personality traits and back stories, but by the time I've finished a book, they're much deeper, more interesting, more engaging. The beginning is a skeleton, the revision adds flesh to their bodies. The most intricate and entertaining parts of the story come later, on the fourth, fifth or sixth fine tuning re-write.
Question: You come from a military family—your husband was in the Air Force and your son is in the Army—and you often talk about the importance of the military in shaping you as a person. How has your experience with the military helped create Virgin River?
Robyn: There are so many ways—so many answers. First of all, try to find a person who has no connection to the military, who has not been affected, whether in peacetime or war. Try to find a person with no relative, neighbor, friend who has not been directly impacted by their relationships to men and women who stand the watch. Hard to do. When I was in high school a very close friend's brother was killed in Vietnam and I went to the funeral—I was 16. Four years later I married my high school sweetheart right before he left for Officer's Training—he had a low draft number and it was either go to Air Force flight school or be drafted. My story is not unique.
Second, the military is a special community of support; they care for the needs of each other in a way it's hard to replicate anywhere else in society. When young soldiers deploy, the families they leave behind struggle—emotionally, financially, psychologically—and it's their war too! They have each other, and believe me, that's essential to their survival. Reinventing that in a small town that happens to be populated by men who have served and know the importance of commitment and support—it is recognized by so many who have come from those military roots. It's appreciated by those who have been near such situations even if they're not directly related to or descended from them.
Release Date: December 27, 2011
Series: Virgin River #17
Publisher: Mira
Genre: Contemporary Romance
Formats Available: Mass Market Paperback
Purchasing Info: Author's Website, Publisher, Amazon, Barnes & Noble, Goodreads, Powells, Book Depository, IndieBound, Chapters
Book Blurb:
ROMANCE UNDER CONSTRUCTION…

Sick of running into her cheery ex-husband and his new wife, Leslie Petruso accepts a job at the Virgin River branch of Haggerty Construction and takes the high road right out of town. Now she's got Paul Haggerty's business running like a well-oiled machine. In fact, things are so busy Paul jumps at the chance to hire an extra set of hands.

Just like Leslie, Conner Danson has been burned by love. But Leslie was disappointed by her relationship going bad, Conner was decimated. He's got no time for woman…although he spends an awful lot of time pretending not to notice Leslie. And she's pretty busy "ignoring" the chemistry between them.

According to Conner and Leslie, they have only one thing in common—they're done with love. But everyone in Virgin River can see that things are heating up at Haggerty Construction. And as far as Paul Haggerty can tell, the best thing he can do is hang on to his hard hat and watch the sparks fly!
Where to find Robyn:
Website
Facebook
Twitter
~~~~~~~~~~~~~~~~~~~~~~~~~~~~~~~~~~~~~~~~
~*~*Giveaway*~*~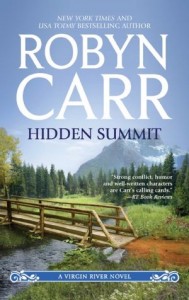 Thanks to Little Bird Publicity & Robyn Carr's generosity we have a copy of Hidden Summit for one lucky commenter!
All you have to do is leave a meaningful comment about the post!
(You can read our full giveaway policy here)
Please leave a valid email when placing your comment so we can inform you if you win.
*Please Note*: This giveaway is open to entries from the USA Only! Thank you!
Giveaway ends on Saturday, January 14th; and we will announce the winner on Sunday.
Good luck!