Hello my Fellow Book Lovers!
This is a very special post for me, since, as you can assume from the title, I will share my bookshelves with you! I don't know about you, but I always felt, that sharing your books and the way you categorize them at your shelves, speaks volumes about who you are as a person. We all have a different way of shelving our books or other treasured items, and that is something that represents you, sort of!
Today, I'll show you some pics of my bookshelves but let me share with you a little secret as well: I dream of the day I will have my own home and built a special room, or have a special place where I can store all my treasured possessions aka books! As it is, in the place I rent, all I can do is have a couple of bookshelves and try to satisfy my grand dreams with a little corner that I can call my own.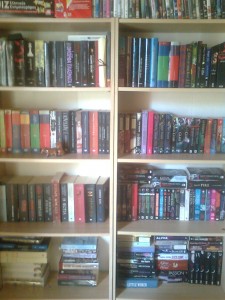 This is a photo of my two bookcases, the left one shelves all my greek books and the right one all my foreign titles. Right now, I'm in the middle of piling some of my older greek titles in order to make some more room for my foreign ones and to be prepared for the new ones that I will purchase in the future.
My favorite books are always on the top shelves and from there I may categorize them either by publisher (my greek editions mostly are shelved that way) or by height and/or genre. But mainly, my books are shelved by how much I loved them. So, the further down a book is in my shelves, the less I liked it. No wonder anything I have right now at my place from my days at the university are on the last shelf that isn't even visible in the picture. I occasionally need them, but, they're not something I want to display, so, down they go! No Freud or Piaget anywhere I can see them often 🙂
The same applies to the right bookshelf as well, where the titles I loved the least and try to find a way to get rid of are on the fourth shelf along with my unread books.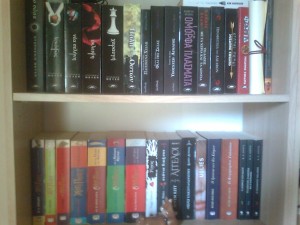 Those are the two top shelves of my "greek section" where I have some greek editions of well known books, such as the Harry Potter series, The Twilight Saga, the Hunger Games series, Vampire Academy and some more.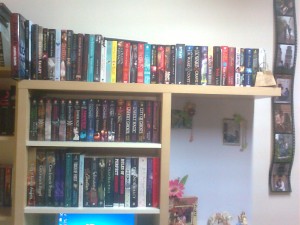 But, my most prized bookshelf is this one. It's not a bookshelf per se, but my computer desk, that has shelves, and luckily can hold many books! And since this is the place where I spent many hours of my day, I chose to put on the two small shelves my most favorite books and on the top all my unread books. You know, so as to be able to just look up and ponder which book I will pick up next!I know, I'm geeky that way 🙂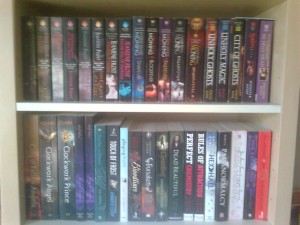 So these are my favorite books yet! In the first shelf you'll find Jeaniene Frost, Karen Marie Moning and Stacia Kane while on the second one, there are various authors, from Cassandra Clare and Jennifer Estep to Jennifer Armentrout and Simone Elkeles.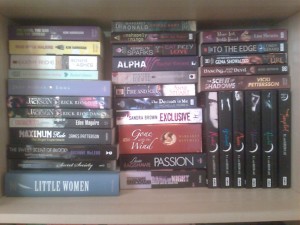 And before I end this post, I'll let you have a glimpse of my shelf with my unread books and the books I didn't like all that much…
The first two piles are all unread books, waiting for a spot to be vacated on my computer desk to take their rightful place and the last pile on the right is with books I didn't really like. I still wonder why I did buy and read all those Kristin Cast books… I really do!
And this is the end on my shelves tour. I have more books, surely, but I had to leave them at my parents place. The fantasy collection I own along with my brother is there as well as any classic literature titles and children's books I purchased in the past. As it is, I haven't enough place to store the books I purchased in the last two years, so I just have to leave them behind for the time being. They're in safe hands after all 🙂