Today, we at at BLI are really pleased to welcome author Gail Barrett for a guest post about her latest work. She's already authored a host of award-winning romances in the romantic suspense subgenre. Please show her a warm welcome as she chats a bit about the worldwide background research and inspirations for her stories and characters.
Thank you so much for inviting me to chat! I'm honored and thrilled to be here. I'm especially excited since so many of you live in Europe, which is the setting for my new miniseries for Harlequin Romantic Suspense, The Stealth Knights.
Despite their medieval-sounding name, the Stealth Knights are a very modern — and unconventional — group of heroes. Here's how they came about. I was hoping to create an open-ended series without a set number of books — something I could add to as inspiration struck. I also wanted to have some overlapping characters, but not so many that people would have to read the books in a particular order. I'm always disappointed when I pick up a book I think I'll enjoy, only to discover that I've come in halfway through the series and don't know who everyone is.
And while I love special ops or law-enforcement heroes, I didn't want to take the traditional route and base the series on a fictitious military, police, or detective agency. Truthfully, I've always been more intrigued by men who don't obey the rules — those darker, murkier characters who follow their own moral principles, meting out justice as they see fit. So I decided to go against the norm and invent a more offbeat group, a secretive, loosely affiliated association of thieves, spies, and rogues who operate in that gray area between right and wrong — usually outside the law. Of course, since these are romantic heroes, they really are the good guys, albeit in a less obvious way.
Harlequin loved the idea. They named the group The Stealth Knights and gave them slogan: "The Stealth Knights: powerful, passionate heroes with their own code of law." They also created a cool little "flash" logo which consists of a shield with swords.
And that brings me back to Europe, or more specifically, the Pyrenees Mountains, where I decided to set the books. I chose that location for purely selfish reasons, I admit. I love it that area. In my opinion, it's one of the most beautiful places on earth. And since I will shamelessly seize any opportunity I can to travel there, needing to conduct "research" gives me the perfect excuse. (Honestly, who doesn't get inspired by all that wine?)
So far, there are two books in the series — High Risk Reunion, which came out in November 2011 and High-Stakes Affair, which is out right now. They both take place in an old world, Pyrenees Mountain kingdom called País Vell. Centuries ago, País Vell conquered its neighbor, Reino Antiguo, which the people of Reino Antiguo still resent. They've formed a separatist movement to win back their independence any way they can.
The hero of High-Stakes Affair is not only a rebel from Reino Antiguo, he's the most infamous of them all — "el Fantasma," a Robin Hood-type thief adored by his people and the sworn enemy of the crown. Of course, the heroine, Princess Paloma Vergara, isn't aware of that. She needs Dante's help to break into a casino and confiscate some incriminating blackmail evidence that could damage her family and provoke dangerously violent unrest. What she doesn't know is that she's about to hand their worst enemy the power to bring them down.
I had so much fun writing these first two books — and can't wait to take another research trip. I hope you enjoy the series and love these heroes as much as I do!
Where to find Gail:
Website | Twitter | Facebook
High-Stakes Affair by Gail Barrett

"You're stuck with me, princess."

With her country on the brink of unrest, loyal Princess Paloma Vergara escapes the security of the palace walls to protect her family. To eliminate the threat of blackmail against her brother, the heir to the Vergara legacy, she must enlist the help of an ex-con with a very special set of skills.

Dante Quevedo has his own dark agenda: avenge his sister's death. Teaming up with the royal beauty makes revenge all the easier to claim. Until they stumble upon a terrorist plot that leaves them with no one but each other to trust…

Find it at:
Goodreads – Amazon – Publisher Website – Barnes and Noble

Read an excerpt of High-Stakes Affair
~*~*Giveaway*~*~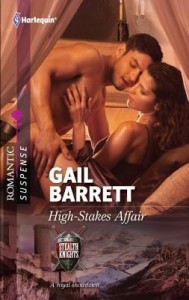 Gail has generously offered an e-book copy of High-Stakes Affair to one lucky commenter!
All you have to do is leave a meaningful comment about the post, or tell us: what's your favorite type of hero (dark, intense, brooding, noble, nerdy, humorous, etc)?
(You can read our full giveaway policy here)
Please leave us a way to contact you (valid email in comment form is OK).

This Giveaway is open to all.
Giveaway ends on Saturday, March 17, 2012; and we will announce the winner on Sunday.
Good luck!