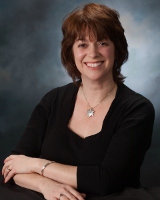 Today we're happy to welcome once again Kristan Higgins on Book Lovers Inc. Kristan's new novel, Somebody To Love was released this week. If you don't know this author, Kristan write wonderful contemporary romances that always mix humor and emotions. I'm a big fan and I can't recommend enough these books. Let's give a warm welcome to Kristan and stay tuned and you can maybe win one of her books.
One of the things I really liked about writing SOMEBODY TO LOVE was that the heroine is a single mom.
This was a first for me, as I like to (cough) escape from my own angel-babies through writing (don't tell them!). But the time had come, I thought, to delve into the issues a single mother would have in finding love.
Parker adores Nicky, her lovely, five-year-old son, who's about to start all-day kindergarten. She has a slight sense of dread about her little guy starting school, as I think a lot of us moms do…on the one hand, yay! School! Finally, some time to breathe. On the other…well, life will never be quite the same, will it?
For three weeks, Parker's boy will be on a wonderful vacation with his father and new stepmom, and Parker's fine with that. Sort of. She misses him, of course, a little desperately at times. In the meantime, there's James. One night together a couple of years ago, she and James hooked up. What she doesn't want and can't fit in, she tells herself, is a repeat. But James has had a thing for Parker for years now, so when she needs help on a major project, he's happy to step up. But as far as Nicky goes, James never saw himself as father material. He's got a past that tells him he and kids don't mix.
Finding the balance is something everyone struggles with, especially, I think, a single parent. Even if Parker wants something more with James, her son is her first priority. But, as one character points out, Nicky can't be the only thing that brings Parker happiness. Can she figure out how to go from five years as a single mom to being part of a meaningful relationship? Can James envision a future that includes a kid? I think so many people deal with those issues…it was extremely satisfying to write about. Especially the ending. 😉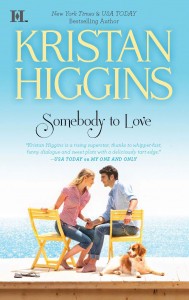 From the back cover of SOMEBODY TO LOVE…
After her father loses the family fortune in an insider-trading scheme, single mom Parker Welles is faced with some hard decisions. First order of business: go to Gideon's Cove, Maine, to sell the only thing she now owns—a decrepit house in need of some serious flipping. When her father's wingman, James Cahill, asks to go with her, she's not thrilled…even if he is fairly gorgeous and knows his way around a toolbox.

Having to fend for herself for the first time in her life, Parker signs on as a florist's assistant and starts to find out who she really is. Maybe James isn't the glib lawyer she always thought he was. And maybe the house isn't the only thing that needs a little TLC…
Thank you so much for having me over today!
~~~~~~~~~~~~~~~~~~~~~~~~~~~~~~~~~

****Giveaway****
Thanks to Kristan and her publicist we have 1 copy of Somebody to Love to give away to 1 lucky commenter! (US/Canadian)
AND since we want all our readers to have a chance at winning, I'm offering a copy of any book by Kristan (winner's choice) to 1 winner.  (Open to  ALL)  (through Book Depository)
Please tell us if you are from US/Canada or International
All you have to do is leave Kristan a question or leave a meaningful comment about the post. Or tell us if you like reading about single moms as heroines?
(You can read our full giveaway policy here)
Please be sure to include a valid email address in the comment form (need not be in the actual body of the comment).
This giveaway is :
 – Restricted to US/Canada (for Kristan's copy)
– Open to all (for the copy through Book Depository)!
Giveaway ends on Saturday, May 5th, 2012; we will announce the winner on Sunday.
Good luck!