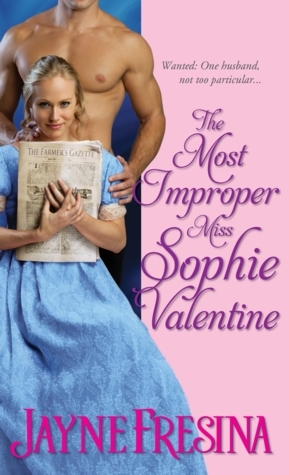 Format Read: ebook from NetGalley
Number of Pages: 384 p.
Release Date: June 5, 2012
Publisher: Sourcebooks Casablanca
Genre: Regency Romance
Formats Available: Mass market paperback, ebook
Purchasing Info: Goodreads, Amazon, Barnes & Noble, Author's Website, Publisher's Website, Book Depository
Book Blurb:
"Wanted: one husband, not too particular. Small dowry, several books, sundry furnishings, and elderly aunt included. Idlers, time-wasters, and gentlemen with other attachments need not apply."

Scarred in a childhood accident, Sophia Valentine doesn't expect any takers on her ad for a husband in the Farmer's Gazette, until the mysterious Lazarus Kane shows up at her door. To Sophia, he is an exciting, enigmatic stranger. But Lazarus has known Sophia for years and has come a long way to find her. Things are about to get complicated for the mischievous Miss Valentine.
My Thoughts:

Once upon a time, Miss Sophie Valentine did something very, very improper. She and her fiancé, the rather wealthy James Hartley, were caught, as they say, in flagrante delicto on a billiards table in the middle of a house party. There were scads of witnesses. (Not precisely, but nearby)  So James did the proper thing and asked Sophie to marry him. They would probably suit. They'd been friends for years, and he was rather handsome.
The worst part was that the experience wasn't any good for her. Today we'd call it "wham, bam, thank you ma'am".
No, the worst part was that while Sophie was standing on the balcony, waiting for James to bring her some punch, she saw him talk to one of the serving maids. And she saw that he showed the girl more real affection, more love, than he would ever show her.
And Sophie Valentine wasn't ready to be a complacent wife. Not even to escape the scandal.
She climbed down the groundskeeper's ladder next to the balcony, escaping the life that society expected of her, and tearing a gash on her face that left a permanent scar. Just like the one on her life.
The assistant groundskeeper who left that ladder out watched her every move–and was dismissed for his inattention to his duties.
Ten years later, Sophie is rusticating with her brother and his absolute harridan of a wife, still trying to live down that scandal, and she finally breaks out of her attempt at propriety by writing an advertisement in the local farmer's journal for a husband.
Of course, the ad brings a handsome stranger to the village. And, because there are no coincidences in romance, it's the assistant groundskeeper who got fired for watching her escape ten years ago.
And all the players from that long ago drama return to Sophie Valentine's life to try to prevent her from causing yet another scandal.
Based on that opening scene, this should have been tremendous fun. Not terribly true to period, but fun. Except it all falls kind of flat.
The characters seem more like caricatures than real characters. There's the hero of course, who had to go off and become dark and tortured before he could be redeemed and rescue the heroine. Lazarus has a number of secrets that he refuses to reveal to Sophie, but seem obvious to the reader. He also has a mysterious wound that might kill him at any moment, but is miraculously not a problem at the end of the book.
There's Sophie's brother  Henry, who isn't capable of managing his estates without his sister's more sensible advice. Henry is weak and resents his sister for pointing out the things that he should be taking care of and can't seem to stand up to his shrew of a wife, who is spending money that they don't have.
Then there's the sister-in-law who resents Sophie. Sophie who is doing all the work Lavinia should be doing, and who occasionally reminds her that the household is spending far, far too much. And that she's really, really stupid.
Are all the awful Regency sister-in-laws named Lavinia, or does it just seem that way?
The seduction of Sophie Valentine by Lazarus Kane from her prim and proper, scandal-reducing life back to her true improper self takes much too long and is down-right boring.  Sophie may have been teased but after she fell down that ladder, I wasn't.
I give The Most Improper Miss Sophie Valentine 2 Stars.
***FTC Disclaimer: Most books reviewed on this site have been provided free of charge by the publisher, author or publicist. Some books we have purchased with our own money and will be noted as such. Any links to places to purchase books are provided as a convenience, and do not serve as an endorsement by this blog. All reviews are the true and honest opinion of the blogger reviewing the book. The method of acquiring the book does not have a bearing on the content of the review.