Welcome back to our biweekly cover talk. This week we decided to talk about comic-like covers. Usually we both don't tend to buy those because we have the prejudice to shelf them as chiclit and well that's not our kind of genre. But author's like Molly Harper proved us wrong so well here we are.
Don't forget we don't know all the books we talk about and our judgement is only concerning the cover not the books content.
Don't forget to tell us what you think in the comments!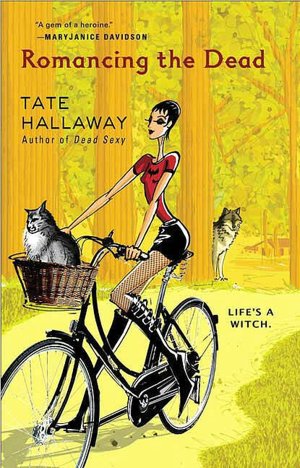 Caro
: When I look at these 3 covers I'm expecting some chick-lit. Silly story. It's hard not to think that when I see 'comic-like' covers.
High Stakes
is funny because it played with the Bat/vampire cliché but I'm not loving the rest.
And One Last Thing's cover actually works for me. It's not playing on the silly factor and it's simple. I even like the colors. The cover looks even better in real.
When I look at Romancing the Dead my first concern is how unrealistic that woman looks. At least on the other 2 covers the women looks normal this one is just not realistic. I mean silhouette-wise. So freaking thin. O_o O_o. Otherwise it's a cute cover. I love the 'life's a Witch' part on the cover. It's…yeah cute. But again hard to take it seriously.
Susi: I do agree- when I see these comic like covers I do expect a funny book. Not chiclit per sé but at least funny. I don't really like the High Stakes cover. It does fit the book and well I bought it and enjoyed it. But the bats are just too much. LOL
I adore the And One Last Thing cover. It's pretty and classy and I adore Molly Harper so I'm totally biased. So funny and witty.
Romancing the Dead looks scary and I want to feed the woman. Me not likey. l do like the subtitle Life's a with. Made me giggle- I'm easy that way.
Caro:
I really don't like the
Barely Bewitched
. I can't look at her face without wincing. Well and that cat O_o. Nope not working for me. You see by now that most of these silly covers are witchy books LOL.
Surprisingly I find Annette Blair's cover funny and interesting. Well once again you can't really expect something serious with such a silly cover but I find it fun. .
The Accidental Genie
is pretty cool. I like the colors and she looks mischievous. I like that. Dakota Cassidy always gets very pretty comic-like covers.
Susi:
I so agree about
Barely Bewitched
. Her face is all weird and I don't liek the color of her dress.
The Scot, the With and the Wardrobe
is weird. I'm more of a pretty drawing person and this one looks off. And well a unicorn- barf. Yes, I'm prejudiced and I do only know one unicorn I liked
(know as in I read about it- I do not talk to unicorns in real life- they are too much like horses).
I was a bit disappointed by
The Accidental Genie
cover. I loved the other ones but this one is just too pink/blue for me. Makes my eyes hurt.
Caro:
Mary Janice Davidson's covers don't do it for me. I think it's the covers that always prevented me from ever trying the series. Like I said you expect chick-lit with these covers. I'm really not her fan of her covers.
Ah, the Sookies covers. Well, I used to HATE them. Seriously I thought they were just too fugly. But at some point I started getting used to them and there's a certain charm to these covers. I find
Definitely Dead
funny. He's grabbing the tiger by the tail! LOL Yes I'm easily amused.
Again another witchy book. HP Mallory's cover is not bad. I love her witchy look and she kinda looks badass. I like this cover but once again, I'm expecting chicklit.
As a conclusion I'd say that I'm not a huge fan of these kinds of covers. Some works for me like every Molly Harper covers but most of the time it trivialized the book and I'm having a hard time taking it seriously.
Susi: The Undead and Unappreciated wants too much and too aggressively for me. The colors are too much, the woman too thin and well there are the bats again. Jeeesh! I really wonder if all those vamp books really have bats in it.
I think I don't like any of the Sookie covers. The artist is just not my style. Looks like weird hand-painted-by-kids art. And the vamp dude makes me roll my eyes.
The H.P Mallory cover looks nice. I will even forgive the thin girl. It works cuz it looks like a unit. Everything fits- the colors are great together. It looks mysterious and it tempts me to buy it so well all thumbs up for this one.
What do you think of these comic-style covers?
Which do you like ,which do you hate?
What exactly do you like/dislike about this kind of covers?
If you don't like them, would this kind of cover make you second guess picking it up?
And last but not least, do you expect the book to be funny? Or can you imagine the book might be dark? (I mean it's hard to take these covers seriously)