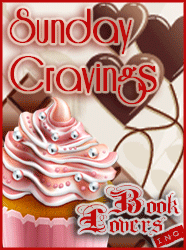 Happy Sunday Book Lovers! How was your weekend? Ready to face another long week?
Sunday Cravings will be another long post yet again. It seems that publishers are determined to make us pack an extra suitcase of books to take with us in our vacation with all those great books that are scheduled for release the week to come. Such cruelty 😛
Are you ready? Let's start!
Stella: Sweet Deception by Heather Snow
In the dark, the greatest lover can become the most dangerous conspirator…

Footsteps In The Fog

Lord Frederick Aveline, otherwise known as Derick, has successfully kept up appearances as an English nobleman. What no one knows is that he's a full-blooded Frenchman—a double agent for the British against the French. But there is something else no one knows about Derick. Deciding to leave behind his days of espionage, he's arrived home in Derbyshire to finish one final order of business: to find and expose a dangerous traitor in their midst.

But Aveline Castle holds its own share of secrets—including murder—and an unexpected lure in the brilliant and fiesty Emma Wallingford. Emma's loyalty lies with acting as the town's magistrate, and she doesn't welcome an unanticipated, though appealing, intrusion like Derick's. As the two of them are drawn closer, the sordid past of Derick's family comes to light, as does the true nature of his arrival. But when deception, however sweet, is the name of the game, no one can be trusted. And every love— and every life—is at risk.
Yaay! I can't believe the day has finally come when I can have Sweet Deception (Veiled Seduction, #2) by Heather Snow, the 2nd book in her Veiled Seduction series in my hands!! I LOVED the 1st book, it shot straight to my Favourite Reads of 2012 list, so I'm eager to read the sequel 😀
Stella and Marlene: Hell on Wheels by Julie Ann Walker
He's the bad boy she's always wanted…

Nate "Ghost" Weller has loved Ali Morgan nearly half his life. But he's done something so heinous he's convinced she'll never forgive him if she discovers the truth, so he keeps his feelings and his secrets to himself. Then she blows into town with a mother lode of bad guys on her tail and Nate can't deny she's in serious trouble. Unfortunately, he's the only one who can help her.

She's the good girl he's kept at arm's length…

Ali knows Nate as the most solemn, aloof man on the planet. Sadly, he's also the sexiest. For years she's avoided him, unable to stomach his dark scowls and brooding silences… especially when she secretly yearns for his touch. Now she must rely on him to save her from the malevolent shadows ghosting her every move. When the bullets explode, so does their passion. But can love really conquer all? Or are some things just too terrible to forgive?
Stella: I'm also very excited about Hell on Wheels by Julie Ann Walker, that cover is enough alone to give me that shiver of excitement, me.want.it.now! 😀
Has and Anna: Throne of Glass by Sarah J. Maas
After serving out a year of hard labor in the salt mines of Endovier for her crimes, 18-year-old assassin Celaena Sardothien is dragged before the Crown Prince. Prince Dorian offers her her freedom on one condition: she must act as his champion in a competition to find a new royal assassin.

Her opponents are men—thieves and assassins and warriors from across the empire, each sponsored by a member of the kings council. If she beats her opponents in a series of eliminations, she'll serve the kingdom for three years and then be granted her freedom.

Celaena finds her training sessions with the captain of the guard, Westfall, challenging and exhilirating. But she's bored stiff by court life. Things get a little more interesting when the prince starts to show interest in her… but it's the gruff Captain Westfall who seems to understand her best.

Then one of the other contestants turns up dead… quickly followed by another. Can Celaena figure out who the killer is before she becomes a victim? As the young assassin investigates, her search leads her to discover a greater destiny than she could possibly have imagined.
Anna: I can't even remember since when I'm dying to read this book… It must have been even before that cover and the intriguing blurb. The time is finally here and I can't wait to get this book in my hands!
Has: Dream Lake by Lisa Kleypas
Dream Lake takes readers once again to the exquisite setting of Friday Harbor, and tells the story of Zoӫ Hoffman, an innkeeper who has all but given up on love. She's a gentle, romantic soul, but has been so hurt in the past that she dare not trust her heart with anyone. Especially not Alex Nolan. Alex is the most haunted of all the Nolan brothers.

He drinks to keep his demons at bay and not only has he given up on love, he has never, ever believed in it. Zoӫ and Alex are oil and water, fire and ice, sunshine and shadow.

But sometimes, it takes only a glimmer of light to chase away the dark. Dream Lake is classic Lisa Kleypas: romantic, powerful, emotional, and magical.
The follow-up to the Friday Harbor series, Dream Lake is another book that I am eagerly awaiting and have preordered. This month is going to be really tough on my wallet!
Stella and Marlene: A Lady Can Never Be Too Curious by Mary Wine
Janette Aston is fascinated by all things scientific, and couldn't care less that her thirst for knowledge is regarded as unladylike by Victorian society. Enthralled by the Illuminists, a group of individuals committed to scientific discovery, she sneaks into their headquarters and is caught by Darius Lawley, an Illuminist Guardian. The attraction between the two is instant and magnetic.

When the Illuminists realize Janette is a rare Pure Spirit who can harness the power of crystals, she's targeted by a rival society, the Helikeians. It's up to Darius to protect her for the sake of science and love.
Stella: A Lady Can Never Be Too Curious by Mary Wine has also been on my wishlist/TBR list, looks and sounds exciting, and the cover is once again fantastic! 😀
Marlene: Seawitch by Kat Richardson
A quarter century ago, the Seawitch cruised away from her dock and disappeared with everyone on board. Now, the boat has mysteriously returned to her old berth in Seattle and the insurance company has hired Harper to find out what happened. But Harper is not the only one investigating. Seattle Police Detective Rey Solis is a good cop, albeit one who isn't comfortable with the creepy cases that always seem to end up in Harper's lap. As Solis focuses on the possible murder of a passenger's wife, Harper's investigation leads her to a powerful being who may be responsible for the disappearance of the Seawitch's passengers and crew.
Kat Richardson's Greywalker urban fantasy series, set mostly in Seattle, has been made of awesome since the very first book.
Susi and Anna: The Iron Wyrm Affair by Lilith Saintcrow
Emma Bannon, Prime sorceress in the service of the Empire, has a mission: to protect Archibald Clare, a failed, unregistered mentath. His skills of deduction are legendary, and her own sorcery is not inconsiderable. It doesn't much help that they dislike each other, or that Bannon's Shield, Mikal, might just be a traitor himself. Or that the conspiracy killing registered mentaths and sorcerers alike will just as likely kill them as seduce them into treachery toward their Queen. In an alternate London where illogical magic has turned the Industrial Revolution on its head, Bannon and Clare now face hostility, treason, cannon fire, black sorcery, and the problem of reliably finding hansom cabs.

The game is afoot…
Susi: I'm so tempted by The Iron Wyrm Affair (Bannon & Clare #1) by Lilith Saintcrow. I do enjoy her writing even though it ususally is pretty dark and gritty. Her books are smart and well I read all her Dante Valentine books in like 1.5 weeks. I like. And this one has steampunk and well a bit of Sherlock vibe- perhaps. I'm curiously awaiting some reviews. *g*
Caro: Mina Wentworth and the Invisible City by Meljean Brook
Eight months after The Iron Duke, can their marriage survive a new danger?

After Mina is called in to investigate the murder of an aristocratic bounder, her husband Rhys—known to the world as the Iron Duke—must overcome his fear for his new bride before his need to protect her tears them apart. But when she invites him to join her at the murder scene, a search for a mysterious killing machine puts her in more danger than ever before…a danger that leads straight back to Rhys.
I cannot wait for this novella! This is Mina and Rhys's HEA and I've been pining about this story for months! It was torture to know it was in the new Paperback version of the Iron Duke. I was even tempted to buy the book again just to get it. But I've been good and now I don't have to wait too long anymore! Woooot
That's about it 😛 How about your choices? Which of the many titles that are hitting the shelves are you eagerly anticipating?