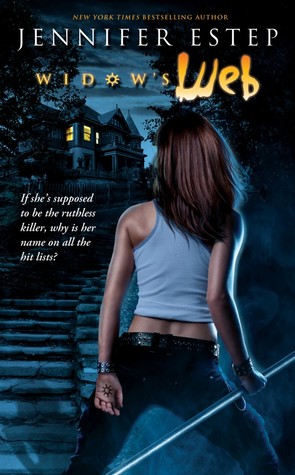 Widow's Web (Elemental Assassin #7)
by Jennifer Estep
Genre: urban fantasy
Release date: August 21, 2012 by Simon & Schuster
I used to murder people for money, but lately it's become more of a survival technique. Once an assassin, always an assassin. So much for being plain old Gin Blanco. With every lowlife in Ashland gunning for me, I don't need another problem, but a new one has come to town anyway.
Salina might seem like a sweet Southern belle, but she's really a dangerous enemy whose water elemental magic can go head-to-head with my own Ice and Stone power. Salina also has an intimate history with my lover, Owen Grayson, and now that she's back, she thinks he's hers for the taking. Salina's playing a mysterious game that involves a shady local casino owner with a surprising connection to Owen.
But they call me the Spider for a reason. I'm going to untangle her deadly scheme, even if it leaves my love affair hanging by a thread.
Read an excerpt of Widow's Web
. . .
Because You Must Learn (Because You Are Mine, #4) by Beth Kery
Black Bottle by Anthony Huso
But My Boyfriend Is (Florida Books, #4) by K.A. Mitchell
By Starlight by Dorothy Garlock
Damaged Goods (New York, #2) by Lainey Reese
Dynama (The Superheroes Union, #1) by Ruth Diaz
Feeling Hot (Out of Uniform, #7) by Elle Kennedy
Forbidden (The Scandalous Women of the Ton, #6) by Nicola Cornick
Ghost Key by Trish J. Macgregor
Heaven (Halo, #3) by Alexandra Adornetto (YA)
Perfect Mate by Mina Carter
Pizza, Love, and Other Stuff That Made Me Famous by Kathryn Williams (YA)
Reaper (Lightbringer, #2) by K.D. McEntire (YA)
Savage Redemption by Alexis Morgan
Shattered Magic by Rebecca York
Shifter's Destiny by Anna Leonard
Smashed by Lisa Luedeke (YA)
Softly at Sunrise (KGI, #5.5) by Maya Banks
Split at the Seams (Sierra Fox, #2) by Yolanda Sfetsos
The Guardian of Bastet by Jacqueline M. Battisti
The Orchardist by Amanda Coplin
The Rise of Nine (Lorien Legacies, #3) by Pittacus Lore (YA)
The Sweetest Spell by Suzanne Selfors (YA)
Two or Three Things I Forgot to Tell You by Joyce Carol Oates (YA)
. . .
If it weren't already apparent from the number of (YA) designations next to the the titles listed above, it's a bona fide young adult release week! If you're not typically a reader of YA but like to try it out every once in a while, there are a few really promising releases coming out this week. (The latest Lorien Legacies book is out, if you don't mind the author's drama.)
You may notice the addition of a few titles that are closer to the designation of "realistic fiction" than most. For instance, that is indeed a book by Joyce Carol Oates you saw there. Expect heavy, intense topic matter in that one. Likewise, The Orchardist is a sweeping historical tale that I saw compared to recent classics like Plainsong and Edgar Sawtelle. Then there's the intense YA Smashed, which I've seen compared to Speak on more than one occasion.
Of course, if you're thinking, "Whatever Alisha–paranormal or bust, you know that," there's always the latest Elemental Assassin by Jennifer Estep. Now there's a book that's guaranteed to keep me up into the wee hours of the night reading "just one more chapter," early-morning wakeup be damned.
Any pleasant surprises from this cadre of book titles? Have you ever stayed up super late to read, even though you had school or work the next day?