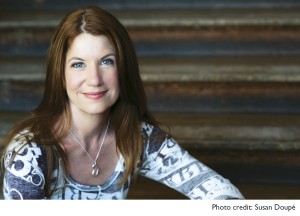 Please join us in welcoming Susan Wiggs to BLI today. Susan is here as part of her blog tour celebrating the release of Return to Willow Lake, the latest book in her Lakeshore Chronicles contemporary romance series. Return is an appropriate title, because this is Susan's first trip back to the world of the Lakeshore Chronicles in two years. I'm sure that she has a lot of fans who have been itching for a return to this marvelous little town in the Catskills and the people that they have become familiar with (and probably quite fond of) during the course of this series.
BLI: Susan, tell us a bit about yourself- perhaps something no one would expect from you?
Susan: Hmmm. I'm not very mysterious so I don't know if I can tell you anything unexpected. Maybe it's unexpected that I'm a newlywed, seeing how I'm older than dirt. And my husband made my wedding gown. That's something you don't hear every day. He's a really talented designer. (Photo below)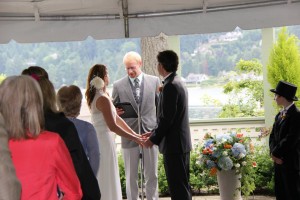 BLI: Tell us about your Lakeshore Chronicles. What is the center of your series?
Susan: Willow Lake, in the charming Catskills town of Avalon. And the Bellamy family, who own Camp Kioga. The series is a nostalgic look at the lives and loves of the kind of people you meet every day–friends and neighbors, parents and kids, rivals and colleagues. Probably the most frequent comment I get from readers is that the books are very involving, drawing the reader into a new world.
BLI: How do you keep up with the Lakeshore Chronicles world? Have you long since a sense of how everything works out for everyone, or do new installments develop as you go?
Susan: I make a lot of lists, but I'm not very organized, so my friend Lindsey made me a spreadsheet and family tree of everyone involved in the series. I know roughly what will become of some characters, while others surprise me. Sonnet in Return to Willow Lake surprised the heck out of me. The future I thought she would pursue turned into something else entirely!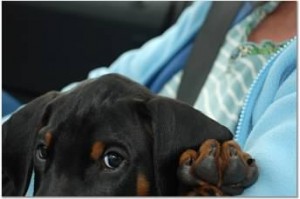 BLI: Have you got an all time favorite character or book and would you like to revisit them?
Susan: Barkis, hands down. The dog in Summer at Willow Lake. Happily, I get to revisit him every day because when that book came out, I got a puppy and named him Barkis. Here's a little more about the real Barkis: http://susanwiggs.wordpress.com/2007/06/17/barkis-is-willin/
BLI: How would you describe your new novel Return to Willow Lake? Do you think it's a good one to dive head first into your world without having read the other titles?
Susan: I try to write each installment as if the other books didn't exist. That way, a reader can jump into the series anytime she likes and she won't feel lost. There are enough nods to other characters and books to remind longtime readers of their old friends, though. Sonnet is a character who has appeared in past books, but in Return, we get to view the world through her eyes, and I think she will surprise readers.
BLI: What's next up on your schedule? Any new secret projects we should keep our eyes open for?
Susan: My memory is so bad, I can't keep secrets. Coming up in 2013 is The Apple Orchard, the launch of a new series of books set in Sonoma County, California. The next Lakeshore will be a holiday story featuring Logan O'Donnell. I think the title will be Candlelight but we're also considering Starlight.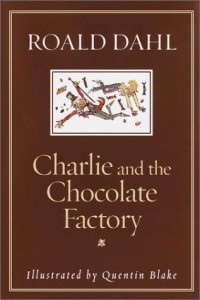 BLI: If you had the chance to write in another universe (can be from movies/shows and books) which one you like to explore in?
Susan: The setting of Roald Dahl's Charlie and the Chocolate Factory. Is there anywhere else?
BLI: If you could only take 3 books to a desert island/or your vacation which books would it be?
Susan: My next three unwritten novels. That way I would keep myself busy, right?
Return to Willow Lake by Susan Wiggs

Lakeshore Chronicles #9

Sonnet Romano's life is almost perfect. She has the ideal career, the ideal boyfriend, and has just been offered a prestigious fellowship. There's nothing more a woman wants – except maybe a baby.sister? When Sonnet finds out her mother is unexpectedly expecting, and that the pregnancy is high-risk, she puts everything on hold – the job, the fellowship, the boyfriend – and heads home to Avalon. Once her mom is out of danger, Sonnet intends to pick up her life where she left off. But when her mother receives a devastating diagnosis, Sonnet must decide what really matters in life, even of that means staying in Avalon and taking a job that forces her to work alongside her biggest, and maybe her sweetest, mistake – award-winning filmmaker Zach Alger. So Sonnet embarks on a summer of laughter and tears, of old dreams and new possibilities, and of finding the home of her heart. At once heartbreaking and uplifting, Return to Willow Lake plumbs the deepest corners of the human heart, exploring the bonds of family, the perils and rewards of love, and the true meaning of home.

Amazon | B&N | Kobo | Book Depository US | Book Depository (UK)
~~~~~~~~~~~~~~~~~~~~~~~~~~~~~~~~~~~~~~~~
~*~*Giveaway*~*~
Susan Wiggs has generously offered an print copy of

Return to Willow Lake

to one lucky commenter!
All you have to do is

leave a meaningful comment/question for Susan

.
(You can read our full giveaway policy here)
Please leave us a way to contact you.
(Email or twitter name – no way to contact you – no entry).
This giveaway is open worldwide!
Giveaway ends on September 8, 2012 and we will announce the winner on Sunday.
Good Luck