Today we've very happy to host Riptide Publishing to celebrate their 1st Anniversary Celebration. Riptide Publishing has quickly become one of my favorite publishers out there.  Now I have to make a conscious effort not to check their website every day. (Yes that's how addictive their books are!). Anyway, here is your chance to meet one of their fabulous authors, L.A. Witt! 

 Thanks for joining us on the Riptide Publishing First Anniversary Blog Hop Bash! All month long, we're bringing you guest posts and interviews from your favorite authors, artists, and Riptide staff. As a thank you for helping us celebrate, we're also giving away $10 in Riptide store credit to one lucky commenter at every stop! Simply leave a comment below by 11:59pm on Sunday, October 14th to enter. Be sure to check out our complete tour schedule to find out where else you can enter to win—one Grand Prize winner drawn from commenters at all the stops will also win a Kindle that we'll load with every book we publish in 2013!
Plus, check out our anniversary sale—All October long, backlist titles are 15%-50% off!
~~~~~~~~~~~~~~~~~~~~~~~~~~~~~~~~~
Today we have an interview with L.A. Witt, author of A Chip in His Shoulder and the upcoming Warriors of Rome Collection novel The Left Hand of Calvus.
Have you ever written outside the romance genre? If not, do you ever plan to?
Before I started writing romance, I cut my teeth in epic fantasy. Never published any of it – holy hell, it was horrible – but it was the genre that originally drew me in. To this day, most of what I read is fantasy or science fiction of some flavor, even though I mostly write contemporary romance. Go figure. Eventually, I'd like to write another fantasy novel. These days, I'm so busy with romance, I don't know if I'll ever have time!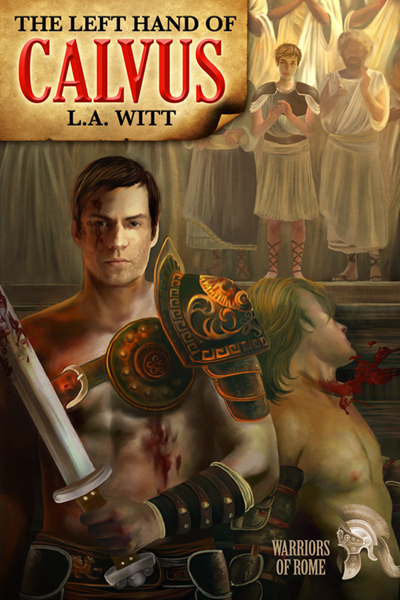 Do you write het stories too?
Oh hell yeah. I write straight, gay, lesbian, bisexual, trans*. My straight/lesbian/bi stuff is published under the name Lauren Gallagher. Everything else is L. A. Witt.
We know you're a romance writer. What's your day job?
Romance writer. 😉 This is my day job. That and spoiling my cats, which they seem to think is a full-time gig.

Do you write under a pen name? Why or why not? Will you tell us your real name?
L. A. Witt is my real name (er, well, initials), and Lauren Gallagher is just a spinoff of my first name coupled with my maiden name.
Where do you get the names for your characters?
From a very well-worn baby name book that is perma-parked on my desk.
How did you celebrate the sale of your first book?
A lot of screaming
Do you have any special writing rituals?
First, I shave the goat…
Have you ever written to music?
Always. I can write without it, but I definitely prefer to have something playing in the background.
Have you ever tested out one of your sex scenes on your significant other?
The emergency room physician kindly requested that we refrain from attempting anything like that in the future. The judge kindly requested we not speak of it ever again. So… no.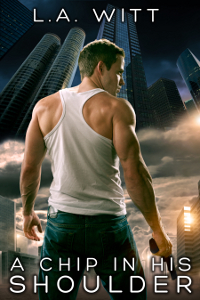 How do you decide which kinks your characters like?
The characters decide. I know, I know, they're in my skull, I should be able to control what they do. But trust me, there are times when I try to steer a character toward a particular kink, and just…can't. Or better yet, when he suddenly surprises me by doing something totally unexpected. The thing is, each character is fully fleshed out in my head, with a complete set of quirks and personality traits, and to try to shoehorn them into doing something that turns out to be out of their character – something contrary to that set of quirks and traits – it just doesn't work. So… they decide, not me.
What do you think of the Fifty Shades of Grey craze?
I think that if we trace it back to its origins, it's a safe bet that somewhere along the lines, a transaction occurred involving the ownership of a soul.
What do you find the most challenging about being a writer?
Not bashing my forehead through my keyboard when a book like Fifty Shades of Grey goes viral and everyone assumes I'm writing the same thing.
Which is the biggest time-waster: Facebook, Twitter, Goodreads, or something else?
iTunes. My God, iTunes. Because seriously, if I get started screwing around with playlists, searching for new music, or screwing around with more playlists, I can kill like two hours before I even come up for air. It's like OCD paradise, laid out almost like a pretty little spreadsheet with all kinds of different ways of sorting and organizing and tracking songs from when I downloaded them to how many times they've been played to when I last played them. I have 52.5 gigabytes of music. And counting. I assure you, endlessly organizing (not to mention adding to) that much music is a time vampire like no other. Especially when I can justify it as "music I listen to while I'm writing." Which it is. But the playlist I have is fine, and would someone please kick me in the butt for trying to tweak it for the 47th time since breakfast?
What made you publish with Riptide?
Aleks and Rachel cornered me in a basement with handcuffs and a car battery.
~~~~~~
About the author:
L.A. Witt is an author of gay erotic romances, and has been recently exiled from Okinawa, Japan, to Omaha, Nebraska. She resides there with her husband, a telekinetic goldfish, and two incredibly spoiled cats. It's unclear if the exile was the result of the mostly classified "Aquarium Incident," or if she's actually being hidden, for her protection, from the Polynesian Mafia and her arch nemesis, erotic romance author Lauren Gallagher. Should you encounter Lauren, don't tell her L. A. is in Omaha. This bio will self-destruct in 17 seconds.
Where you can find L.A. :
Website , Author Blog, Personal Blog, Twitter, Facebook
~~~~~~~~~~~~~~~~~~~~~~~
Giveaway
Riptide Publishing is giving away $10 in Riptide store credit to one lucky commenter
All you have to do is leave a comment or a question for L.A. Witt
(You can read our full giveaway policy here)
Please be sure to include a valid email address in the comment form (need not be in the actual body of the comment)
This giveaway is open to everyone!
Giveaway ends at 11:59pm on Sunday, October 14th, 2012. Riptide will be picking the winner.