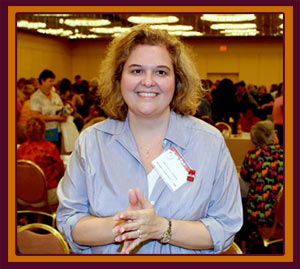 We are delighted to welcome back HelenKay Dimon today in celebration of her holiday novella We'll be Home for Christmas, released by Carina Press on December 3, 2012. We'll be Home for Christmas is available as a single release in novella format and it is part of the holiday anthology, Romancing the Holiday which BLI's Stella read and enjoyed, the review will be posted later today. 🙂
Thank you for having me here today to talk about my newest release, WE'LL BE HOME FOR CHRISTMAS.
The title probably gives it away but this is a holiday romance. The story takes place in the weeks before Christmas – those hectic "how am I going to get everything done???" days. Thinking about the book and the season got me thinking about decorations and cookies (and more cookies) and gifts and everything that goes along with the season from shiny things to chilly weather. I also started thinking about being thankful. There is so much bad news out there that it's nice to write a book about hope. And hope really is at the heart of this book.
The hero, Spence, is grateful for family and a strong business that helps the town and the people he cares about. He's grateful for security. He has a sky-high IQ but is a tad clueless about women, but when Lila walks in the door he is thankful for Lila. She's smart and sassy, sexy and strong. They had a thing (think of it as a three-night stand) months before, but when they reconnect at Christmastime their relationship grows into so much more.
But Spence and Lila aren't the only thankful ones. Spence has a newly married brother and good friends and a host of townsfolk who know how lucky they all are…and so do I. Writing this book in June was an interesting experience. I live in San Diego where it's sunny and warm most of the year but definitely in summer. Still, I had a reoccurring sense of being grateful while working on this one, even though the holidays were then months away. For me, the gratitude was for my editor, Angela James. See, before she asked me to write a holiday romance for the 2011 anthology – my novella was IT'S NOT CHRISTMAS WITHOUT YOU – most of my books had started to include a suspense element. Writing that first holiday novella for her reignited my love for contemporary romance without a thriller element. I've been writing them for her ever since, along with the romantic suspense I write for Harlequin.
So, thank you to all the readers who try WE'LL BE HOME FOR CHRISTMAS and the other books in my Holloway series, and to my editor for making it happen, and for Book Lovers Inc for letting me come here and say hello. Have a safe and happy holiday season!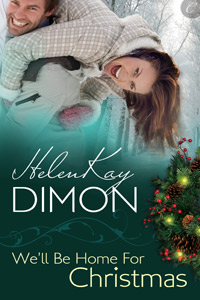 Genre: Contemporary Romance
Series: The Holloway Series
Release Date: December 3, 2012
Publisher: Carina Press Publishing
Formats Available: eBook, Kindle, Nook
Purchasing Info: Publisher, Author's Website, Goodreads, Kindle, Nook
Book Blurb:
No man likes having his bedroom skills described as forgettable, but that's just what Lila Payne does when she runs into Spencer Thomas again. When she discovers that he'd lied about his name during their brief three-day romp a few months before, she's so angry that she pretends she doesn't remember him.

Spence regrets his deception, but not as much as he regrets that their time together didn't last longer. When she shows up in his town, looking to revitalize her uncle's mountain resort, Spence is determined to help. Maybe rescuing Lila from a hopeless renovation project will get him in her good graces—and back in her bed.

Lila has no interest in being rescued, and Spence is insulted by her stubborn rebuffs and her "faulty" memory. But when rehab work turns into an after-hours meeting, the two of them are in for a night that just might prove unforgettable.
~~~~~~~~~~~~
About HelenKay:
HelenKay Dimon is an award-winning author of more than a dozen novels and novellas. Her first single title, Your Mouth Drives Me Crazy, was excerpted in Cosmopolitan magazine in August '07 and spotlighted at E! Online. She made Cosmopolitan a second time in December 2009 with her novella "It's Hotter At Christmas" from the Kissing Santa Claus anthology. Her books also have been published by Doubleday Book Club and Rhapsody Book Club and translated into several languages.
After twelve years as a divorce lawyer specializing in unhappy endings, HelenKay now writes romance for a living. The sudden career change resulted from her husband getting one of those "can't turn it down" job offers. With only a few months' notice, his work took the family from Maryland to their current home in California. So, instead of days filled with court, clients and a great deal of whining and complaining, HelenKay now writes for a living. She thinks of herself as a "recovering lawyer" and is grateful every day for the ability to write full time.
Where to find HelenKay:
Website | Twitter | Blog | Facebook
~~~~~~~~~~~~~~~~~~~~~~~~~~~~~~~~~~~~~~~~
~*~*Giveaway*~*~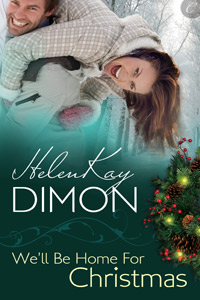 HelenKay has generously offered a digital copy of We'll be Home for Christmas to one lucky commenter!
All you have to do leave a meaningful comment regarding HelenKay's post or a question for her!
(You can read our full giveaway policy here)
Please leave us a way to contact you.
(Email in blogger profile or twitter name – no way to contact you – no entry).
This giveaway is open to International entries!
Giveaway ends on Saturday, December 29, 2012; and we will announce the winner on Sunday.
Good luck!