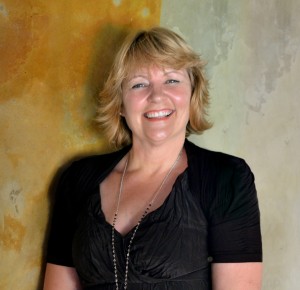 We are very happy to welcome to Book Lovers Inc. today one of Random House's LoveSwept imprint's newest authors, please give it up for Wendy Vella! Wendy is on a blog tour celebrating the release of her debut historical romance novel: The Reluctant Countess and I was lucky enough to be able to ask her quite a few questions. 😉 So read on to discover more about this author you should definitely keep your eye on and for a chance to win a copy of The Reluctant Countess! 
Stella: Hi Wendy, welcome to Book Lovers Inc! Can you please tell us a bit about yourself?
Wendy: Hi, and thanks for having me here today. I was born and raised in the North Island of New Zealand where I still live today. I've been married to a wonderful man for 29 years who understands my need to read and write with only the occasional protest. We have two children who have surprisingly shaped into stunning adults after their tumultuous teenage years. I'm one of those crazy lycra wearing road cyclists and enjoy nothing more than spending a few hours touring the roads in my lovely home town. I have a day job so writing for me is done in the evenings which means my days are full but I operate better when I'm busy.
Stella: Are you a planner or pantser? Can you tell us a bit about your writing process? How do your novels come to life?
Wendy: I'm a pantser, I have tried a few times to plan but get annoyed that I've written so many pages and none of them are actually a book, so I stick with being a pantser. I write in the lounge sitting in a reclining chair on my laptop with my headphones on, this works best as my family are around me and even though I'm tuned out we're all together. If I'm required to mediate a discussion they simply throw something at me lol. I start with characters that appear in my head and build the story from there.
Stella: What do you think is the difference between a reader and a real Book Lover?
Wendy: Good question and a hard one at that. I think the difference is a real book lover is someone who has keepers as I call them. Books that sit on your shelves that you pick up from time to time to read again. I have many shelves of keepers much to my husband's horror, some I've read multiple times.
Stella: Your debut novel, The Reluctant Countess is to be published on 14 January 2013 by Random House in their Loveswept imprint, congratulations! 😀 Could you tell our readers what they can expect of it? 
Wendy: It's a story of two people who haven't really had reason to trust in their lives. From different worlds they are wary of each other but over time, and circumstances, that changes. Patrick, the hero, believes Sophie, the heroine, to be a fraud but as he gets to know her he begins to have doubts. Would a woman who loves dolls and protects servants be a Charlatan?
It's the story of dealing with the past in order to secure a future with the person you love. There are plenty of colorful secondary characters to move the story along and the prerequisite wonderful happy ending that we all enjoy.
This scene is one of my favorites and takes place when they are at an archery competition:
Something about the earl's superior expression annoyed Sophie. A devilish impulse urged her to do something. Not giving herself enough time to think, she took one step forward, leaned into Patrick's large body and opening her mouth, she nipped his ear just as he released the arrow.

"Bloody hell!" Patrick roared as his arrow shot over the target and nearly impaled one of Lady Shubert's servants. Taking a deep breath to still the bolt of lust that nearly crossed his eyes, Patrick looked at Sophie. She stood demurely with her gloved hands folded, eyes cast down. No one had seen what she'd done as she had nipped the ear on the side of his head turned away from the spectators, and in truth, who would ever think her capable of such a deed? Disgruntled about losing and seriously discomposed, Patrick ignored her while he shrugged into his jacket.

"I cannot believe you did that," he muttered.

Sophie could not quite believe she had done it either. She decided, after looking at his dark expression, that it might be prudent to remain silent.

"Well done, ladies!" Lady Shubert cried. "It seems we have a tie today, so if you will come with me, my lords, I will give you both your prizes."

"I have promised to show Lady Monmouth the gardens, Lady Shubert; I shall collect my prize later," Patrick said, taking

Sophie's arm before she could run from him again. With a curt bow, he then towed her away from the crowds.

"My lord!" Sophie struggled to keep pace with his much longer strides as they started down the stairs.

"What?"

"I-I did not say goodbye." Sophie looked over her shoulder and acknowledged Amelia's farewell with a wave of her hand.

"It is not as if you will never see her again." Patrick steered them down the last step and then toward the gardens, where there would be private paths and hidden bowers.

"I do not wish to walk in the gardens." Sophie knew that once he got her alone, he would relentlessly question her until he had all her answers. And what if he tried to kiss her again? Would she be able to resist him?

"I want to talk to you, Sophie, and to do that we need privacy."

Patrick entered the gardens, then swept down a path, only slowing slightly as Sophie tugged her hand for release, which of course he did not do.

"I cannot believe you bit my ear." His ear was still tingling from her endeavors.

"You make it sound like I hurt you." Sophie was now gasping for air from the frenetic pace he had set.

"Parts of me hurt," Patrick muttered.
Stella: Could you introduce the hero and heroine The Reluctant Countess to us?
Wendy: Sophie my heroine was born in to servitude and then thrust into society. She's learnt how to become a lady, but sometimes it still doesn't come easy for her. To protect her self she acts the ice queen so no one can get too close and see the terrified woman beneath. Here is how my hero Patrick sees her in the opening scene:

Patrick watched the countess descend. Tonight her raven locks were piled high and clasped with a single diamond pin; several long curls had been artfully teased to lie on one slender shoulder. Created to torment, her dress was cut low in the bodice, allowing a glimpse of the lush curves that lay beneath, and with every step she took the skirts caressed her legs in a swirl of emerald satin. Patrick dreamt about those legs—naked and wrapped around his body. Even from a distance, his muscles clenched at the thought of her lying beneath him, skin gleaming, lips red from his kisses. Bloody woman. From the first glance, she had taken up residence in his head, and he wanted her out. Patrick didn't obsess over women—he took what he wanted when he wanted it. Usually his affairs were brief yet satisfactory for both parties and he was always the one in control. The countess, however, was another matter. Something about her reached out to him and he wanted her with a desperation no other had made him feel. Yet he would never act on that desperation because the countess was a fraud, and there was nothing Patrick hated more than people who set out to deliberately deceive others.
Patrick has been raised to be an Earl by a father who never let him be anything else. He's the head of his family, hard and uncompromising and doesn't suffer fools but he's also alone and is longing for that one person to see the man beneath the austere exterior. Here is how Sophie sees him in the opening scene:
What was it about the man that disturbed her? Whenever he turned those dark eyes on her, she felt as if they could see right down to her very soul. Black as a starless night and fringed by thick lashes, they could make a woman swoon when they were lit by laughter. The earl moved with an athletic grace that was often lacking in tall men, and anyone in his way simply stepped aside to allow him access. Instinctively, Sophie shuffled two steps closer to Letty. He unsettled her and she was unsure why. It was almost as if beneath that polished veneer lay the real earl, a ruthless man who would not hesitate to expose an imposter like her.
Stella: How did the idea for the story come to you? Was there a specific moment/event that sparked the inspiration for it that you could share with us?
Wendy: I was going to enter a competition and the entry conditions were that you wrote the beginning about an Earl, a mysterious Countess and a ballroom scene and The Reluctant Countess came from that. I've never started a book this way but it was fun and although I never entered the competition the book worked out well
Stella: Now can you tell us 3 reasons why people should read The Reluctant Countess?
Wendy:
1- It has great dialogue with lots of snappy one liners.
2- The romance is sizzling hot.
3- The secondary characters are funny and add depth to a great story.
Stella: Could you please summarize The Reluctant Countess for us Twitter-style (in 140 characters or less)?
Wendy: Ok so here's the thing, I'm not actually that good at Twitter-style because I'm new to the social media world but I'll give it a go, no laughing!
2 peeps from diff worlds, Sxy Earl thinks hot Countess is 2GTBT, Regency setting, humor & passion + intrigue & IMHO a bloody good read!
Stella: Do you have a favourite time period? Either to read about or one that you would enjoy visiting (with a guaranteed return ticket! lol)?
Wendy: Probably the Regency period, it was just such an intriguing and scandalous time. There were extremes of poverty and riches plus the excessive behaviour of the wealthy and the Prince Regent. There was also a lot of uncertainty with the Napoleonic wars and the belief by some that the Brits may start a revolution as the French did. I'd like to visit but I'd probably take Harry Potter's invisibility cloak with me lol.
Stella: Do you have a favourite historical figure?
Wendy: Edward of Woodstock, Prince of Wales, Duke of Cornwall, Prince of Aquitaine AKA The Black Prince. He was born 1330 and died one year before his father, becoming the first English Prince of Wales not to become King of England.
Stella: You are a New Zealander, according to your website bio "a proud Kiwi", so the globetrotter in me would like to know: what sights or foods/events would you recommend to us if we were to visit your island? What place, food is a must see/try? 😀
Wendy: Any of our beaches are pretty spectacular, especially the one I grew up near Muriwai. It has black sand and heaving swells and huge waves and is raw and untamed, IT'S MAGIC! Queenstown in the South Island is a must too, very picturesque with glacial aqua lakes and snow topped mountains.
My favourite food is Pavlova; it's a meringue based dessert topped with whipped cream and fruit YUM! You can't beat a Kiwi Hamburger either.
Stella: What is next on your schedule? Any future plans you'd like to share with us? Is The Reluctant Countess a standalone or part of a series?
Wendy: The Reluctant Countess is a standalone but maybe I will use some of the characters in future books. I'm working on a few things and one of those is a contemporary so we'll see how that ends up.
Stella: Could you share with us something, a trivia that not many people know about you?
Wendy: I used to sing in a rock music band but I'll deny it if you tell anyone lol.
Wendy Vella is a lover of all things romantic. She started reading her first Georgette Heyer book at a young age and instantly fell in love with the Regency era. Writing is something she has always found time for; she penned her first novel at eighteen though she says it will never make an appearance further than the closet in which it currently resides.

After having her two children Wendy then joined RWNZ and started honing her chosen craft by entering competitions with some success and attending conferences. Her Clendon and Readers Choice award-winning historical romance The Reluctant Countess will debut in Jan 2013 with Random House in their Loveswept line.

She has an addiction to reading and loves a wide range of genres while her first love will always be historical. She relishes novels steeped in Romance and excitement with feisty heroines and delicious heroes, especially when they are set amongst the treacherous waters of London society.
Wendy is a sucker for a happy ending having secured her own. She has been married to her own dark brooding hero for 28 years and shares her home with two wonderful children, two dogs and anyone else who happens to be visiting at the time. Born and raised in a rural area in the North Island of New Zealand, Wendy loves the beaches and lush green rolling hills of her homeland and is proud to call herself a very patriotic Kiwi!

You can find out more about Wendy and her novel at

her website – Facebook – Twitter.
The Reluctant Countess by Wendy Vella
From rising romance star Wendy Vella comes a Cinderella story of whirlwind passion between a dashing earl and a beautiful countess—and the secret that threatens to tear them apart.

Regal, poised, and elegant, Sophie, Countess of Monmouth, is everything that a highborn lady should be. But Sophie is hiding a past that is far from royal. When Patrick, Earl of Coulter, realizes that her story doesn't add up, he resolves to find out the truth of what Sophie and her sister-in-law are concealing. Although Sophie has every reason to avoid him, the handsome and charismatic Patrick awakens something wicked deep within her soul . . . a powerful need that Sophie must stifle in order to protect her place in society.

Despite Sophie's humble background, the raven-haired beauty has won Patrick's heart. But what Sophie needs now is an ally. Viscount Myles Dumbly, the disgruntled former heir of Monmouth, is determined to expose Sophie as a fraud to recapture his lost inheritance. Soon Patrick is drawn into a fight for both their lives. Somehow he must find a way not only to rescue Sophie from poverty once and for all, but to keep her in his arms forever.

Buy at Amazon – B&N – Random House
~~~~~~~~~~~~~~~~~~~~~~~~~~~~~~~~~~~~~~~~
~*~*Giveaway*~*~
Random House has generously offered 4 yes FOUR copies of The Reluctant Countess by Wendy Vella (1 print copy to a US resident and 3 ebook copies via NetGalley) to 4 lucky commenters!
All you have to do is tell us: What time period would you wish to visit it you had  a guaranteed return ticket?
(You can read our full giveaway policy here)
Please be sure to include a valid email address in the comment form (need not be in the actual body of the comment).
This giveaway is open to all!
Giveaway ends on Saturday, 26 January 2013 and we will announce the winner on Sunday.
Good luck!