Today we are very happy to welcome back to BLI Jessica Scott who celebrates the release of Anything For You, her latest novella in the Coming Home series, which revisits the hero and heroine of her first novel, Because of You (you can check out my review here). So let's start Valentine's Day with some virtual chocolate and a delicious romance, please give a warm welcome to Jess and don't forget to enter the fantastic giveaway at the end! 😀
Happy Valentine's Day! I don't know about you but I'll never turn down an excuse for chocolate.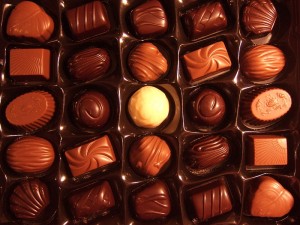 What's funny is that I actually wrote a heroine in Anything For You who doesn't really like Valentine's Day and is not a fan of chocolate. Jen's a simple woman but Shane is still struggling to figure that out. He wanted to do something really special for her but instead, they end up having an argument about what their future holds.
Ultimately, I think that grand gestures don't add up to enough unless the day to day stuff is there first. But because Shane is already a good man and a good partner for Jen. Their argument stems from their disagreement over how Shane shows his love. He's not a hearts and flowers kind of guy, either but because this is his first Valentines Day with Jen, he wants to make it perfect for her. What he fails to understand is that Jen is already content with the daily life she already has with him.
Shane manages to do his grand gesture but its definitely not what Jen expected. And Jen comes to grips with the man she loves and what loving him entails.
So tell me readers, what's your favorite small gesture that shows you how much that special person in your life loves you?
I'm giving away a digital copy of ANYTHING FOR YOU as well as Shane & Jen's first story BECAUSE OF YOU to one lucky commenter!
Jessica Scott is a career army officer, mother of two daughters, three cats and three dogs, wife to a career NCO and wrangler of all things stuffed and fluffy. She is a terrible cook and even worse housekeeper, but she's a pretty good shot with her assigned weapon and someone liked some of the stuff she wrote. Somehow, her children are pretty well adjusted and her husband still loves her, despite burned water and a messy house.

Oprah has called her. True story.

Her debut novel BECAUSE OF YOU launched Loveswept, the first Random House digital imprint.

She's written for the New York Times At War Blog, PBS Point of View Regarding War, and IAVA. She deployed to Iraq in 2009 as part of OIF/New Dawn and is currently a company commander stationed at Fort Hood.

Most recently, she's been featured as one of Esquire Magazine's Americans of the Year for 2012.

Connect with Jessica at her Website – Facebook – Twitter – Goodreads
Anything for You by Jessica Scott

Book #2.5 in the Coming Home series

From the author of Because of You comes an all new Coming Home short story.

Sergeant First Class Shane Garrison has spent a year recovering from his combat injuries. A year spent in the arms of the woman of his dreams. But loving Jen comes with a price: every time he touches her, he faces the uncertain fear that loving her might mean losing her forever.

Jen is a breast cancer survivor and with Shane, she's found a man who loves her despite her scars. But her scars may be too much for their love to survive.

As their love grows, so does the risk to Jen's life. And Shane must make the toughest decision any man can make to save the woman he loves.

Buy at B & N | Amazon | Smashwords

Read an exclusive excerpt of Anything For You HERE.
Order of the series:
Book #1 – Because of You – read my review
Book #2 – Until There Was You  – read Lea's review
Book #2.5 – Anything for You
Book #3 – Back to You – to be released in 2013
Please be sure to include a valid email address in the comment form (need not be in the actual body of the comment).