Welcome to this week's bookish news and in this edition we have news that Penguin has settled with the EU who have now ended their plans to investigate Agency pricing collusion, another plagiarism case but this time with more wtfery and more book news!
Earlier in the year I reported that Penguin has offered to stop using Agency pricing in the EU who had instigated an antitrust investigation into the reports of collusion. With the recent cases in the US which ruled that Apple and the big publishers were guilty in collusion – it looked pretty obvious with the evidence stacking against the companies that the EU decision will face a similar result. Well this week it looks like that the EU is accepting the settlement with Penguin's offer to stop using Agency along with the other publishers who have gone back to the wholesale model. However if any of the parties decide to choose to adopt Agency pricing  in the next two years they will face very heavy fines by the EU who wants to see ebook pricing to be competitive amidst online ebook sellers.
There is now literally a plagiarism story which concerns a scraped fanfic/fictionpress story or previously published book every week now. It is getting to a point that I think any platform that distributes self published books should take better stance because I suspect this is a huge problem. However in the case of this week's wtfery – blogger Amber from Me, My Shelf and I, faced a huge onslaught of wrath from a handful of Fictionpress authors who were plagiarised by an author called Jessica Beckwith. Amber who has a weekly meme that promotes and features an indie title on the blog was not aware the book was plagiarized. But instead of the authors emailing and sending proof such as screenshots and excerpts as well as time for her to check out whether this was true, or the fact that they should have notified Amazon and other online bookstores selling the book. She was accused that she was in part of this whole sorry mess.
I am so sorry she had to deal with this craziness, but what the plagiarist did was WRONG but it was also very WRONG and unprofessional of those writers who attacked Amber, especially so publicly. I really do think that Indie/Self published authors are getting a bad reputation right now from badly behaving authors to plagiarism which is so unfair because the majority are not guilty of this. But I can see lots of bloggers and reviewers refusing to pick up or promote indies in the future due to the shenanigans right now and that is a major shame because it is hard enough to break out as a newbie these days and it is harder with all this happening.
Lifetime has surprisingly picked up the rights to adapt Virginia Andrews classic gothic tale, which features a crazy grandmother who locks her grandkids in the attic, rape, incest and all things dark. I don't know if they will be giving it the usual Lifetime treatment but it did made me go all bug-eyed but I do wonder if this is in part of the new reissue of the book which has a NA cover which totally belies what the book is about. But I hope the publisher rethinks it yet it does look pretty Lifetimeish right?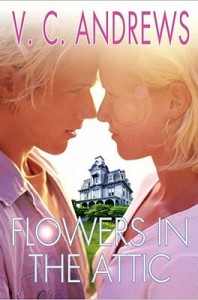 News in Brief:
This year's Booker Prize nominees offer a real diverse offering which is great you can check out the nominees and the books here.
Goodreads has reached an epic milestone by attracting 20 million members and I suspect they will grow even further in the future.
And finally this cracked me up, if ever wondered what FIFTY SHADES OF GREY is like in the style of DOCTOR SEUSS, well one member of Reddit wrote a poem summarizing the book.
The books to watch out for this week are…
I recently read and enjoyed the second Mystwalker book by Leigh Evans – and I am looking forward to the followup THE PROBLEM WITH PROMISES which is slated for this February. I think this is the best cover yet for the series which looks very promising!
Robson Trowbridge, the Alpha of Creemore and my gorgeous mate, tries to protect me, Hedi Peacock, half-fae, half-were, from all the trouble I get into. The thing is, my past is pretty messy, and bad guys keep knocking down my door. Witches, thug bikers, the North American Council of Weres, dark magic fae, and even an evil wizard are all after me.

The Old Mage is the only one I really care about: He has my dear twin brother captive on the other side of the Gates of Merenwyn—not cool. So my alpha love is helping me to keep my promise to free my brother…
Lisa Shearin has a brand new UF series coming out this fall which looks good fun!
We're Supernatural Protection & Investigations, known as SPI. Things that go bump in the night, the monsters you thought didn't exist? We battle them and keep you safe. But some supernatural baddies are just too big to contain, even for us…

When I moved to New York to become a world famous journalist, I never imagined that snagging a job at a seedy tabloid would change my career path from trashy reporter to undercover agent. I'm Makenna Fraser, a Seer for SPI. I can see through any disguise, shield, or spell that a paranormal pest can come up with. I track down creatures and my partner, Ian Byrne, takes them out—usually saving my skin in the process.

Our cases are generally pretty routine, but a sickle-wielding serial killer has been prowling the city's subway tunnels. And the murderer's not human. The fiend in question, a descendant of Grendel—yes, that Grendel—shares his ancestor's hatred of parties, revelry, and drunkards. And with New Year's Eve in Times Square only two days away, we need to bag him quickly. Because if we don't find him—and the organization behind him—by midnight, our secret's out and everyone's time is up.
And finally Tamora Pierce has a new book out this fall as well, BATTLE MAGIC is the next Circle of Magic universe book – but Tortallan fans don't worry because she is working on a prequel duology featuring Numair's early years and the events before the IMMORTALS series.
NEW YORK TIMES bestselling author Tamora Pierce returns to the magical world of Winding Circle.

On their way to the first Circle temple in Gyongxi, mages Briar, Rosethorn, and Evvy pay a visit to the emperor's summer palace. Although treated like royalty when they first arrive, the mages soon discover that the emperor plans to invade Gyongxi, posing a fatal threat to the home temple of the Living Circle religion. Accompanied by one of the emperor's prize captives, the three mages rush to Gyongxi to warn its citizens of the impending attack. With the imperials hot on their trail, Briar, Rosethorn, and Evvy must quickly help the country prepare for battle. But even with the help of new allies, will their combined forces be enough to fight the imperial army and win the war?
So what do you think of the new cover of FLOWERS IN THE ATTIC? Do you think it is misleading due to the content of the book? And are you worried about the recent spate of plagiarism cases in self published books?