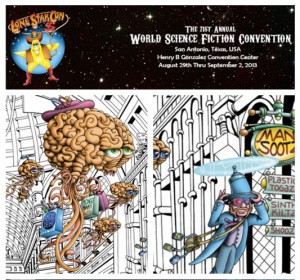 This last Labor Day weekend, two of your intrepid Book Lovers abandoned their posts here at BLI, and headed to the Scariest Place in the U.S. – commonly known as Texas – for WorldCon. No amount of terrifying Texan legislation or overpriced airfare would keep these two Book-Loving speculative fiction fans from joining in The Con of Cons.
These are their stories.
(Eds. Note – Be sure you read this introduction with the Law & Order Intro Voice.)
*****
Marlene: I have already blocked out my vacation for next year. We're going to London! It had been too damn long since we've either taken a vacation or gone to Worldcon, and we're not letting that happen again. This was too much fun and damn but we needed the break.
Last year at Dragon*Con we were both thinking we should have been at WorldCon instead. We were right. Not that we didn't have a good time last year, but this is our tribe.
Cass: This was my first con. They even gave me a WorldCon Virgin Ribbon to put on my badge. (Thankfully no Rocky-Horror-Virgin-esque antics took place.)
I've been wanting to attend a Con since I first discovered the existence of WisCon back in 2005. I just never could get the timing or money situation to work out. Not until this year. Ultimately I decided on WorldCon over WisCon because, well, because Feed didn't win a Hugo, which fucking pissed me off.
Of course right after I bought my tickets there was a refreshing, yet horrifying, amount of publicity on sexual harassment at Cons. I tried to research the level of abuse occurring at WorldCon specifically, but could find nothing coherent.
Why does WorldCon rename itself every year?! IT MAKES NO SENSE!
I almost talked myself out of going. But fuck that. I've Got Dragons, Bitch. (Dragons = law degree with expertise in sexual assault. Though my reaction certainly is informative for all those people going 'Where are the wimmenz at Cons?' I'm did my damn undergrad Thesis on SF and almost bailed because I was worried about creepers, gropers, and roofies.)
Marlene: The person who said that Worldcon needs to brand itself as "Worldcon™" every single year was absolutely right. Renaming the con every year just adds to the arcana, especially for those of us who only go once in awhile.
Cass: YES. Fuck that was a pain in the ass. Especially when I was obsessively researching for issues of sexual harassment to watch out for.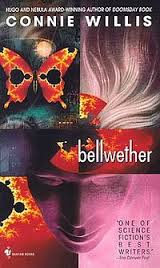 On the bright side, it turned out to largely be a non-issue. There was just one really gross guy I overheard while waiting to get Bellwether signed by Connie Willis.
Creepy Old Dude: (Approaches Couple and Pointedly Appraises Woman) "How much did you pay for her?"

Woman: (Looks at Guy she is with, clearly waiting for smack-down).

Guy: (Shrugs. No eye contact).

Woman: "NOT ENOUGH!" (Then she cooly walks the fuck away. HAH! It was great. Once creepy old dude left, she came back, got her books signed, and totally ditched Guy she was with. Who was clearly preparing to eat alone and sleep on a lonely scrap of floor.)
Marlene: Possibly the Mad Hugger at the Hugo Awards? He seemed really creepy to people who were not "in the know." Some of the winners were willing to go along with it, and some definitely wanted to be far, far away.
Cass: Gah! Yes! That was weird. I was not "in the know" and it just looked like this giant unkempt beard was lunging at and attacking anyone who DARED TO WIN. Some of them were even quite pointedly putting their hands up to ward him off. Not that that stopped him.
Marlene: I'd never met Cass, the extremely snarky Dragon Lover here at Book Lovers Inc, before WorldCon. We adopted each other the night before the Con started and it was awesome.
We went to both the Masquerade and the Hugo Awards, and Paul Cornell was a wonderful toastmaster. He kept it light and made sure the show kept moving, no matter how much he was sweating (especially when he had to vamp during the Masquerade). He did such a terrific job, it made me want to run out and read his book, London Falling, which would otherwise sound like too much horror for my tastes. But he was so good I've got the damn thing on hold at the library, and I was so happy to see there's a long list for it, which means we'll buy more. I can still hear him saying "Yee, and indeed, Haw" in his British accent days later.
Cass: Meeting Marlene and Galen was great! They gave me important Con-advice. Such as 6/2/1. Which terrifyingly enough means you are supposed to get 6 hours of sleep, eat two meals, and take one shower. Each day. Because this is an on-going problem at cons. WTF?!
Marlene also warned me there are some things you cannot unsee at the Masquerade. For me that was the Father-Daughter Furry Duo. There may be non-kink Furries out there. But I never heard of them.
Marlene: And what the fuck with up with the Rostler's Rules and intentional/unintentional/unconscious bodysize shaming!?!?!?
"There should be a weight limit on the purchase of leotards."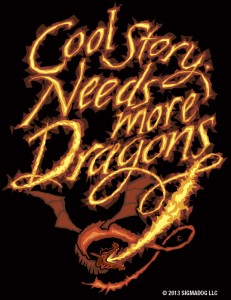 Cass: Yeah. Fuck that noise. Most of the rules playing before the show were fine, but there were those three really awful ones – and somehow THOSE three were the ones that repeated the most. "Just in case you missed us bodyhaming you the first time around, we've got reruns!"
At least my Dragon Shirt was amazing. I even got a free dragon book for wearing it. (Review to follow when my book shipment makes it from desert heat to icy tundra.)
Marlene: Galen and I ordered 2 t-shirts from your dad.
Cass: HOLY SHIT, I forgot to tell everyone about my awesome shirt! I told my dad that I wanted a kick-ass version of this hipster p.o.s. He came up with this.
BUY THIS SHIRT MINIONS! Then I will get more dragon things. In particular I need a new pair of dragon shoes. Since a person who shall remain nameless cruelly disposed of them.
Marlene: John Scalzi won the Hugo for Best Novel for Redshirts, which I both read and loved. While I'm happy that he won, the marvelous thing about it was watching him on stage accept the award. He was so obviously overcome. There was no performance there, the man was simply over the moon with joy.
Cass: I was cursed, I tell you! CURSED. Seanan, Chuck, Cabin in the Woods, Helsinki….All things I voted for lost. (sobsobsobsob) Why didn't you tell me there was a WorldCon Virgin Voting Curse? I would have strategically voted for my enemies.
Marlene: On the other hand, Pat Cadigan was overdue, and I DID want Redshirts to win.
Cass: That's true. About Pat at least. I did vote for her. I was just really, really, set on Chuck getting the not-Hugo. And also going to Helsinki in 2015.
*****
TO BE CONTINUED…..