We are unbelievable happy to welcome the wonderful Darynda Jones here at Book Lovers Inc today. Darynda is the author of the hilarious and just amazing Charley Davidson series and the latest addition, Third Grave Dead Ahead just released this week. I just finished my copy today and OMG it'S such a great read- I already know it will be in my top 10 of 2012. So yes, we were pretty excited when Darynda agreed to answer our question all around herself and her writing. Please give Darynda a warm welcome and don't miss your chance to win a great read at the end of the post. 
BLI: Darynda can you please tell us a bit about yourself?
Darynda: I'm a full-time writer and the author of the Charley Davidson series. I've been seriously writing for about nine years, now, but I consider myself a lifelong lover of writing. …

Darynda Jones,Giveaways,Interview,The Geeky Lover

2 Feb 2012

52 comments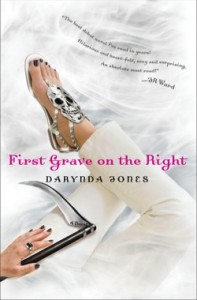 Welcome to the 9th day of Book Lovers Inc Advent Calendar. Each day we will offer you one great read in a giveaway on all 24 days till Christmas.
Today you will have the chance to win a signed copy of First Grave on the Right by Darynda Jones! *Whoo Hoo* First Grave of the Right, being a debut novel this year, had a cool back story and was a whole lot of fun to read/listen too. If you like quirky characters (obviously, I do :p ) then you'll really enjoy this one.
Purchasing Info: Amazon, Book Depository, Chapters, Author's Website, Goodreads
Book Blurb:
Charley sees dead people. That's right, she sees dead people. And it's her job to convince them to "go into the light." But when these very dead people have died under less than ideal circumstances (i.e. murder), sometimes they …


Today we're very happy to welcome Darynda Jones on Book Lovers Inc. Darynda is the author of a very original and funny UF series (well in my opinion!). The 2nd book in her Charley Davidson series is coming out tomorrow! I'm impatiently awaiting to get my own audiobook copy of it! Please let's give a warm welcome to Darynda!
Thank you so much for having me!!! On Tuesday the second in the Charley Davidson series releases, and I've been so excited. It's called SECOND GRAVE ON THE LEFT and is about a female PI who was born the grim reaper. With her special set of skills, she solves mysteries for both the living and the dead, and of course, she gets into all kinds of trouble.
One of the things …

Darynda Jones,Guest Post

15 Aug 2011

51 comments