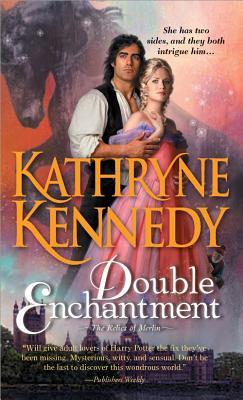 Format Read: ebook provided by NetGalley
Number of Pages: 352 pages
Release Date: March 5, 2013 (paperback originally published August 26, 2008)
Publisher: Sourcebooks Casablanca
Series: Relics of Merlin #2
Genre: Fantasy Romance
Formats Available: ebook, Mass Market Paperback
Purchasing Info: Amazon | B&N | Kobo | Book Depository US | Book Depository (UK) | Author's Website | Publisher's Website | Goodreads
Book Blurb:
Too Much of a Very Good Thing…

High society enjoys their power based on their rank, but Lady Jasmina Karlyle's magic causes nothing but trouble. Her simple spell has gone horribly wrong, and now she has a twin running around the London social scene wreaking havoc on her reputation. When both she and her twin get intimately involved with gorgeous shape-shifting stallion Sir Sterling Thorn, Jasmina finds herself in the impossible …

3 1/2 Stars,featured,Kathryne Kennedy,Review,The Rocket Lover

19 Feb 2013

4 comments

Format Read: Print Number of Pages: 384 pages Release Date: July 6th 2010 Publisher: Sourcebooks Casablanca Formats Available: Paperback, Ebook Purchasing Info: Author's Website, Goodreads, Amazon, BookDepository(US), BookDepository(UK)
Book Blurb:
Kathryne Kennedy's historical fantasy romances have garnered awards and a growing readership. This exciting new series, set against the lavish backdrops of Georgian and Victorian England so beloved by romance readers, is deliciously dark and exciting.
Fighting for control of a kingdom that is split into seven domains, Elven warlords use their human slaves to breed an endless supply of soldiers for their armies. Dominic Raikes, the half-blood son of the Elven Lord himself is one such warrior. Betrothed to Lady Cassandra, who has been raised in a convent to keep her pure, he little suspects that she's been secretly trained as an assassin to murder his …

Kathryne Kennedy,Review,The HEA Lover

23 Aug 2010

9 comments