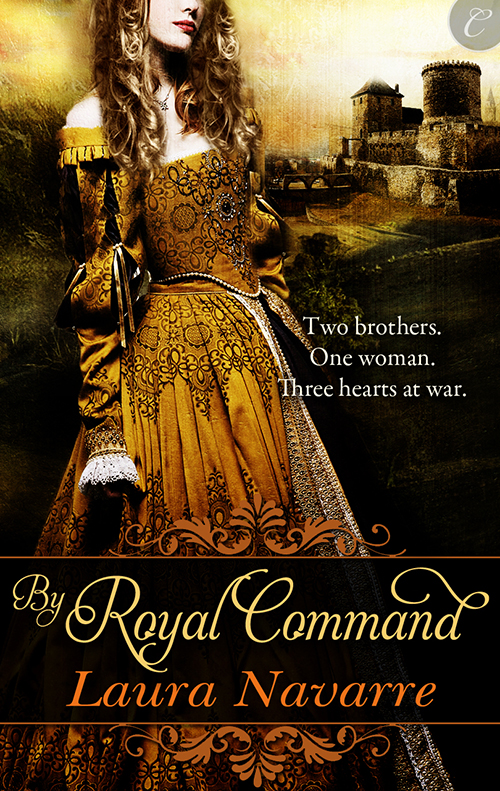 Format Read: E-book provided courtesy of Publicist for Review
Length: Novel
Genre: Historical Romance, Medieval
Release Date: July 2, 2012
Publisher: Harlequin/Carina
Formats Available: eBook, Kindle, Nook
Purchasing Info: Publisher, Author's Website, Goodreads, Kindle, Nook.
Book Blurb:
Two brothers. One woman. Three hearts at war.

Katrin of Courtenay's husband is dead—and she doesn't mourn him. He was cruel and controlling, and she doesn't need a husband to hold her northern keep. But her vengeful uncle, the King of England, has other ideas: intent on marrying her off, he's ordered his Viking-bred warrior to return her to court.

On the journey, the Viking captures her interest, and for the first time Katrin understands passion. But her guard is honor-bound to deliver her to the king, and so it is settled—she must wed the mysterious Rafael le Senay, the Baron of Belmaine.

A forced marriage to a stranger slowly becomes something more, and Katrin realizes
she is in …

4 1/2 Stars,featured,Laura Navarre,Review,The Danger Lover

2 Jul 2012

4 comments
We are very excited to welcome award winning author Laura Navarre to BLI today. Laura is here on the next stop of her virtual book tour in celebration of the release of her historical romance By Royal Command, which is available today from Carina Press! Laura is an extremely interesting lady with a fascinating background and she is here to talk more about her writing process and new novel.
About Laura Navarre
In her other life, Laura Navarre is a diplomat who's lived in Russia and works on weapons of mass destruction issues. In the line of duty, she's been trapped in an elevator in a nuclear power plant and has stalked the corridors of facilities churning out nerve agent and other apocalyptic weapons. In this capacity, she meets many of the world's most dangerous men.
Inspired by the sinister realities of her real life, Laura writes dark medieval …