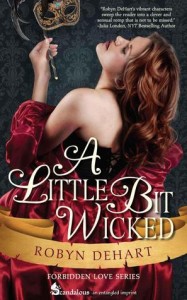 Format Read: ebook provided by NetGalley
Number of Pages: 229 paged
Release Date: December 2, 2012
Publisher: Entangled Publishing
Series: Forbidden Love #1
Genre: Historical Romance, Holiday Romance
Formats Available: ebook
Purchasing Info: Amazon | B&N | Kobo | Author's Website | Publisher's Website | Goodreads
Book Blurb:
Marcus Kincaid has returned to England after a ten-year absence. His older brother died during that time, making Marcus the Earl of Ashford. Not only that, his younger sister is embroiled in a potential scandal that could ruin her chance at marriage. His aunt has already called in reinforcements—The Paragon.

Vivian March is known simply as The Paragon. She moves through every circle within Society, smoothing out scandals and stopping gossip in its tracks. Everyone in London knows that if she aligns herself with you, Society will …

1/2 Star,featured,Review,Robyn DeHart,The Rocket Lover

24 Dec 2012

1 comment
Format read: ebook provided by publisher
Release Date: 15 March 2012
Number of pages: 210 pages
Publisher: Entangled Publishing
Formats available: ebook
Purchasing Info: Goodreads, Author's Website, Amazon, Barnes & Noble, Entangled Publishing
Blurb:
Staid professor Lissy McIntyre believes that choosing a mate should be based on common sense, not runaway passion. And she would certainly never pick a rolling stone like Nick Richards for long-term love. But a red-hot, tropical romance? Oh, yeah. He's got a body just made for sinning and his sizzling kisses leave her senseless.

When Nick blows into town, he's stunned to discover that his no-nonsense new neighbor and co-worker is the same sultry creature he seduced for one night of forbidden island pleasure. He's unaccustomed to staying in one place for long, but he just can't seem to keep his hands off the multi-faceted woman. Will Nick break loyal Lissy's …

1/2 Star,Annie Seaton,featured,Review,The Latin Lover

26 Mar 2012

3 comments

Format Read: eBook received from the publisher through The Review DepotNumber of Pages:64Release Date: March 3rd, 2009Publisher: Solstice PublishingFormats Available: Ebook, PaperbackPurchasing Info: Author's Website, Goodreads, Amazon
Book Blurb:
Randall Stone is the stuff of heroes, a mercenary given a discharge from the army he has served with his life. But the government is still interested in using the skills they've taught Major Rand Stone, and he continues to work with his hand-picked team. Into his shadowy world a light has come, and in her love, Stone discovers unhoped for joy, and, perhaps, unbearable sorrow?
My Thoughts:
I had high hopes with this novella because the summary and premise looked very similar to the books by Lisa Marie Rice and Shannon McKenna who write sexually intense romantic suspense. But after a few pages in with this novella, I …

1/2 Star,Denysé Bridger,Review,The Smutty Lover

3 Dec 2010

13 comments