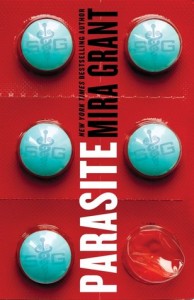 Format read: eARC from NetGalley
Series: Parasitology #1
Genre: Science Fiction, Biomedical Thriller
Release Date: October 29, 2013
Number of pages: 512 Pages
Publisher: Orbit
Formats available: ebook, audio, hardback
Purchasing Info: Author, Goodreads, Amazon, Book Depository, SymboGen.
Book Blurb:
A decade in the future, humanity thrives in the absence of sickness and disease.We owe our good health to a humble parasite – a genetically engineered tapeworm developed by the pioneering SymboGen Corporation. When implanted, the tapeworm protects us from illness, boosts our immune system – even secretes designer drugs. It's been successful beyond the scientists' wildest dreams. Now, years on, almost every human being has a SymboGen tapeworm living within them.But these parasites are getting restless. They want their own lives…
My Thoughts:
Good news everyone! SymboGen Corporation, the separated-at-birth twin of Umbrella Corporation, will cure disease in a few short years though the revolutionary introduction of a lab-grown GMO. There are only a few side effects….
Well. Only a few permanent side effects.
The narrative of Parasite is driven by Sal Mitchell. The Girl Who Lived. She was declared brain dead after a head-on collision with a bus….and then woke up. A blank slate with as much comprehension of the world as an infant. Different, sure, but alive. All thanks to the little passenger in her intestinal tract.
Talk about PR manna from heaven. SymboGen thinks they are holding Sal in reserve for that rainy day when their pet science project gets out of hand. Too bad for them that Sal isn't terribly biddable, and the Tapeworms Are Rising. (I suspect Book 2 will chart the introduction and passage of the Tapeworm Rights Amendment.)

As usual, Mira builds a fantastically detailed future that is a recognizable conclusion to our current societal trajectory. The supporting cast are well-rounded, diverse, and, most importantly, entertaining enough to distract from Sal's characteristic yet infuriatingly naive and tentative approach to life. 

I originally intended to wait to post this review until Release Day. But I couldn't hold back any longer. Because Mira Grant has successfully put me on an express path towards a psychotic break, and I need you all to talk me off the ledge.
Due to Sal's unexpected re-entry to the land of the living, her parents were declared her legal guardians. Pretty standard as those of us in the legal field know. However, we also know that such rulings are subject to periodic review, so that 6 years down the line, when Sal is totally capable of running her own life, the legal restrictions are removed.
That did not happen here.
Which is really a shame since Sal's parents turn out to be psychotic wackjobs. (That is my official legal assessment.) They completely and utterly lose their shit when their 26-year-old daughter:
Lets a corporate flunky in the house for a few minutes in the morning (for a health-and-safety reason FYI);
Then spends the afternoon with her boyfriend;
All without their express permission.
I know what you are thinking. You're thinking, "Cass, calm down. Stupid overreaction to normal activity? Absolutely. But overreacting =/= nutjobbery."
Really? What if that "stupid overreaction consists of:
Blocking all access to phones, internet, radio, or TV for one week;
Locking her up in her room for aforementioned week;
Refusing to speak to or acknowledge her during her confinement;
Preventing her friends or coworkers from contacting her by claiming she is "away" and not disclosing where "away" is;
Allowing her out of her room only to physically attack her; and
Psychologically terrorizing her to make sure she isn't keeping secrets.
Their justification? We're your legal guardians, so we can do this. 
I think we can all agree this makes them outright fucking lunatics. Though I know a certain judge who would be more apt to name them "domestic terrorists."
Which is where my own psychotic break began. When I finally finished my marathon reading session (clear your calendars, this is one of those can't-put-it-down books), and tried to go to sleep, my mind kept drifting back to the aforementioned INJUSTICE. I could not let it go.
Thus, I began planning my trial strategy. As sane people do. I lay in bed for hours planning out the Petition to Dissolve Guardianship and the various protection orders I would file on Sal's behalf. I made witness lists, decided what paper evidence to subpoena, considered contingencies based on interim rulings, and  weighed the pros-and-cons of bumping certain local judges in favor of others.
Best Case Scenario: The Guardianship is dissolved. Sal gets a protective order issued against her parents, giving her temporary possession of the family residnce. Oh, and did you know that federal employees lose security clearance when domestic violence protective orders are issued against them? Guess who's gonna be out of a job? TAKE THAT ASSHOLE.
Worst Case Scenario: SymboGen intervenes and manages to convince the Judge that Sal is still incompetent as a result of the accident. Adult Protective Services step in because that means Mommie-and-Daddie-Dearest are seriously abusing a vulnerable person. Criminal charges filed. Sister declared new guardian. Parents restricted to supervised contact with either of their daughters (due to clear family history of DV and court's understandable concern that the parents were deliberately inhibiting Sal's recovery), and permanently banned from acceptance or employment in any field requiring contact with children or vulnerable adults. Criminal charges also = loss of security clearance. BOOM MOTHERFUCKERS ARE GOING DOWN.
I only got two hours of sleep that night. And I still can't let it go. It's like I put all this effort into a trial and am stuck waiting for a goddamn ruling until Symbiogenesis is released in November 2014.
I will go completely insane long before then. Goddamn you Seanan/Mira, I NEED RESOLUTION!


I give  Parasite 4.5 stars!
***FTC Disclaimer: Most books reviewed on this site have been provided free of charge by the publisher, author or publicist. Some books we have purchased with our own money and will be noted as such. Any links to places to purchase books are provided as a convenience, and do not serve as an endorsement by this blog. All reviews are the true and honest opinion of the blogger reviewing the book. The method of acquiring the book does not have a bearing on the content of the review.