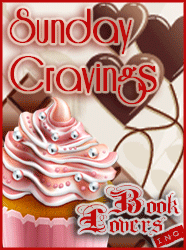 Whoooo, it's Sunday! There's been some, shall we say, DRAMA going on. Which I have decided to copy with in the traditional Alaskan way. GLACIER MARGARITAS FOR EVERYONE!
Some people didn't want to come with me. Until I told them I was buying. I also planned out how I'll spend $1 million dollars if I ever win the lottery. Then we did a $100 million version, but I ran out of frivolous things to blow it on and started doing good deeds. Which is less fun to drunkenly contemplate. (Whoo! lets give half a mill to Planned Parenthood so they can do abortions in Texas. Whoo! Wait, I'd rather talk about the luxurious vintage train vacation again….)
Either amount would be one helluvan accomplishment seeing as how I never play the lottery. Maybe I could marry money? Who wants to marry a book reviewing workaholic legal aid attorney?
While I start reviewing the applicants for my moneyed spouse, let's take a look at this week's cravings….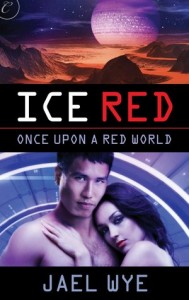 Marlene: Ice Red (Once Upon a Red World #1) by Jael Wye.
Mirror, mirror, full of stars,
Who will claim the throne of Mars?

The princess: Engineer Bianca Ross, heir to a megacorporation and the Mars elevator, needs to acquire a mine on the surface to secure her place in the company. All that stands in her way is the mine's charming owner, Cesare Chan.

The evil stepmother: Victoria Ross is plotting to gain control of Mars. She plans to assassinate Bianca and seduce Cesare to further her goals, and Bianca's trip is the perfect opportunity.

The charming prince: Cesare shouldn't get involved. Bianca's visit could reveal the escaped slaves he's hiding at his mine, but he can't ignore a damsel in distress—especially one as beautiful as Bianca.

Alone, neither would stand a chance against Victoria. But together, they could rewrite a tale that's meant to end with Bianca's blood.
It just looks like good, science fiction romance fun. I'm always up for that!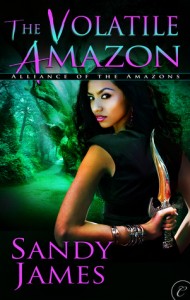 Marlene: The Volatile Amazon by Sandy James.
Sarita Neeraj has never felt like a real Amazon. Compared to the obvious strengths of her sisters, her Water powers seem small as her stature. She's determined to prove herself—unfortunately, all that gets her is captured by an enemy.

Ian serves a twisted goddess, preferring this to an empty afterlife. He's taken Sarita hostage to coax the other Amazons from their safe haven. But in his ancient Scottish castle, the passion and love Ian finds for Sarita resurrect his honor, until he chafes at the dark will of his mistress.

Sarita has finally found happiness—but before she can enjoy it, she's "rescued" by her furious sisters. To save Ian from destruction at the hands of the Amazons, Sarita must risk wielding magick that could change her very nature. Only then can she prove the Water Amazon is the strongest of the four—and save them all from destruction.

Meet Earth, Fire, and Air in The Reluctant Amazon, The Impetuous Amazon, and The Brazen Amazon.
I have it and haven't read it yet which is my bad. The first one (Reluctant Amazon) was pretty good and the second one (Impetuous Amazon) was better. I'm looking forward to catching up (Though I need to read book 3, Brazen Amazon, first).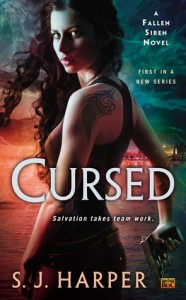 Marlene: Cursed (Fallen Siren, #1) by S.J. Harper.
Meet FBI Agents Emma Monroe and Zack Armstrong.
She's cursed. He's damned. Together, they make one hell of a team.

Emma Monroe is a Siren, cursed by the gods and bound to earth to atone for an ancient failure. She's had many names and many lives, but only one mission: redemption. Now that she works missing persons cases for the FBI, it could be just a rescue away. Unless her new partner leads her astray.

Special Agent Zack Armstrong just transferred into the San Diego Field Office. He's a werewolf, doing his best to beat back the demons from his dark and dangerous past. As a former Black Ops sniper, he's taken enough lives. Now he's doing penance by saving them.

Emma and Zack's very first case draws them deep into the realm of the paranormal, and forces them to use their own supernatural abilities. But that leaves each of them vulnerable, and there are lines partners should not cross. As secrets are revealed and more women go missing, one thing becomes clear: as they race to save the victims, Emma and Zack risk losing themselves.
I just read the review of this in RT Book Reviews and it looked yummy. Which is always bad for my TBR pile, but half of S.J. Harper is Jeanne C. Stein, author of The Anna Strong Vampire series, so Cursed has a good start. They've got a siren working for the FBI as our heroine. This has serious possibilities.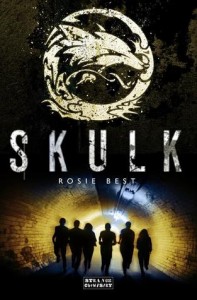 Cass: Skulk by Rosie Best.
When Meg witnesses the dying moments of a shapeshifting fox and is given a beautiful and powerful stone, her life changes forever. She is plunged into the dark world of the Skulk, a group of shapeshifting foxes.

As she learns about the other groups of shapeshifters that lurk around London – the Rabble, the Horde, the Cluster and the Conspiracy – she becomes aware of a deadly threat against all the shapeshifters. They must put aside all their enmity and hostility and fight together to defeat it.
Two reasons to read this. First, it's being published by Strange Chemistry. Which is Angry Robot Jr. The second reason is the fact that there are kids shapeshifting into goddamn BUTTERFLIES, fucking SPIDERS, and other NON MAMMALIAN CREATURES! (Plus foxes.) What. The. Fuck. I must read this.
*****
Today, we have a special treat for you, our loyal readers. Our first ever Sunday Un-Craving. Wherein we will harshly judge a book based entirely on it's blurb, and see if our collective disdain is enough to remove its existence from our minds.
Marlene: I know Cass thinks I want everything on the list, or already have it. But I just read the summary of Eat, Brains, Love and I'll say right now, that for me that's not just a no, but a HELLS NO and I'M SORRY I LOOKED. You probably will be too, but go ahead. Misery demands company.
Cass: I was, indeed, sorry I looked. It's like they took the worst parts of Warm Bodies and Zombieland and that bizarre Amish Zombie YA and put them all together. In one place. Where they can feed off eachother's terribleness, infect us, then destroy our brains with the terrible. DO NOT WANT!
*****
What about you? Anything coming out this week you'll read even if you suddenly come into $100 million?