Length: Novella
Publisher: Carina Press
Genre: Erotic Romance Ménage
Release date: November 21, 2011
Formats Available: e-Book, Kindle, Nook
Book Blurb:
During a playful talk about fantasies, Caitlin's fiancé offers to give her a threesome—with his best friend, Liam, who's coming to spend the weekend. At first Cait is shocked that Nathan could entertain the thought of sharing her with another man, but once he's planted the idea her imagination runs wild, leaving her deeply aroused—yet still unsure about what the implications could be for her and Nate's relationship.
Nathan's watched Cait struggle to hide her attraction to Liam for years. He knows she's nervous, but he also knows that by making her most intimate fantasies come true he can bring her to heights of pleasure she's only imagined, and strengthen their bond. There's only one way to help her overcome her inhibitions—by planning a night of ecstasy she'll never forget…
My Thoughts:
Catlin lives with her ex-special forces fiancé Nathan and they enjoy a loving relationship with includes an active uninhibited sex life. Nathan is a sexual dominant and Cait embraces a submissive role in the bedroom. However when Nathan brings up the idea of a ménage à trois with his best friend and former teammate Liam, Cait is at first upset that Nathan isn't happy with their sex life. In actuality, Nathan sees the experience as a way for her to explore her ultimate fantasy.
In No Holds Barred, I think Callie Croix has penned a sensual and special erotic novella that introduces a man who is secure enough in his masculinity and relationship to share his lover in a sexual experience with a friend he trusts. This is the second novella I've read by Ms. Croix and I have to say she sure knows how to craft strong appealing alpha males who are dominant but extremely tender and considerate. Nathan and Liam emulate these qualities in spades. Nathan nurtures Cait's desire and helps her to step past her reluctance and discomfort in trying a sexual experience that includes Liam. I was impressed with Nathan's gentle but firm urging in guiding Cait past her embarrassment and fears.
Callie Croix writes sexually explicit love scenes that are enhanced with vivid emotional overlay. What really impressed me about this ménage story is that all the natural fears and anxieties that would erupt in this situation are addressed. In addition, she gave Nathan control of their tryst and Liam, while a dominant male himself, was comfortable in letting his friend assume that control. Nathan does draw the line regarding one aspect of sharing Cait sexually which I really liked, finding it to be unique in a threesome story.
Cait worries about morning after repercussions, but her fears are put to rest thanks to the understanding exhibited by two very special men. There is never any question that the ménage is a one time experience between these three people, and Liam will be leaving at the end of the weekend. While I really liked Nathan, I have to admit to falling a little for Liam and hope that Ms. Croix writes his story. Callie Croix is two for two with me regarding her work and I am so looking forward to enjoying her forthcoming publications.
Callie Croix also writes romantic suspense under the pen name Kaylea Cross.

I give No Holds Barred 4 Bookies
Coming in January 2012 from Carina Press: Touch Me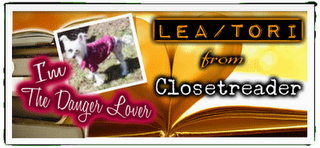 ***FTC Disclaimer: Most books reviewed on this site have been provided free of charge by the publisher, author or publicist. Some books we have purchased with our own money and will be noted as such. Any links to places to purchase books are provided as a convenience, and do not serve as an endorsement by this blog. All reviews are the true and honest opinion of the blogger reviewing the book. The method of acquiring the book does not have a bearing on the content of the review.