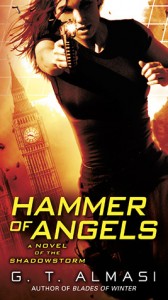 Format Read: eARC from Netgalley.
Number of Pages: 352.
Release Date: March 26, 2013.
Series: Shadowstorm #2.
Genre: Urban Fantasy.
Publisher: Del Ray Books.
Formats Available:  ebook, mass market paperback.
Purchasing Info: Amazon, Book Depository, Goodreads.
Book Blurb:
In G. T. Almasi's thrilling alternate reality, the United States, the USSR, and the Republic of China share a fragile balance of power with Greater Germany, which emerged from World War II in control of Europe and half of the Middle East. To avoid nuclear Armageddon, the four superpowers pursue their ambitions with elite spies known as Levels, who are modified with mechanical and chemical enhancements.

Nineteen-year-old Alix Nico, code-named Scarlet, is a kick-ass superheroine with killer Mods and an attitude to match. She's considered one of America's top Levels, even though her last mission nearly precipitated World War III. So now Scarlet and her new partner, Darwin, have been sent to Greater Germany to help sow the seeds of anarchy and prevent Germany's defection to Russia and China.

But where Scarlet goes, chaos follows—and when her mission takes an unexpected turn, she and Darwin must go ever deeper into enemy territory. As Scarlet grapples with a troubling attraction to her new partner, explosive information comes to light about the German cloning program and one of its prisoners—a legendary American Level who just happens to be Scarlet's father.
My Thoughts:
Thrilling alternate reality? Really? Let me summarize this "thrilling alternate reality" for you lovely readers: It's a world where children are recruited, subjected to years of horrific irrevocable genetic and surgical modifications, and turned into government sanctioned mass murderers.
And this from the purported "good guys."
Problems with world-building aside, let's discuss plotting. Like me, you were probably expecting an….ahem….thrilling story of spy shenanigans and revolution? James Bond with cyborgs? Dark Angel meets IRIS?
HAH! Hate to disappoint you, but what you really have here is a pseudo-scifi ripoff of a generic telenovela. Warning: Soap Operatics Ahead!
If a dead father's empty grave is mentioned in the first act, you better use it by the third, right? Ugh. Though I may be willing to accept kick-ass body modifications and fancy future guns, I sure as shit don't accept that a superpower government kept an enemy spy/assassin prisoner for so long. At some point their intel is all out of date, and it's pointless to waste the staff and resources necessary for torture.
Poorly thought out geo-political climate, party of one? (This is why people employ editors. To point out logical fallacies. Which can and do exist in scifi).
For those of you willing to set the author's obvious daddy issues aside, we can turn our attention to the lady issues. For no apparent reason, Cyborg Mary  Sue Scarlet is presented as just sooooo wonderful that she gets special treatment from authority figures, every guy ever totally wants to bang her, and she is like totally the only under-qualified and partially trained teenage agent capable of handling the MOST IMPORTANT MISSION EVER. Oh, and when she was a kid (pre-government-subsidized-medical-torture), she was an Olympic-level athlete. Of course.
Anyone want lessons in how to not create a believable or nuanced female lead?
Last but most certainly not least, we have the soapiest of soap opera plots to contend with: the identical twin love triangle.
In Book 1, Mary Scarlet's lover-boy died. It was very sad. But guess what? He has a previously unknown identical twin, who was also tortured and brainwashed by the government to turn him into the perfect killer! Truly serendipitous.
This science-based oppressive regime apparently terminated all human resources programs when they started up with the build-a-better-slave-race initiative, because no one thought it would be weird to just sub in Twin 2 for Twin 1. Did I mention they even have the same name? Which is why it makes such perfect sense for Mary Scarlet to start boning Twin 2 post-haste. Twin 2 is clearly so dazzled by the awesome magical powers of Mary Scarlet's vagina, that he can't bring himself to confront the creepy possibility that she is just fucking his dead twin. Through him.
What really kills me about the Shadowstorm books, is that they were positioned as a good cross-over series for fans of urban fantasy. You all know how much I love my speculative fiction, and I always have my eyes peeled for possibilities to lure in my fellow Book Lovers (because, seriously, we need more scifi on this blog).
But this? This reads like a bad RPG. All potential, with no execution. No flair. No originality. No reason to bother with Book 3.
I give Hammer of Angels two stars. A certain kind of scifi fan will most certainly enjoy it, but I am doubtful we have any such persons amongst our readers.

****FTC Disclainer. Most books reviewed on this site have been provided free of charge by the publisher, author or publicist. Some books we have purchased with our own money and will be noted as such. Any links to places to purchase books are provided as a convenience, and do not serve as an endorsement by this blog. All reviews are the true and honest opinion of the blogger reviewing the book. The method of acquiring the book does not have a bearing on the content of the review.