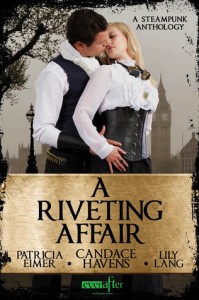 Format Read: ebook provided by NetGalley
Number of Pages: 339 pages
Release Date: March 25, 2013
Publisher: Entangled Ever After
Genre: Steampunk Romance
Formats Available: ebook
Purchasing Info: Amazon | B&N | Kobo | Book Depository US | Book Depository (UK) | Candace Havens' Website | Lily Lang's Website | Patricia Eimer's Website | Publisher's Website | Goodreads
Book Blurb:
Beauty and the Clockwork Beast

Rose Verney wants to fulfill her father's dying request: to complete construction of the teleportation device he designed. Knowing just who can help her succeed, she seeks out Sebastian Cavendish, her father's brilliant former student.Sebastian hasn't left his home since he returned from the Civil War. He's a broken man, his prosthetics a reminder of the terrible destruction his inventions brought to the battlefield. He wants nothing to do with Rose and her father's masterpiece, but when she barges into his abandoned lab and begins construction, it's everything he can do to resist getting involved. Especially when she charms her way into his monstrous heart.

Demon Express

Professor Maisy Clark, professional demon hunter, is on the trail of an evil scientist responsible for the deaths of hundreds. Julian is worse than the monsters he creates, but he's also obsessed with Maisy and willing to kill anyone who gets too close to her. Just when she thinks she has Julian cornered, the sexy marshall Jake Calloway insists the investigation is his, and everything goes to hell. Maisy came to Texas to corner the scientist whose macabre experiments have taken so many lives, and Calloway is just another distraction she doesn't need. Julian is her responsibility, one she's not about to share. Even if Calloway can help, Julian will know Maisy is falling for the marshall, and she's not willing to risk his life.

The Clockwork Bride

When engineer Aida Mulvaney attends a masquerade ball at the home of a staunch Luddite earl with a personal vendetta against her father's company, she doesn't expect to end the night married to the earl's son Julian Capshaw, a brilliant engineer in his own right. The marriage will allow both of them to pursue their love of science, without interfering parents and ridiculous social stigmas. Though they escape to the Continent to start new lives, Julian's father will have none of his heir's disobedience. Before long, a marriage begun for the sake of convenience becomes a union of passion, but will it survive the machinations of an earl determined to destroy everything they love?
My Thoughts:
Beauty and the Clockwork Beast by Lily Lang
This retelling of "Beauty and the Beast" was definitely my favorite story in the book! For one thing, this one was just the right length, not too long and not too short (more on that later). It began and ended within its frame.
This is a redemption story, as all the best reworkings of Beauty and the Beast generally are. Sebastian feels that the only way he can repay the world for all the killings done by his war machines is to suffer physical and mental anguish and to never create or use another machine again. Rose needs him to be her partner, to help her finish her father's legacy. She remembers how he used to be when he was her father's student. She doesn't care about how he looks, what she cares about is his spirit, his desire to create and invent…the sharp mind that was the equal of her father's.
Rose engages his mind, and brings him back to the land of the living. She brings his house back to life, too. They become partners first, and friends. Even though the very first scene is Sebastian being extremely beastly, in the end, they fall in love because they know each other well.
The story never drags. I almost got sucked into reading it again writing the review!
I give Beauty and the Clockwork Beast by Lily Lang 4 and ½ stars

The Clockwork Bride by Patricia Eimer
Master Engineer Aida Mulvaney reluctantly goes to a masquerade ball with a friend and ends up eloping with Julian Capshaw, the son of a Luddite Earl,who also happens to be an engineer. Their fathers also happen to be long-standing enemies, to the point that maybe the M and C last names could be Montague and Capulet instead of Mulvaney and Capshaw.
And this is Victorian-era steampunk, so anti-Irish prejudice is in full-flower. You guessed it-Aida Mulvaney is Irish, or her family certainly is. The elopement part was actually fun, they don't pretend this is a love match. But when things go downhill, Capshaw's father's schemes and machinations come off as too bwahaha evil when we don't know enough about his motives.
Julian and Aida's stay in poverty because of said machinations took up too much story, especially since we don't know enough. That part of the story dragged. Then a whole lot of melodramatic froth got ladled on at the end.
I give The Clockwork Bride by Patricia Eimer 3 stars

The Demon Express by Candace Havens
When I read The Demon Express I had the feeling that I had been dropped into the middle of a story that had been started somewhere else. It felt like there was a whole lot more story going on than what I was reading in that one story. I want the rest of it.
I was left with a lot more questions than I had answers. Actually, the story didn't end so much as it stopped. Maisy is clearly more than human, but in what way? Julian is some kind of monster, but what kind? What happened between them? More important, how does he track her? Does he really know what she's feeling, or is he just a master manipulator?
The Demon Express felt like the teaser for a "real" story that I hope is coming later. I don't like being teased this way without knowing that there is a full-length novel on the horizon. For certain.
I give The Demon Express by Candace Havens 2 and ½ stars.

***FTC Disclaimer: Most books reviewed on this site have been provided free of charge by the publisher, author or publicist. Some books we have purchased with our own money and will be noted as such. Any links to places to purchase books are provided as a convenience, and do not serve as an endorsement by this blog. All reviews are the true and honest opinion of the blogger reviewing the book. The method of acquiring the book does not have a bearing on the content of the review.