Last week the wonderful author
Jennifer Rardin
passed away. We, here at Book Lovers Inc, were devastated and still can't believe it. Jennifer was a wonderful funny and witty author and an even better person.
She was one of nicest authors I ever contacted and she welcomed me with so much warmth.
Her Jaz Parks series is one of the funniest urban fantasy series out there and know one should miss to get to know this wonderful unique heroine. Believe me you will laugh so much and don't be able to stop.
Here a bit more info about her books:
I'm Jaz Parks. My boss is Vayl, born in Romania in 1744. Died there too, at the hand of his vampire wife, Liliana. But that's ancient history. For the moment Vayl works for the C.I.A. doing what he does best–assassination. And I help. You could say I'm an Assistant Assassin. But then I'd have to kick your ass.
Our current assignment seemed easy. Get close to a Miami plastic surgeon named Assan, a charmer with ties to terrorism that run deeper than a buried body. Find out what he's meeting with that can help him and his comrades bring America to her knees. And then close his beady little eyes forever. Why is it that nothing's ever as easy as it seems?
In their latest mission, Jaz and Vayl are sent to kill an ancient Chinese vamp who's stolen a vital piece of biotechnology. The catch? They're undercover as street performers…and Jaz has to bellydance.
The Raptor, the CIA's longtime nemesis, is back. Jaz Parks and her vampire boss Vayl are asked to join her brother David's special ops team to take him down. But when her spirit guide tells her that she's being lead to the wrong man, and she starts asking the wrong questions, her life — and her job– are threatened. And the one person who can help her–her boss– is off on a wild goose chase. Add to the mix a pack of reavers bent on revenge along with a small army of desert monsters, and BITING THE BULLET will take you so close to the edge of your seat you may want to leave a pillow on the floor just in case.
Jaz Parks and her vampire boss, Vayl, have already fought demons, vampires, and reavers. Now, juggling work and family takes on a new dimension as she tackles her latest challenge: nail the Raptor before he can reduce her to Jaz-bits, survive a head-on crash with Vayl's violent past, and lever her twin's military career back on track before a dishonorable discharge ruins his life. To top it off, she must also contend with her father's issues. Is he losing his mind? Or is someone really trying to kill him – from beyond the grave?
Jaz and Vayl have been assigned to travel to Inverness to prevent an assassination that has the potential to upset the balance between the west coast vampire nests and allow another Raptor to emerge. In the power vacuum left by Edward "the Raptor" Samos' death, a struggle for supremacy has begun between his former allies: The Coven of Inverness, the Valencian Weres and The Flock. The struggle takes on a new twist when Pete learns that the Valencians have hired an assassin to take out the Coven's leader, a powerful witch named Floraidh Halsey. Jaz and Vayl must stalk a killer as wily and Gifted as themselves as they travel through the wild, stark beauty of the Highlands. Their travels also bring new heights to their romance, a new depth to their passion, and a bond they are both, at last, willing to seal.
Jaz is possessed. After biting the neck of a domyter during a forced visit to his territory, she now has unwelcome voices in her head. While fighting for supremacy in her own mind, she finds herself confronted with a near-impossible task: perform perfectly on her next mission or face the unemployment line.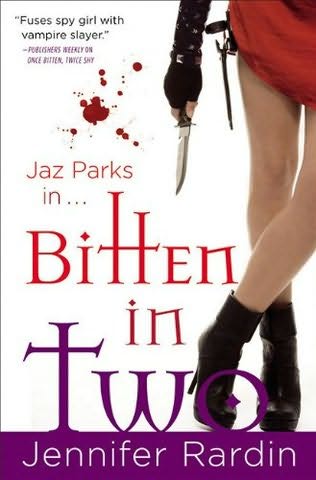 Bitten in Two – Jaz Parks #7
Release Date: 12/2/2010


Jaz Parks here. I. Am. Pissed. Just as Vayl and I arrive in Morocco to secure an ancient artifact, he wakes up calling me by another woman's name. And it's not even a good one. But since any form of argument transforms him into an unholy terror, I'm forced to play along until the gang and I can figure out what kind of power has so vastly altered his perceptions.
So it's time for me to do what any well-trained assassin in my position might do. I attack. What follows is a hair-raising, breath-taking bullet train ride to the finish as the crew battles on multiple fronts. I now know what I have to do – I must return to hell one last time.
The final book in her series will be released next year.
Has, our Smutty Lover and reviewer at The Book Pushers, had the idea to start this Tribute for Jennifer Rardin. We want to give you the chance to discover these wonderful novels.
Here are the other participating blogs:
~~~~~~~~~~~~~~~~~~~~~~~~~~~~~~~~~~~~~~~~~~~~~~~~~~~~
You can win the first book in the Jaz Parks Series, Once Bitten, Twice Shy.
Just leave a comment telling us what you like most about Urban Fantasy Novels.
Giveaway is open to everyone who can receive books from the Book Depository.
Please leave us a way to contact you (email in blogger profile or twitter name is okay).
Giveaway ends on Saturday, October 9th and we will announce the winner on Sunday.
Good Luck!