Format Read: e-Book Galley provided by NetGalley courtesy of Carina Press
Length: Novel
Release Date: February 7, 2011
Publisher: Carina Press
Formats Available: e-Book, Kindle
Purchasing Info: Author's Website, Goodreads, Kindle, Carina Press
Book Blurb:
Isabelle Ballantine has been fighting for independence since she was old enough to walk. Now that she's finally out from under her father's shadow, she won't let anyone stand in her way. It's tough living on her own, working in a bar and keeping her true identity a secret, but things start to look up when a sexy new stranger walks into her life. After working side by side for weeks, Izzy can't figure out why he won't make a move.

To cinch the deal of a lifetime, Adam Marcellus agrees to help Izzy's eccentric father convince his daughter to move home. He'd assumed Izzy would be another spoiled rich princess, but he's surprised to discover his feelings for her are stronger than anything he's ever experienced. When a deranged stalker targets her, Adam finds himself fighting not only an unknown threat – but an unexpected attraction to the one woman he can't have.
My Thoughts
As indicated in the synopsis, Isabelle "Izzy" Ballantine left her Savannah, Georgia home to gain independence from her wealthy father who was meddling extensively in her life. I liked this heroine very much, she is not only independent, she is smart, well educated, savvy, and despite her wealthy upbringing strives to earn her way without leaning on "daddy" to help with the monthly expenses. Izzy has gotten a job tending bar in a small beach area town and is very attracted to a certain co-worker named Adam Marcellus.
I've read a few of Katie Reus's novels and IMHO one of her strengths as a writer is her ability to pen alpha, ultra hot heroes. They generally have a background in military special forces amping up their "hero" quality and appeal. Adam, is no exception. After finishing his tour with the forces, Adam and his brother Ben started a private security company and worked extremely hard to make it a success. Adam is a tough, handsome, alpha hero who works at the bar so he can fulfill a deal with Izzy's father, Edward, to protect her for 5 weeks. As part of that deal, Edward wants Adam to persuade his daughter to return home.
"Adam kicked his truck into gear and followed Izzy out of the parking lot. The back of her silhouette was outlined by his headlights. Not that it mattered. He saw her face every time he closed his eyes.

The vision of her interrupted his sleep on a nightly basis. She usually kept her wild curly hair pulled back at work, but the few times he'd seen it down left him imagining what her long hair would look and feel like against his skin as she rode him.

He rolled his shoulders once, trying to alleviate the tension, but nothing worked. With her dark brown eyes and high cheekbones, she had almost exotic features. The smattering of freckles across her nose only added to the innocent quality about her. If it wasn't for her fair coloring, he would doubt she was even Edward Ballantine's daughter.

Edward. He cursed the day he'd ever made that ridiculous deal with him. It had seemed so simple at the time. Keep an eye on Isabelle without her knowing his true identity. Five weeks. That was how long his contract was."

Dangerous Secrets © Katie Reus
Izzy is not the spoiled rich girl Adam expected to find and despite his best efforts to not become romantically involved, he cannot resist her when she makes it known she wants him, badly, she is a woman who is very comfortable with her sexuality. While, the foundation of their relationship is sewn with the threads of deceit, neither of these people expect anything permanent to come of their affair. In addition, they both have trust and commitment issues for very different personal reasons. I will say there is sizzling sexual chemistry between Izzy and Adam and the love scenes are off the charts hot.
A suspense subplot snakes through the narrative of this story involving a maniac who has been terrorizing women and when Izzy and Adam foil an attempt to abduct a woman who has left the bar one night, she becomes his target. What I liked about this aspect of the story is that the heroine was not being stalked or followed at the outset, she came to the attention of the antagonist because she was determined to help someone in need.
Ms. Reus crafts strong secondary characters in the police officer investigating the case, and in Adam's brother Ben whose story I would love to read. I also quite liked Edward Ballantine, despite his former meddling in his daughter's life he actually proves to be a decent man who has his daughter's best interest at heart.
I found each scene and the dialogue of "Dangerous Secrets" advanced a plot that was quite fast paced and there are couple of very good plot twists leading to the story's climax which is a nail biter. My one niggle was that one of the secondary characters (who has a very minor role in the story) is badly wounded and no clue is given whether this person survived.
Fireworks do erupt when Izzy finds out about Adam's deception in the worst way possible. While I knew Ms. Reus would resolve their issues, I wondered how she would craft a HEA for these lovers. I was not disappointed, and the Epilogue is especially sweet. If you enjoy a fast paced erotic Romantic Suspense involving two people from very different socioeconomic backgrounds. You may like to give "Dangerous Secrets" a try.

I give "Dangerous Secrets" 4 out of 5 bookies.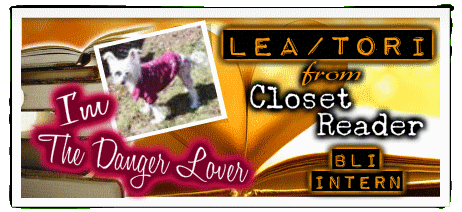 ***FTC Disclaimer: Most books reviewed on this site have been provided free of charge by the publisher, author or publicist. Some books we have purchased with our own money and will be noted as such. Any links to places to purchase books are provided as a convenience, and do not serve as an endorsement by this blog. All reviews are the true and honest opinion of the blogger reviewing the book. The method of acquiring the book does not have a bearing on the content of the review.