Format Read: e-ARC submitted by author for review
Length: 432 Pages
Series: Lords of Deliverance Book #1
Release Date: March 29, 2011
Publisher: Grand Central Publishing
Formats Available: Mass Market Paperback, Kindle, Nook
Purchasing Info: Author's Website, Goodreads, Amazon Canada, Book Depository, Amazon.com, Borders, Barnes & Noble, Books-A-Million, Powell's, IndieBound, Chapters, Kindle, Nook
Book Blurb:
They are here. They ride. The Four Horsemen of the Apocalypse.

His name is Ares, and the fate of mankind rests on his powerful shoulders. If he falls to the forces of evil, the world falls too. As one of the Four Horsemen of the Apocalypse, he is far stronger than any mortal, but even he cannot fight his destiny forever. Not when his own brother plots against him.

Yet there is one last hope. Gifted in a way other humans can't-or won't-understand, Cara Thornhart is the key to both this Horseman's safety and his doom. But involving Cara will prove treacherous, even beyond the maddening, dangerous desire that seizes them the moment they meet. For staving off eternal darkness could have a staggering cost: Cara's life.
My Thoughts:
"The Horsemen are the most powerful underworld beings in existence, next to Satan himself. They will virtually rule the Earth if the Final Battle goes in favor of evil." ….Valeriu, Elder of the Aegis

Eternal Rider © Larissa Ione

In developing and integrating the Four Horsemen of the Apocalypse into her Demonica world, IMHO Larissa Ione has added a new dimension to the series. Eternal Rider is the first book in a spinoff from the original series, and I feel it offers everything fans of Demonica have come to expect; action, dark wit, sensuality, well developed characters – both good and evil, and exceptional world building.
I think the snippet above, says it all, and the horsemen wield their incredible power with a might that I found staggering. The line between good and evil is thread thin for the horsemen and they straddle it precariously, each has a trigger that if discovered and sprung (so to speak) means they turn evil ushering in the beginning of the end. And…they can fall, like dominoes.
Eternal Rider is Ares' story and it is a complex one. Make no mistake, this is a paranormal romance but Ms. Ione has developed an entire mythos surrounding the horsemen that runs like a current through the main romance plot. She introduces the four horsemen Reseph, Ares, Limos, and Thanatos, and explains how they came to be. While siblings, they are also inexorably joined, for a variety of reasons. They are millenniums in age and over their long lifetimes have endured and seen much.
Ares, is the second horsemen of the apocalypse and he is an extraordinary character. His aura is strong, powerful and drips sensuality, I felt it to be palpable while reading his story. Along with experiencing heartbreaking tragedy, and physical pain over his long life, Ares has also witnessed man's inhumanity–I found him to be quite tortured. Ares is always battle ready, he thrives on the rush of engaging in combat and astride his great stallion Battle, is nothing short of lethal. Ares avoids humans as sexual partners, preferring demons, for a good reason. Then along comes lovely delicate human Cara Thornhart.
Cara is a gentle, reclusive woman who lives alone in her father's home. Prior his death, Cara assisted her veterinarian father and learned much about animal care. She also has special gifts that she fears. When a knock comes to her door in the wee hours of the morning Cara finds one of the townspeople with what she belives to be a critically wounded dog in tow. She takes the animal in and cares for him which results in a chain of events that forever changes her life. Cara is thrust kicking and screaming into Ares dark world.
The love story in this novel is a slow burn, Ares and Cara's relationship is initially extremely adversarial. (See the excerpt posted on Larissa Ione's website.) There is sexual tension and attraction aplenty in this story and Ares' fights his growing attraction to Cara tooth and nail. It makes for sexually explosive union. I also thought the contrast between a delicate human woman and the fearsome horseman was brilliant.
In the background of their relationship is Ares brother who's trigger has been sprung and he is wreaking havoc all over the world. In addition, he is plotting against Ares, by relentlessly pursuing his trigger so Ares' fall to darkness will be initiated. The narrative of this story is sexy, action packed, thrilling, dark and some scenes are downright scary and bloody, but it is also laced with Ms. Ione's signature acerbic dark wit that had me chortling with laughter on numerous occasions. There are a number of well developed secondary characters, both demonkind and human introduced which assisted to advance a plot that was full of surprising twists and turns.
I wasn't sure what to expect of Eternal Rider, I've been a dedicated fan of the Demonica series since 2008 when Pleasure Unbound was published. This novel did not disappoint. Eternal Rider was a thoroughly enjoyable fast paced thrill ride and I hope if you choose to read it you will enjoy it too. I'm so looking forward to seeing where Ms. Ione takes her horsemen next.
Larissa Ione will be here at Book Lovers Inc. this coming Monday for an interview and there will be a Giveaway so please stop by if you would like to!

I give "Eternal Rider" 5 out of 5 bookies.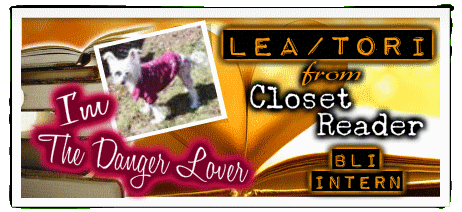 ***FTC Disclaimer: Most books reviewed on this site have been provided free of charge by the publisher, author or publicist. Some books we have purchased with our own money and will be noted as such. Any links to places to purchase books are provided as a convenience, and do not serve as an endorsement by this blog. All reviews are the true and honest opinion of the blogger reviewing the book. The method of acquiring the book does not have a bearing on the content of the review.