Format Read: e-ARC provided by Authors for review
Authors: Lauren Dane, Megan Hart, Emma Holly, Bethany Kane
Publisher: Berkley Heat
Length: 368 Pages
Genre: Erotic Romance Anthology
Release Date: May 3, 2011
Formats Available: Paperback, Kindle, Nook
Purchasing Info: Publisher, Amazon.com, Barnes & Noble, Amazon.ca, Powell's, Books-A-Million, Borders, Chapters, IndieBound, Goodreads, Kindle, Nook
Book Blurb:
Four of erotic fiction's most talented authors carry readers away with all-new tales of ecstasy that prove that the most delectable things in life come in threes…

In Emma Holly's FLIPPING FOR CHELSEA, Shay and Liam shared an unforgettable night with their lifelong friend, Chelsea, awakening a rush of forbidden feelings–feelings they have to reckon with when the three reunite, and the unrequited lust between them is too much to bear.

Though Ava left her hard-knock Georgia childhood behind, she never forgot Luca and Angelo. Together they were best friends with a bond that could never be broken. But when she returns, the three must decide whether to face the fires that burn between them, or forgo their desires forever in Lauren Dane's DIRTY/BAD/WRONG.

In Megan Hart's JUST ONE NIGHT, fun-loving couple Kerry and Jeremy find themselves in a triangle of trouble when Kerry's old crush, Brian, returns for a school reunion, and Jeremy gives her his enthusiastic approval to seduce him. But while Jeremy has no trouble sharing Kerry, Brian isn't sure he can handle what's coming.

Years ago, Walker walked out on Madeline when she needed him most. Now, the ex-Secret Service agent is back–hired to protect Madeline by her billionaire boss, Tony. Madeline is determined to make him pay for denying her desires–and she's not above bringing Tony in to sweeten the deal in Bethany Kane's ON THE JOB.
Our Thoughts:
Susi: When I got the chance to review this anthology I actually jumped up and down like a madwoman. I love Ms Dane's and Ms Hart's writing and both in one book was just too good to be true. In retrospect I'm even more happy I read it because I discovered another great new to me author.

Dirty/Bad/Wrong by Lauren Dane
Lea: I was delighted to see Ms. Dane return readers to Petal, the setting for her very popular Chase Brothers series. Now I must preface this by saying dirty/bad/wrong is VERY loosely connected to that series in that Polly Chase and family are mentioned and are part of one scene in this story.
Ava Rand's return to Petal is tinged with bittersweet as well as ugly memories. As a child raised in abject poverty by an abusive, alcoholic father and a mother whose relationship with the bottle resulted in neglect of her daughter Ava made it her mission to escape the town and the social stigma associated with her upbringing. In the 10 years since leaving Petal Ava rebuilt her self esteem, making a good life for herself, she is financially stable with a career she enjoys. Why return to Petal now? Her mother has passed away and Ava comes to see to her affairs and funeral. Prior leaving Petal, a young Ava was intimately involved with Luca Proffit and Angelo Bennett, two very appealing men who cared deeply for her and have carried a torch for her over the years.
I felt Ms. Dane's characterization in this novella was excellent. Ava is a strong willed woman whose determination enabled her to rise above her unfortunate upbringing and become an independent successful woman. Luca was raised in a supportive family environment, is intelligent and articulate, and has built a successful architectural firm. Angelo, is a lawyer who like Ava came from impoverished beginnings but was an athlete and attended college on a football scholarship.
All three of these people have concerns about becoming intimately involved again for their own reasons, however the attraction that drew them together 10 years previously reignites and propels them to intimacy very quickly. Luca and Angelo have enjoyed a sporadic intimate relationship over the years but it is Ava who completes them. Ms. Dane pens significant conflict into the plot of this story and I really wondered how these three people were going to resolve their issues and quiet their fears.
I enjoyed this story very much and was left wondering how the author was going to resolve their issues until the closing pages of the story.
I give dirty/bad/wrong 4/5 Bookies.
Susi: You want to know why I love Lauren's writing- read this story and you will find out. It's sexy as hell- dirty talking at its best and a general sexual openness I admire in Dane's work. She isn't afraid to take the unconventional route even in a genre that already isn't tame to start with. We get a menage where the guys are also in love with each other and I adore it when the romance is this balanced out in a relationship.
Second fact why I love her books- she always weaves these family bonds no matter if the characters are actually related or not. She threads all the emotions together and you won't be able to stay detached. She just grabs your heart and you will fall in love with her characters. An admiring way to not only create a wonderful setting but she also uses is to give her characters a certain spark that makes them stand out even more- it gives the story itself more vibrancy, too. One of my favorite stories by Ms Dane.
I give dirty/bad/wrong 5/5 Bookies.
Just One Night by Megan Hart
Lea: A high school reunion is the foundation of Megan Hart's Just for One Night, and as always she managed to tug at my heartstrings along with impressing me with her ability to develop unique characters and deftly integrate them into a complex relationship.
Just for One Night is the story of a woman who continues to carry a torch for Brian, the guy who she wanted to be 'her first' in high school. Fast forward 15 years and Kerry is getting ready to attend her high school reunion with the sole purpose of seeing and seducing Brian and realizing her long unfulfilled sexual fantasy. The interesting aspect to this intention that she is being encouraged to pursue Brian by Jeremy, her live-in boyfriend of 18 months. I know… Wow, just wow.
As Brian sits in his car in the parking lot prior to the reunion he too is thinking about Kerry, reminiscing about his unrequited teenage lust and wondering what she is like now. Brian has made sure that she RSVP'd to attend the event. What happens in the next few hours not only shocks him but turns out to be better then any wet dream he has ever had concerning Kerry. However, when he awakens after a night of unparalleled passion with Kerry, she is gone, and he is left longing for her.
After two long, angst filled weeks Brian, at the urging of his closest friend calls Kerry who agrees to meet him for coffee. Kerry is an honest woman and does fess up telling Brian that she has a boyfriend, not only that but that Jeremy knows about what happened between them. At this point Brian walks away and I felt so sorry for this really awesome, sensitive guy.
I don't want to spoil the story for anyone who chooses to read it but what I will say is that Ms. Hart, IMHO crafted a love triangle involving, Kerry's manipulative self absorbed boyfriend who becomes sexually aroused hearing about his lover's sexual exploits with another man. Brian, unable to resist Kerry, becomes involved in a relationship that tears at his soul. As he states to his good friend, he feels like a "side piece".
Ms. Hart had me on pins and needles wondering how she was going to resolve this relationship. I became totally invested in Just for One Night. I loved the storyline, I loved Brian, and I understood Kerry's conflicted feelings. I really hoped she would make the right choices at the end of the day but wasn't sure she would. Every time I read a Megan Hart book I want to pull every one languishing in my TBR out to read. I think I must engage in a Megan Hart reading marathon soon. lol
I give Just for One Night 5/5 Bookies
Susi:
Ms Hart did it again- a threesome story that has an extra twist to it. I love the way she she creates these "moral" problems (okay that sounds weird but it kind of is like this) and then pushes you through the story on your way to discover how she will solve it.
Jeremy is the mysterious and rather different boyfriend that likes the idea of letting his girlfriend fuck her teenage crush. At first he really seemed fun and yes some people have kinks like that but a bit into the story I started thinking about what kind of boyfriend is that guy? Does he actually love her? These are also some questions Kerry asks herself. She is concerned about what her actions will actually mean to the relationship she currently living in. Will she ruin this? Does she care if she does? Because when she really is honest she wants it too. Brian isn't only her teenage crush- he still is one of her fantasies and don't we love it when those are even better in real life?
Brian is a nice guy in contrast to our first 2 protagonists- the guy you would fall in love with in high school and always dream about later in your life. He's not as "dirty" as these two are and he's a bit thrown headfirst into the mix without any real warning. But he learns fast and with the passion he and Kerry have going between each other it's no real surprise.
In the middle of the story the tension rose so much I just couldn't stop reading..- a heart-wrenching situation that will make you ache. Again a very emotionally intense story I love through and through.
I give Just for One Night 4/5 Bookies
Flipping for Chelsea by Emma Holly
Lea: It is 1997 and 18 year old Seamus "Shay" Cudahy and 21 year old Liam O'Brien lived as brothers under the same roof since Shay was adopted into the family when orphaned as a child. They lament that their best friend Chelsea is leaving for Dartmouth the following day on a full scholarship. When Chelsea comes over to spend her last night home with the guys simmering sexual feelings come bubbling to the surface and what was a platonic relationship becomes much more involving the three of them. However, something that happens during this encounter sends Shay reeling, and he alienates himself from his brother and family for years to come.
Fast forward to present day and Liam and Chelsea have reunited over a common ground – business. Liam is a highly respected restoration contractor and Chelsea buys, restores and flips houses for a living, making a sizable profit. She has purchased a unique New York Brownstone that requires extensive restoration and she is hoping Liam will take the job. After assessing her purchase they return to Liam's spectacular apartment in Midtown where banked fires are swiftly rekindled, and one thing leads to another. Liam wants to build a relationship with Chelsea, but she has never forgotten Shay and is honest that he shares a part of her heart too.
Then, unannounced Shay arrives, and I have to admit I felt this was a little too convenient given he had been virtually estranged from his adopted family since the age of 18. Further, I thought there would be considerable sorting out to be done between the two men not to mention Chelsea. However, without too much ado everyone gets very cozy and a round of very hot monkey sex ensues. Now don't get me wrong Ms. Holly can sure write sexually explicit sensual love scenes and I really liked Liam. It was just something about Shay, I had trouble connecting with him and the way the whole scenario developed did bother me.
I did like this author's descriptive prose regarding setting and the realism she penned in the first scene when Chelsea, Liam and Shay are together when much younger. In addition, the narrative was character driven, and centered on the three protagonists and their conflicted relationship which I like in a novella.
This is the first Emma Holly story I've read although I had heard her erotic romances are nuclear grade hot. IMHO Flipping For Chelsea, certainly is a hot ménage à trois involving three intriguing people.
I give Flipping For Chelsea 3.5/5 Bookies.
Susi: Okay I admit my first thought was something like "WTF seriously?" But luckily my misinterpretation of the first chapter solved itself really fast and nearly immediately changed into OMFG hawt. Shay and Liam are very different characters. The young Shay we meet in the first chapter broke my heart. He is a nice guy with a tragic past that won't leave your heart untouched. He's a teenage boy with a huge crush not only on his best friend, Chelsea, but also on his "brother" (who isn't really his brother *whew*) Liam. He can't help it but he wants them both and he knows that if he ever shows his attraction in front of Liam he will lose the precious friendship and even the family bonds they share. This made me so sad- love should never be something you have to hide but unfortunately sometimes it's the only way to keep something very important for you save. Liam, on the other side, is more mature and let's say it as it is<: more built. *swoon* I loved him- the young and the older one. He's demanding but not overbearing, caring but not to mushy- just the right mix for my taste. When the story progressed into the present time the tension between our characters was even stronger. I loved how everything in this story fit together- the characterization, the story and the sex scenes just fit and made it a whole thing that was wonderfully balanced.
The sex scene in the first chapter really caught me off guard and made me sit around with an open mouth- now I'm not even sure why. It wasn't something I never read about before but Ms Holly wrote it in a way that just blew me away- in a really burning hot way. I don't know why I never read her books before but I already order 3 other books- so you can see it was awesome.
I give Flipping for Chelsea 5/5 Bookies
On The Job by Bethany Kane
Lea: I've always liked Ms. Kane's (Beth Kery's) voice and in On The Job she crafts a hot erotic love story and spices it up with a suspense subplot which is one of my favorite genres.
After years of absence Walker Gray returns to Carnelian Bay, California as the head of security for Hallas Technologies, the largest computer security company in the country. Walker has been hired by his childhood friend Tony Hallas, a computer genius and the millionaire owner of the company. Walker has a background with the Secret Service and Tony rightly feels his old friend and his associates are the best people to secure his estate and most important protect his fiancee Madeline Sayer following an attempt on her life.
What Tony doesn't know is that Walker has returned for Madeline, a woman who resents him because she feels he abandoned her years earlier when they were in a relationship. Walker needed to leave to make a career for himself and Madeline felt he put his ambitions ahead of her. Once reunited Walker uses sexual passion to inflame and entice Madeline and despite initial hostility she is unable to resist him. The intimate scenes are sexually explicit and nuclear grade hot. As for Tony? Well, there is more, or less, to his relationship with Madeline than meets the eye.
IMHO Ms. Kane has crafted a unique triangle between these three people and the plot thickens as Tony is being investigated for possible involvement in selling software secrets to the Russian Mob. I also liked the juxtaposition of Walker, tough, intelligent alpha male and Tony, eccentric genius with maturity issues. In addition, Ms. Kane pens an interesting twist involving deception into the plot of this story and I really wondered if Walker and Madeline's relationship would survive.
On The Job was a tense hot erotic romance with an intriguing twist that kept me flipping the pages to discover how Madeline, Walker and Tony's triangle would resolve.
I give On The Job 4/5 Bookies
Susi: This one was sadly my least favorite in this anthology. It seems Bethany Kane's (Beth Kery's) writing is a hit or miss for me. For my taste the characterization was too shallow and the sex to intense in comparison. I couldn't really follow why the attraction between them was burning so hot and even more I didn't get why Madeline submitted so easily to Walker. My connection to the characters didn't grow enough- so I actually felt pretty detached while reading it. It seems I need more time with a character to actually accept them submitting to anyone- pet peeve of mine it seems.
I also thought that Walker got away with too much but perhaps that resulted in my non-understanding of their relationship. The story was still really hot even though it pushed some of my buttons. The plot was nice at first but it resolved too easily- for me it really couldn't reach up to the "romance" part and the sex was too much on focus. Don't get me wrong I like my smut like any girl but I actually would have actually preferred more depth around it.
I give On The Job 3/5 Bookies
Susi:
Three to Tango
is one of the best anthologies I ever read. It kept me glued to the pages and actually prevented me from doing the important stuff for one whole day. A great collection of erotic romance which also delivers the emotional depth I love in my books. Highly recommended read!


Lea: I too thoroughly enjoyed Three to Tango and agree with Susi, it is one of the better anthologies I've read. I liked the theme that joined the four stories but each novella was unique and emotional in it's own way.

The Geeky Lover gives Three to Tango 4.5/5 Bookies

The Danger Lover gives Three to Tango 4/5 Bookies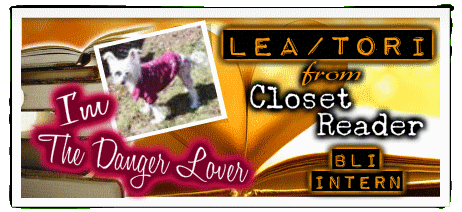 ***FTC Disclaimer: Most books reviewed on this site have been provided free of charge by the publisher, author or publicist. Some books we have purchased with our own money and will be noted as such. Any links to places to purchase books are provided as a convenience, and do not serve as an endorsement by this blog. All reviews are the true and honest opinion of the blogger reviewing the book. The method of acquiring the book does not have a bearing on the content of the review.