Format Read: Kindle e-book purchased by Reviewer
Publisher: Berkley Sensation
Length: 384 Pages
Genre: Paranormal Romance
Series: Para-Ops Book I
Release Date: May 3, 2011
Formats Available: Paperback, Kindle, Nook
Purchasing Info: Author's Website, Amazon.com, Barnes & Noble, Powell's, Books-A-Million, Borders, Chapters, Goodreads, Kindle, Nook
Book Blurb:
United by fate. Bound by desire.

Five years after the Second Civil War ends, humans and otherborn — humanlike creatures with superhuman DNA—still struggle for peace. To ensure the continued rights of both, the FBI forms a Para-Ops team with a unique set of skills.

Leader of an Otherborn clan, half-breed vampire Knox Devereaux would do anything to find a cure for the anti-vamp vaccine slowly starving his people into extinction. When the FBI contacts him about leading a team of hand-selected Others on a mission to reclaim the stolen antidote, Knox accepts. His new assignment places him in direct contact with Special Agent Felicia Locke, the beautiful human he's craved since their very first meeting.
My Thoughts:
In a post civil war society a fragile peace has been forged and treaties signed between humans and otherkind. Unfortunately prejudice born of fear and hatred remains prevalent on both sides. Kyle Mahone, the director of the FBI's Special Ops Tactical Division, gets approval to form a new Para-Ops team to assist in stabilizing relations between humans and Otherborn races which include a variety of paranormal beings. Mahone approaches vampire leader Knox Devereaux to command this elite and unusual team.
Ms. DePaul's vampires have extraordinary powers, they are able teleport to a familiar destination, they have telepathic ability and extreme strength, and, these vamps are immortal, potently sexual beings. During the civil war the humans developed a vaccine that contaminated their blood making it unfit for vampire consumption. Knox is a dharmire or half breed human/vampire, he is a warrior, the arrogant and charismatic ruler of his clan. He has built a special Dome to shield and protect his people who are vulnerable and dwindling in numbers. You see, Knox is faced with a crisis situation as the vampire race, particularly the pure bloods are literally starving to death because there are so few immaculates or humans to donate pure blood. Dharmire's aren't as affected because of their mixed breed heritage, but they too require nourishment. In essence chemical warfare was waged against the vampires which has resulted in a slow, painful, post-war annihilation that threatens to shatter the fragile peace. Malone offers Knox something he cannot refuse if he takes command of the Para-Ops team, an antidote to reverse the vaccine's effects. The catch? The antidote has been stolen from a top secret US laboratory and it must be found first before it can be retrieved.
Special Agent Felicia Locke of the FBI is best friends with Knox's wife Noella, a lovely pure blood vampire. Knox became besotted with Felicia from the first moment he saw her and believes she is his soul mate. He wants to take her as his mistress which is perfectly acceptable in vampire society. However, Felicia is a human woman with integrity and a high moral ethic and despite being drawn to Knox like a moth to a flame she has resisted the attraction tooth and nail. Felicia therefore decides to avoid him completely, refusing to visit Noella and Knox, and their two young children. Two years pass and with the formation of the Para Ops team, Knox and Felicia are reunited. Noella has been killed, but the barriers between Knox and Felicia remain miles wide as he is duty bound to marry a pure blood vampire and perpetuate his race. For Felicia a relationship with Knox remains untenable.
Her scent hit him like a sledghammer and was followed by a wave of longing so intense it almost felled him. His skin prickled and his fangs ached as he fought to keep them sheathed. He couldn't stop the hardening of his dick, however, or the urge he had to grab her and transport her to the Dome. To his bed. To someplace where duty and time dissolved and he could just be with her.

Chosen By Blood © Virna DePaul
At it heart Chosen By Blood is a hot erotic, dark paranormal romance, however Ms. DePaul deftly blends elements of suspense and spy thriller into a very fast paced narrative. This isn't just a vampire story, Mahone has carefully selected a fascinating cross section of Others and humans to man his team under Knox's command. Dex Hunt, a werebeast with a variety of lethal talents. Lucy Talbot, a powerful mage who has a dark secret. Caleb OFlare a human with psychic & shamanic abilities, as well as special ops training. Then, there is Wraith, whose biology is a mystery. She, like her name is a wraith with a variety of lethal powers, a truckload of major issues, and a mouth like a guttersnipe. Finally, much to Knox's chagrin, Felicia is also assigned to the team. An extremely capable Agent, Felicia has own set of special talents, one being verbal judo – which rocks!
The team's first assignment is a life and death mission to find and retrieve the antidote to the vampire vaccine. Knox therefore has a very personal stake in the success of the mission but as strong personalities clash and the Para-Op's team members deal with subterfuge and betrayal, chances of isolating the location and reclaiming the antidote seem bleak. Ms. DePaul kept me entranced from the first page of Chosen By Blood with exhilarating non-stop action scenes, an intense, conflicted, at times heartbreaking – scorching hot interspecies romance woven into a plot full of twists and turns as well as surprising revelations.
I've been very fortunate to read a number of excellent novels lately and Chosen By Blood ranks as another favorite. What impressed me about this novel along with it's intricate unique storyline, is the world building, stellar characterization and a witty dialogue which at times is laced with sarcasm. The next book in Ms. DePaul's Para-Ops series is Chosen By Fate, and as she mentioned in her interview earlier today, it is Wraith and Caleb's story – like fire and ice those two! I can't wait!

I give Chosen By Blood 5 bookies.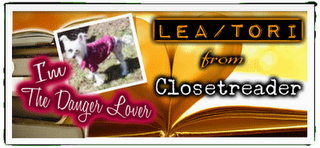 ***FTC Disclaimer: Most books reviewed on this site have been provided free of charge by the publisher, author or publicist. Some books we have purchased with our own money and will be noted as such. Any links to places to purchase books are provided as a convenience, and do not serve as an endorsement by this blog. All reviews are the true and honest opinion of the blogger reviewing the book. The method of acquiring the book does not have a bearing on the content of the review.