Today we welcome to Book Lovers Inc. sci-fi romance author L.K. Rigel, who pens the epic sci-fi-fantasy-romance trilogy: the Apocalypto series (Space Junque
, Spiderwork
and Bleeder
). Linda stopped by to answer my inquisitive questions and scroll down because now you can get your hands on all 3 books of the series!
(To get a first taste of the stories, you can read my review of Space Junque and Spiderwork here on BLI.)
Stella: Hi Linda, welcome to Book Lovers Inc! Can you please tell us a bit about yourself?
Linda: I live in California with my cat, Coleridge. I've been a newspaper reporter, a singing waitress, the lead singer in a band, and a court reporter, and I've written stories and songs all my life.
Stella: Can you describe a typical day of writing? Are you a planner or pantser? Do you have any rituals or aids to help you get into the right mindset to write?
Linda: I must have coffee! Preferably a large latte with many shots of espresso and no foam. The two most important ingredients to a good writing day are coffee and time. My style is a hybrid of planning and pantsing. I first work out the story's setting and what the characters want. Then I write from the middle outward. I usually write the end fairly close to when I start a new book. I almost always write the beginning last.
Stella: What do you think is the difference between a reader and a real Book Lover?
Linda: The magic of books doesn't happen in the writing but in the reading. A real Book Lover knows that. She comes alive herself within the world of the book, and outside the book she loves to talk with other Book Lovers about the characters and what happened in that world.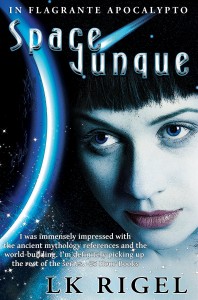 Stella: You write sci-fi romance. Could you tell us why you chose to write in this genre? Or you just had an idea for a story and it happened to be a sci-fi story?
Linda: I wrote Space Junque after I wrote Bleeder, as a prequel to explain how the fantastical world of Bleeder evolved from this realistic world, so it had to have some scientific credibility. As for the romance, I wouldn't want to read a book without a love story, and writing one wouldn't be any fun either!
Stella: Could you tell our readers a bit about your Apocalypto series? The unique world, the characters, species, the bigger picture?
Linda: About 80 years from now, pollution is so rampant that natural fertility is rare in human beings and most children are engineered in hospitals. Eco-terrorists plunge the entire world into war, and the god Samael purges the world with fire. The human race survives, and the gods are back. There are new species and mutated species. Fertile women are among the most powerful people on the planet, are paid obscene amounts for their services, and choose their clients from among the world's royalty.
Stella: And then whet their appetite for Space Junque, Spiderwork and Bleeder by telling them a bit more about them?
Linda:
In
Space Junque
, the old world falls apart and the gods return. With the aid of Jake Ardri, pilot of the Space Junque, Char Meadowlark has to battle eco-goons and deal with a goddess while trying to survive the apocalypse.
In
Spiderwork
, Durga the chosen one implements the new world order dictated by the goddess Asherah. She has no intention of falling in love, ever, but Khai of Luxor has his own ideas about that.
In
Bleeder
, the new world has been established for several generations. The heroine Mallory is positioned for a pampered life as a chalice, one of the world's rare fertile females. The kings of Garrick are still trying to take over the world, and as Mallory becomes a key element in Garrick's plans she also comes to question the world order that gives her such privilege.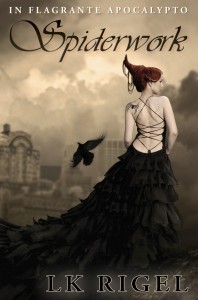 Stella: Is the Apocalypto series your first novels or did you write under another pen name? If yes, what kind of books?
Linda: I've finished many books over the years while learning how to write. The one that I might pull out for another look is a 500-plus page family saga about three generations set from 1776 to 1850. Yikes! It's a great story – or bunch of stories. It might make a good trilogy – or doorstopper.
Stella: I'm curious to know what is the best thing about writing sci-fi romance?
Linda: Don't forget the fantasy part! The best thing is being able to create new worlds with endless possibilities.
Stella: Can you share some behind the scenes secrets with us about the novels or your writing? (How long did it take you to write the novel? Were you writing them simultaneously? And from the moment they were/it was finished to publish it?)
Linda: I wrote Space Junque when Bleeder was on submission to two publishers. By the time I finished Space Junque, I had decided to go the independent route, so I pulled Bleeder from the publishers. When Space Junque came out, readers wanted to know more about Durga and what happened to Jake and Char, so Bleeder had to take another backseat for Spiderwork.
Stella: How many books are you planning in the Apocalypto series? What is next on your schedule?
Linda: I'm planning three more in the Apocalypto series. Copperhead tells Jordana's story and goes back pre-apocalypse, gets into ghosting and the Talibanos Unidos and the DOGs. It covers a long time span from before the events of Space Junque up to the opening of Bleeder. Then there will be two more books after Bleeder on the time line.
Linda: If you like love stories, political intrigue, and characters with special powers, you'll love the Apocalypto series.
Stella: Can you summarize the Apocalypto series for us twitterstyle (140 characters or less)? OR would you rather write a short twitter style introduction by some of the main characters?
Linda: RT: @Mallory wants @Edmund, the @Empanii want to be free @Garrick wants @Mallory – and shapeshifters stole her baby's soul! #postapocapunk
Stella: If there was a literary crossover, which fictional hero/heroine could you imagine welcoming to your series as either BFF love interest or nemesis to the heroines?
Linda: I've been watching the HBO production of Game of Thrones, and I've fallen in love with Daenerys Targaryen. It would be fun to see Mallory and Daenerys team up to battle Lady Bron for control of Garrick.
Stella: Now some quick questions-answers (I'm not saying it will be easy):
Linda: This is impossible to answer! But at the moment, Philip Pullman's His Dark Materials series.
Stella: Literary character who you would like to have as best friend?
Linda: Jack Aubrey of the Aubrey-Maturin books.
Stella: Favourite movie?
Linda: Eternal Sunshine of the Spotless Mind
Stella: Author you would die to co-write a book with?
Linda: Lemony Snicket
Stella: Genre you could never write?
Linda: Horror
Stella: Genre you would like to try your hand at next?
Linda: I'm actually doing it right now – an erotic fairytale
Stella: Best thing about being an author?
Linda: Hearing that someone enjoyed a story I wrote.
Stella: Worst thing about being an author?
Linda: Constantly wanting to scream "read my book!" in a "leave Britney alone!" voice.
Linda: Deadlines make me get it done.
Bloggers make me so happy!
Stella: And last, can you share a little trivia about yourself not many people know about you?
Linda: In 2005, I had gastric bypass surgery and afterwards lost 110 pounds.
~~~~~~~~~~~~~~~~~~~~~~~~~~~~~~~~~~~~~~~~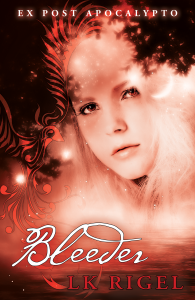 Linda generously offered a copy of Bleeder (Book #3) to a lucky commenter.
All you have to do is leave a comment/question for Linda.
(You can read our full giveaway policy here)
Please leave us a way to contact you.
(Email address or twitter name – no way to contact you – no entry).
This giveaway is open worldwide!
Giveaway ends on Saturday, July 2 and we will announce the winner on Sunday.
Good luck!