Format Read:
eARC provided by NetGalley courtesy of
HQN Books
Publisher: HQN Books
Length: 416 Pages
Genre: Romantic Suspense
Series: Men Who Walk the Edge of Honor Book III
Release Date: June 28, 2011
Formats Available: Paperback, Kindle, Nook
Book Blurb:
The one woman he couldn't have was the only woman he desired…

She may be aloof, and more pretty than gorgeous, but Alani Rivers is the kind of woman a hot-blooded mercenary can't forget, no matter how hard he tries. So when Jackson Savor wakes up next to the naked, sleeping beauty—with no memory of what happened—he knows he's been drugged… even if Alani doesn't.

After she was kidnapped, Alani swore she'd never trust another man again. Still, something about this strong, sexy hero with the tender touch makes her want to believe him. As Jackson hunts downs a mysterious intruder, he swears he'll move heaven and earth to keep Alani safe. But what really happened that night? And will the truth bring them closer than they ever thought possible—or put Alani squarely in harm's way again?
My Thoughts:
In the olden days, we girls referred to guys like Jackson Savor as head turners. Meaning, if you saw him walking down the street or anywhere else for that matter, the heads of any red blooded female in the general vicinity would turn and jaw drop open. Why? Jackson is not only handsome, he has an innate sensual aura that attracts and ensnares women in droves! Couple his virility with lethal fighting skills? Major. Studly! What I loved about Jackson is that he isn't as polished as Dare Macintosh (When You Dare), and Trace Rivers (Trace Of Fever), but he is rugged, rough around the edges and tends to be a little crude, given his background I felt he was characterized perfectly and these qualities make him all the more appealing.

Ms. Foster weaves a web of danger and intrigue from the opening scene of this story as Jackson awakens feeling extremely ill with a pounding headache, to find Alani Rivers (Trace's sister) beside him, naked in his bed. He has no recollection of what happened between them and according to Alani they shared a night of passion-as in sexual marathon. It's evident Jackson has been drugged, but why, and by whom? Jackson has burned for Alani for a long time and she did not responded to his overtures. He is none too pleased that he can't remember what it was like to be with her. One thing is for sure, now that they have finally been intimate, he intends to keep her close and protect her for as long as he can.
Alani Rivers is a hard working successful interior designer. She is refined and intelligent, and before the kidnapping was very naive, having been sheltered by her over protective brother. It has been a year since her ordeal and while she has endured post traumatic stress symptoms and fear, she has taken refuge in her work. While Alani had dated one other, Jackson is the first man she has been attracted too since being kidnapped. I saw Alani as a strong and determined woman.
Unlike the romances plotted in the first two novels of the series, the relationship between Jackson and Alani heats up early in the story. Theirs is an extremely sensual journey with passion boiling from the pages scalding the fingertips. Jackson is completely comfortable with his sexuality, in addition he has other endearing qualities that earn Alani's trust and love. Alani is a lovely woman with a sharp wit, taking no nonsense which keeps Jackson on his toes.
The thing I liked about all three novels in this series is that once the hero and heroine become lovers they stay together. There is romantic conflict but it has to do with the dangerous work these lethal Alpha males do and the secrets they must keep. That being said I think each of the heroines is unique and strong in her own way and perfect for each of the three mercenaries. Dare and Trace play large roles in Savor The Danger and I loved seeing the interaction between the three guys. The dialogue is the right blend of serious and fun. 😉
Readers learn how Dare, Trace met Jackson and how he came to be a member of the team. The suspense escalates over the course of the storyline and as an insidious threat moves closer readers learn a mysterious woman from Jackson's past is somehow involved. It's evident deadly human traffickers are the cause of the danger but every time I thought I knew what was going to happen, Ms. Foster proved me wrong. I kept experiencing this chilling sense of trepidation while reading Savor The Danger, it was like sitting watching an action movie and wanting to cover my eyes because I was scared of what would happen next. lol
Savor The Danger is sensual, thrilling and action packed, I loved everything about this story, from it's opening scene to it's riveting climax and conclusion. Ms. Foster introduced a couple of very intriguing secondary characters in Savor The Danger and the ending leaves open the possibility for a sequel. I sure hope the series continues because I'm hooked, these books are headed to my keeper shelf.
A special thank you to Deb from Joan Schulhafer Publishing & Media Consulting for sending me the print copies of the Men Who Walk the Edge of Honor series and introducing me to Ms. Foster's work.
I give Savor The Danger – 5 bookies!

Men Who Walk the Edge of Honor Series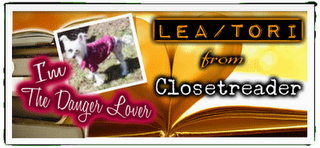 ***FTC Disclaimer: Most books reviewed on this site have been provided free of charge by the publisher, author or publicist. Some books we have purchased with our own money and will be noted as such. Any links to places to purchase books are provided as a convenience, and do not serve as an endorsement by this blog. All reviews are the true and honest opinion of the blogger reviewing the book. The method of acquiring the book does not have a bearing on the content of the review.