Format Read: e-ARC submitted by publisher for review
Length: 268 Pages
Release Date: September 6, 2011
Publisher: Entangled Publishing
Genre: Contemporary Romance
Formats Available: Trade Paperback, Kindle, Nook, eBook
Book Blurb:
Jessica Devlin isn't looking for love. Heartbroken after being dumped by her unfaithful ex-fiancé, she's determined to have a fabulous time during her vacation in England where she'll be maid-of-honor at her cousin's wedding. After working overtime as beauty editor of Orlando's O Tart magazine, avoiding dating, and putting on ten pounds, Jess is ready to toss her past like an empty lipstick tube and party like a single gal.

But when she steps into the church on her cousin's wedding day, she sees the one man who could sabotage her plan—James-Bond-gorgeous Nick Mondinello. She's never forgotten the London marketing exec who held her in his arms after her beloved grandfather's funeral two years ago. Ambitious, and lusted after by women everywhere, Nick is completely wrong for guarded, Plain Jane Jess.

Could Spy Man Nick ever fall for her? Nope. Not unless Jess is one lucky girl.
My Thoughts
Jessica Devlin takes a well earned two week vacation from her position as Beauty Editor of an Orlando based beauty and fashion magazine. She hasn't had the best time of it lately. Stan, her cheating obnoxious fiancé broke off their engagement, wounding her deeply at the time of their rift. In the aftermath of the breakup Jessica has gained a few pounds which adds insult to her injured confidence and self esteem. Despite her troubles Jessica remains upbeat and I have to say, hilariously funny.
Lucky Girl is narrated in the first person from Jessica's POV. What I found extremely clever about the storyline is that Jessica uses Chicky Dee, a character from a (fictitious) old British cartoon called The Adventures of Plucky Penguin as her inspiration to cope with her little foibles.
I swiveled my chair to face my computer. I really should try to add a few more sentences to this article, which seemed to be taking forever. But as I stared at my monitor, waiting for inspiration to return, my gaze slid to the figurine beside my pen holder—an adorable, three-inch-high penguin dressed in a white shirt and tuxedo with tails, holding a bouquet of red roses. Plucky Penguin. A clever spy, and the main character of the old British TV cartoon, The Adventures of Plucky Penguin. Twenty- three episodes had aired before the show was canceled.

Smiling, I picked him up and ran my finger over the cool porcelain. Not a single chip—and I intended to keep him that way. How I loved this figurine and the others carefully wrapped and stowed in a box under my bed. Among them was Plucky Penguin's sidekick, Chicky Dee, a perky female spy penguin with coiffed blonde hair.

Plucky Penguin might have flirted with every bird in sight, but Chicky Dee was the only one he loved. Mistress of ingenuity, she'd wiggled her way out of every nerve-racking situation using her nifty spy-girl gadgets, red-lipped smile, and sharp-as-a-broken-fingernail wits—and saved Plucky Penguin's feather-covered ass more than once.

Lucky Girl © Cate Lord
Chicky Dee is Jessica's subconscious ever present cheerleader, who she calls upon for inspiration and guidance when things get rough. Jessica does tend to be a little neurotic obsessing and stressing about the 'what ifs' on a regular basis, of course her worries never materialize. That being said, her neurotic tendencies do not hold her back from having a good time and upon arriving in Britain Jessica is welcomed by an interesting assortment of family after packing herself into an unbecoming bridesmaid dress. She is a member of her cousin Tilly's wedding party.
It so happens, one Nick Mindinello, who Jessica met years earlier under rather embarrassing circumstances is an usher. Nick is a real head turner, handsome, well educated and polite, a man with whom every female in the vicinity would like to spend time. Jessica refers to Nick as "Sex God. Playboy. Heartbreaker." an assessment that is an assumption on her part. While she considers him a player and certainly not the settling down with one lady kind of guy she isn't opposed to enjoying a fling with said heartbreaker while on holiday. Jessica is determined to throw caution to the wind, morph into her Chicky Dee persona and have a great time. Thing is, Nick proves to be an extremely kind and decent human being, not the shallow playboy she thought him to be. He is the sort of man a woman could fall truly, madly, deeply for. In addition, Jessica learns she and Nick have far more in common than she ever dreamed.
Lucky Girl is set in the small town of Hertfordshire, England and I thought Ms. Lord, did an excellent job of emulating British colloquialisms and lifestyles. Secondary characters of note are Jessica's sweet cousins Charlotte and Anna with whom she bonds for some hilarious girl time. Jessica is a connoisseur of makeup and style, and she is very considerate, sharing her time and expertise with her cousins. She helps Charlotte in particular to entice the object of her desire. 😉
Then there is Casanova the cat, a spoiled feline whose special care Jessica is responsible for as part of her lodging arrangements. Nick demonstrates his true nature in a number of acts of kindness toward Jessica, one in particular involves Casanova. He gradually breaks down her defenses. Conflict certainly arises given these lovers live an ocean apart but an impulsive action on Jessica's part also causes problems between them. Once she returns to America, Jessica believes she will never see Nick again. As it turns out, when all seems quite bleak for a variety of reasons, Jessica discovers she is a very Lucky Girl.
I found Lucky Girl to be an extremely enjoyable feel good contemporary romance that provided numerous laugh out loud moments. In addition, I really liked Jessica's quirky voice and the way she dealt with her various troubles. As for Nick? An awesome Plucky Penguin who is perfect for Chicky Dee.
If you enjoy a fast paced comedic romance that has a Bridget Jones feel, you may like to give Lucky Girl a try.

I give Lucky Girl 4 Bookies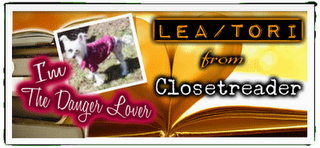 ***FTC Disclaimer: Most books reviewed on this site have been provided free of charge by the publisher, author or publicist. Some books we have purchased with our own money and will be noted as such. Any links to places to purchase books are provided as a convenience, and do not serve as an endorsement by this blog. All reviews are the true and honest opinion of the blogger reviewing the book. The method of acquiring the book does not have a bearing on the content of the review.