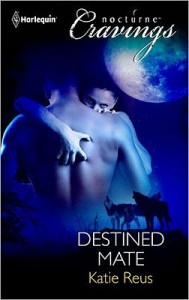 Format Read:
e-Book submitted by Author for review
Length:
Novella
Publisher:
Harlequin Nocturne Cravings
Genre:
Paranormal Romance
Release Date:
October 1, 2011
Formats Available:
eBook, Kindle, Nook
Purchasing Info:
e-Harlequin, Author's Website, Goodreads, Kindle, Nook, Books On Board, Diesel Book Store, Kobo
Book Blurb:
Two hundred years ago, Angela Lavigne and Alpha werewolf Knox had a shared a passion neither could control. Then Angela was turned into a vampire and disappeared.

The last thing Knox expects is for Angela to show up on his doorstep centuries later on a rescue mission, as sexy and irresistible as ever. And he can sense how much she still wants him, too. She's gone against both their species' rules and trespassed on his land. By law he can keep her as long as he wants—and Knox doesn't intend to let her go ever again.

As their desire explodes once again, Knox is more sure than ever that he's must claim her forever. But as vampire and werewolf, they are natural born enemies. Can she truly be his destined mate?
My Thoughts:
Destined Mate has a fast paced opening as vampire Angela Lavigne trespasses on the land of the most powerful werewolf in the United States determined to rescue her best friend who she believes has been taken against her will. I loved the vivid imagery depicting Angela moving at preternatural speed and engaging in combat against werewolves as they attempt to stop her from breaching the Alpha's mansion. The visual of her lightening fast movements as she leaps and gains access to the building was thrilling. Angela is in for a surprise when she is subdued by Knox, her previous lover and the pack's 1000 year old Alpha.
Angela was human when she enjoyed an intense love affair with Knox 90 years previously. During their time together he did not mince words about his hatred for vampires, and Angela witnessed Knox's merciless killing of more than of his enemies. Then she was turned against her will and fled, sure Knox would kill her when he discovered she had become the very creature he loathed. Angela expects Knox to turn her over to his pack members for immediate extermination. She is shocked however when he takes her into his home as a guest.
Knox is larger than life, extremely powerful and now that he has Angela back he has no intention of letting her go. He wants to claim her as his mate but must earn her trust and understand why she fled from him when they last were lovers. I've always liked well written alpha werewolves, they radiate potent, dominate sexuality and Knox certainly fits the description. Angela tries to resist Knox's charms but cannot withstand the attraction of her mate. There is a toe curling scene in this novella depicting Angela feeding from Knox. Destined Mate has a dark highly sensual tone, which is the signature of the Harlequin Nocturne Cravings line.
Katie Reus writes significant conflict into this story as the vampire and werewolf nations have a history of bloody internecine warfare. Over the last decade the two factions had lived in relative peace and a formal treaty was about to take place. When Angela's coven leader, flanked by a legion of vampires, breeches Knox's land on a mission to claim her the fragile peace is threatened. Angela also faces ridicule and racism from Knox's pack when they realize he plans to keep her.
Destined Mate proved to be a fast paced, sensual paranormal romance, which I thoroughly enjoyed. The plot is rife with action sequences and I was very impressed with the vivid descriptions which gave an excellent visual of werewolf shifts and the capabilities of both species. Ms. Reus will be writing a second book in this series and I'm looking forward to the read.

I give Destined Mate 4 Bookies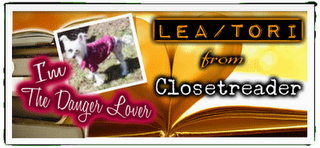 ***FTC Disclaimer: Most books reviewed on this site have been provided free of charge by the publisher, author or publicist. Some books we have purchased with our own money and will be noted as such. Any links to places to purchase books are provided as a convenience, and do not serve as an endorsement by this blog. All reviews are the true and honest opinion of the blogger reviewing the book. The method of acquiring the book does not have a bearing on the content of the review.