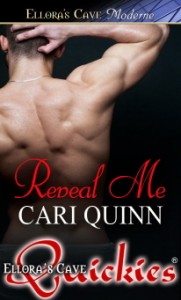 Format Read:
e-Book purchased by reviewer
Length: Novella
Publisher: Ellora's Cave
Genre: Erotic Romance
Release Date: January 19, 2011
Series: Unveiled, Book I
Formats Available: eBook, Kindle, Nook
Book Blurb:
Alana MacGregor craves excitement, but when her sometimes lover dumps her at a popular sex club, she wonders if she's outgrown her live-fast-and-recover-later lifestyle. The last thing she expects is to run into the nerdy guy she rebuffed in high school—or for him to rock her world in ways no other man ever has.
Hot on the trail of a story, Carter Nicholas can't believe his luck at encountering the one woman he's never forgotten. He's come a long way from being a wall-hugging geek. Now he gets all A's between the sheets. But can he convince Alana he's her sure ticket to an unforgettable night…and maybe much more?
My Thoughts:
Cari Quinn's stories were a Twitter find for me when I read rave Tweets about her book Provoke Me, and I'm very glad I followed the breadcrumbs and downloaded Reveal Me, the first book of the series. This novella is a hot erotic published by Ellora's Cave under their Moderne imprint. The novella is also designated as one of the publisher's Quickies which indeed is the case as it was read and enjoyed during my lunch hour.

As the synopsis indicates Alana MacGregor's current relationship with the self absorbed Ramon has ended and their parting words are shared on the dance floor of a sex club called Kink. Alana has lived a pretty fast and wild, love em and leave em life but it's tough when said ex-lover has a bleach blonde waiting in the wings. To make things worse Alana took her vacation to coincide with Ramon's leave and has now wasted precious time off. So, whats a girl to do in a sex club with no partner to have sex with? One answer-head to the bar.
Alana is busy drowning her sorrows when a handsome someone from her high school days enters the picture. Carter Nicholas is a journalist collecting first hand details about the sex club scene for a column. Then he spots the woman he loved when he was in high school and decides to make her the focal point of his research. While Alana encourages Carter's advances, she doesn't acknowledge that she remembers him. You see, Carter (or Nicky as Alana calls him) was the high school geeky boy and she the cool chick. Alana was always on the make for the cool guy and actually used poor Carter in an attempt to make a boyfriend jealous. The virile man who now stands before Alana is anything but a geek! 😉
This is a smoking hot sexually explicit, have the ice water and fan standing by erotic romance. Alana is sassy and completely sexually uninhibited. Readers are treated to an outdoor nighttime erotic scene and Carter comes equipped with glow in the dark condoms and lusty Alana certainly doesn't steer clear of the beacon on this lighthouse tower. 😉
I really liked the author's characterization of these two lovers. While outwardly very self assured and entrenched in an enjoy sex and move on relationship pattern, Alana actually has been questioning her choices and behaviour. She has strong feelings for Carter but doesn't see how things can work out for them. These two have a number of conflicts to work through, Ms. Quinn keeps the plot moving at a good pace and focused on their romance. I felt like I got to know Carter and Alana, understood their issues and wanted to see them happy together.
While we never actually meet Kelly, Alana's best friend, she does have a presence in the story and readers learn a little about the heroine of Provoke Me, the next novel of the series, through Alana's introspection. I found Reveal Me to be a smart, very sexy read and quite enjoyed Ms. Quinn's voice. I'm looking forward to reading more of Cari Quinn's work.

I give Reveal Me 4 Bookies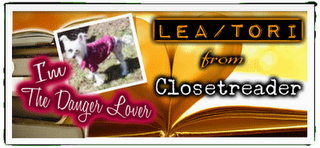 ***FTC Disclaimer: Most books reviewed on this site have been provided free of charge by the publisher, author or publicist. Some books we have purchased with our own money and will be noted as such. Any links to places to purchase books are provided as a convenience, and do not serve as an endorsement by this blog. All reviews are the true and honest opinion of the blogger reviewing the book. The method of acquiring the book does not have a bearing on the content of the review.