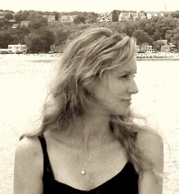 We are very happy to welcome P.T. Michelle here at Book Lovers Inc today. Perhaps some of you know her under herer other pen name- Patrice Michelle. Today she is here to promote her first YA release- Brightest Kind of Darkness. This novel received awesome reviews and well you really shouldn't miss your chance to win your own copy. Please give Patrice a warm welcome.
In the spirit of the Halloween holiday, I'm asking the question, "What scares you?"
While researching this subject, I ran across a blog post about how to scare people on Halloween night written by a guy who runs a Haunted House. He says there are two kinds of approaches to scare tactics: 1) eliciting a "startle" response or 2) evoking a "fight or flight" response. Then he went on to say that most effective strategy is a combo of both. His post got me to thinking…WHY do we go to Haunted Houses and watch scary horror movies? I think it's because we like to be in the dark and jump at the scary parts, but then when we leave the Haunted House or the movie is over, we can celebrate life and be thankful NONE of it was real. Personally, as far as type of scary movie, I prefer ones that focus on building creepy suspense, like The Village, rather than movies like Nightmare on Elm Street. To me, it's the gut-wrenching tension of the unknown that is far scarier than blood and gore slasher movies.

And now, in keeping with the spooky theme of this post, I thought I'd share a scene from BRIGHTEST KIND OF DARKNESS…
**************
After practice, I sat in my car listening to the radio and worrying my bottom lip until it felt twice the size of my upper one. All I'd accomplished during practice was to piss Jody and Coach off. I'd be lucky if I got to play in the next game.
As I watched Jody kick off her flops and pop open her trunk, tension made my shoulders and neck ache. When my cell phone rang, I turned down the radio and welcomed the distraction that kept me from making a final decision. "Hello?"
"How was school?"
I was surprised to hear from Ethan, but my heart ramped at the sound of his voice. "Boring. How'd the roof repairs go?"
"Done."
He sounded tired and relieved. "Now you can come back to boring old school tomorrow."
"School's never boring with you around."
"Ditto," I said feeling warm inside, but my attention snapped back to Jody when I saw her pull another bag and her riding boots out of the trunk. "Listen, I've got to go. I'll see you at school tomorrow."
"Wait!"
I paused. "Yes?"
"I wanted to talk about our history project."
Jody had opened her passenger door and set the bag and boots inside. My stomach churned. "Well…I—"
"I was thinking maybe we should pick a different angle on war than the teacher would expect. The U's library should have resources—"
"Ethan." Jody had opened her car door.
"Yeah?"
"I'm sorry, but I've got something I need to do. We'll talk about this tomorrow in study hall, okay? Bye." I hung up before he could say anything else.
I'd just opened my car door, when my radio's sound bumped up. Frowning, I reached over to turn it off and the digital numbers started flickering in and out. The radio station switched at such a rapid pace that all I heard was a snippet, "Do—" before the station moved again.
"—not."
And another station buzzed in.
"—enter."
Annoyed, I pushed the button, but the radio didn't turn off.
"—ear"
My heart slammed my ribcage and I pounded on the button harder. But the radio kept up its station selection schizophrenia, blaring out in rapid succession.
"Don't."
"Enter."
"Fear."
Freaking, I jerked my keys out of the ignition to cut off the power. Instant silence filled my car, but the hairs on my arms stood on end. I clenched my shaking hands into fists, welcoming the pain as my keys dug into my skin. What the hell?
***************
So what scares you? Is it a sudden startling noise? Is it being alone? Or does the dark scare you? And are there certain movies you absolutely refuse to see? Are there things you refuse to do on Halloween, like go to a Haunted House or trek around in the dark in a corn field maze?
I'm giving away an eBook copy of BRIGHTEST KIND OF DARKNESS, so be sure to leave your answer to my questions in the comments to enter for a chance to win.
Place to find P.T.:
website, blog, twitter, facebook
About the Book:
Nara Collins is an average sixteen-year-old, with one exception: every night she dreams the events of the following day. Due to an incident in her past, Nara avoids using her special gift to change fate…until she dreams a future she can't ignore.

After Nara prevents a bombing at Blue Ridge High, her ability to see the future starts to fade, while people at school are suddenly being injured at an unusually high rate.

Grappling with her diminishing powers and the need to prevent another disaster, Nara meets Ethan Harris, a mysterious loner who seems to understand her better than anyone. Ethan and Nara forge an irresistible connection, but as their relationship heats up, so do her questions about his dark past.
~~~~~~~~~~~~~~~~~~~~~~~~~~~~~~~~~~~~~~~~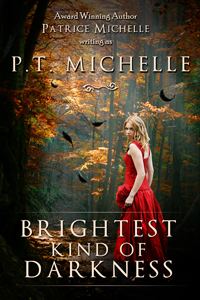 Patrrice has generously offered an ebook copy of Brightest Kind of Darkness to a lucky commenter!
All you have to do is answering her question at the end of her post.
(You can read our full giveaway policy here)
Please leave us a way to contact you.
(Email or twitter name – no way to contact you -> no entry).
This giveaway is open worldwide!
Giveaway ends on 12 November and we will announce the winner on Sunday.
Good luck!