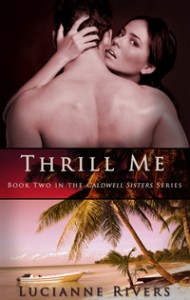 Format Read:
e-book provided courtesy of the publisher
Length: Novella
Release Date: September 3, 2011
Series: Caldwell Sisters Book II
Publisher: Entangled Publishing
Genre: Romantic Suspense
Formats Available: Kindle, Nook, eBook
Book Blurb:
Santa Fe Police Detective Margo Caldwell needs a vacation, but the wild goose chase her mother's death triggers isn't quite what she had in mind. Margo and her sisters must locate their father, or the Caldwell estate will remain unsettled—and they'll never know why their father didn't return from the Gulf War.
Pursuing a lead, Margo heads to the Virgin Islands in search of Zach Caldwell. To navigate the waters of the Caribbean, she needs a boat and a captain. Too bad Captain Adrian Prince, with his mesmerizing muscles and wicked grin, may be gunrunner.
Adrian takes Margo on his delivery route to small islands near St. Thomas that hide more than wildlife, booze, and sexy boaters. On a remote, mangrove-ridden patch of sand, they find gun-toting Zach Caldwell. When their mission turns deadly, Margo must save Adrian's life—and her own—even if she loses her heart in the process.
My Thoughts:
As the synopsis indicates, Margo follows-up on a tip regarding the location of her dad and heads to St. Thomas in the Virgin Islands. Margo is killing two birds with one stone as she hasn't had a vacation in 5 years and is grabbing the chance for some rest and relaxation while looking for her long lost father. This girl is a hard-nosed newly-appointed detective, and is muscular and strong as she has weight trained for years. Couple her physical strength with lethal defense skills and you could see this heroine as being quite masculine, in fact, it is the opposite; she maintains her femininity. Margo has enjoyed many sexual liaisons over the years without forming attachments. I really liked Margo, she is smart, direct and honest.
Margo meets Adrian in the weight room at the resort where she is staying and while she sees potential for a holiday fling her hopes are dashed when his girlfriend enters the picture. However, Margo later witnesses Adrian breaking up with said girlfriend which sets the stage for intimacy.
Adrian owns the Maria a ship that he inherited and utilizes running a shuttle service for tourists. Adrian read as a well adjusted and kind man who enjoys his life on the islands. When his cousin Bill lands in hospital, Adrian agrees to look after Bill's supply ship which services several small and remote islands. Bill does tend to get himself into some scrapes but the extra money is appealing and Adrian feels obliged to help family. What Adrian doesn't know is that Bill has been using his supply ship for dangerous and highly illegal activity.
Margo learns that the man who may be her father is living on one of the remote islands and is referred to Adrian (weight room guy) to shuttle her to said islands. After some negotiation, Adrian agrees to take her along while completing the supply run for his cousin. Of course the smoldering sexual chemistry between these two catches fire leading to shipboard lovin. I was surprised by the sensuality in this novel and enjoyed the twist the author gave to a timeless romance trope. Adrian is certainly strong and brave, a man's man who is quite taken by Margo's direct approach and alpha tendencies. She is a woman who is comfortable with her sexuality, accustomed to being in control.
Things get terrifying when the couple encounters gunrunners on one of the islands who are none too happy with Bill's replacements. This leads to an action packed climax to this story where our heroine risks her life, and saves her lover. In Thrill Me, Ms. Rivers penned an exciting and sensual romantic adventure that I read in one sitting. I loved the role reversal the author incorporated into the narrative. The author took a risk by characterizing her heroine as a tough, take charge female, but she tempered these attributes by giving Margo vulnerabilities and maintained her femininity. Adrian is no push over, he is secure enough in his masculinity to be able to embrace Margo's strength without feeling threatened. As a bonus, against all odds, Margo and Adrian are given a special HEA. 😉
Thrill Me is the second of Ms. River's Caldwell Sisters Series, it was thoroughly enjoyed and I'm looking forward to reading Entice Me, Book III of the series.

I give Thrill Me 4 Bookies
Now Available: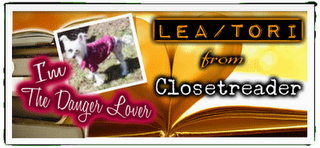 ***FTC Disclaimer: Most books reviewed on this site have been provided free of charge by the publisher, author or publicist. Some books we have purchased with our own money and will be noted as such. Any links to places to purchase books are provided as a convenience, and do not serve as an endorsement by this blog. All reviews are the true and honest opinion of the blogger reviewing the book. The method of acquiring the book does not have a bearing on the content of the review.