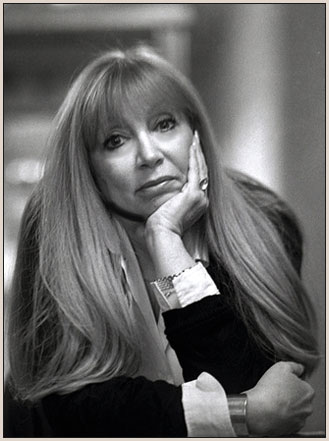 Today we are happy to welcome author M.J. Rose at Book Lovers Inc. She's an international bestselling author of numerous thrillers and mysteries who now decided to actually dare something new. She selfpublished a book full of fan fictions written by a published author. Today she will tell us about her choice to self-publish. Let's give her a warm welcome!
In 1998 I self-published online in order to get a traditional deal.
I was taught to think outside the box. Before my grandfather was one of the original Mad Men, he and a group of other Air Force Intelligence officers formalized brainstorming as a problem solving technique. He taught the concept that creativity can be taught at Buffalo University. My dad invented toys. My mom was a photographer.
So when my agent told me that while publishers loved a lot about my work they couldn't publish it because it was a marketing conundrum — my reaction wasn't to slink off into the sunset.

At the time I'd just left my job as the creative director of a top NYC ad agency to work on the web. I had a few ideas about new marketing. I put my novel on my website as an ebook (in those prehistoric days people read them on Palm Pilots and Rockets). I joined the Advantage Program at Amazon and started selling my book there as a POD book (in those days we called it me going to Kinko's with 20 orders a week.)
It was an experiment. To see if there was a way to market and sell my work using the net. Turned out there was. Sales grew and grew and soon my book was the highest ranked small press title at Amazon.
I thought what I'd done was exciting. Instead I found it was something people expected me to be ashamed of.
My agent was aghast. "Self-publishing is for failed writers," she said.
MWA and The Author's Guild refused to accept me as a member.
My local indie bookseller wasn't even willing to get off a ladder and talk to me face to face about putting a few copies on a shelf.
"I don't look at self-published stuff," she'd said without even turning around. The word stuff was uttered with utter contempt.
I left the store. Stood in the street. It was February. Snow was falling. Big fat flakes landed on my cheeks and mixed with my tears. I didn't get it. In the ad business, iconoclasm was applauded. Being different was better. My friends who were independent filmmakers were praised for going it alone.
Hell, they even had their own film festival.
I hadn't known the club I was trying to get into held fast to the rule that self-published books were crap and any novelist who dared try to do it by herself would only get the back of a bookseller's head and nothing but derision.
As it turned out, I didn't stay self-published for long. My marketing efforts worked, and within three months I had a deal with a New York house and an embarrassment of media attention from the New York Times to the Today Show.
It was an exciting time. There were a lot of us trying new things on the new frontier — Seth Godin, Doug Clegg, Douglas Ruskoff, even Stephen King, to name a few.
Authors — all with traditional deals — were doing non-traditional things; serializing books online, giving away free ebooks and writing original stories for the web to get new readers.
Michael Cader (then a book packager) sold Michael Gerber's self-published Amazon bestseller, Barry Trotter and the Unauthorized Parody, to Simon and Schuster. Brandon Massey (Thunderland), Victoria Christopher Murray (Temptation) and Travis Hunter (The Hearts of Men) all made the jump that same year.
At Wired, Writers Digest and Poets & Writers I reported on the changing digital landscape and wrote about how authors had to become partners with their publishers and publishers had to start treating authors as equals. How authors needed to get involved with the business of being a writer and take charge of their fate.
It's been more than a decade since I put that self-published novel, Lip Service, up on a website. Since then many hundreds of authors have gone from self-published to traditionally published.
How far is the pendulum now going to swing?
Last year Seth Godin announced he would no longer publish with traditional houses and opened his own press. John Edgar Wideman also made news when he went indie.
Self-publishing still entails many things many of us aren't interested in. We would rather not run a business. Don't want to be entrepreneurs. We want the best that a publisher offers.
But that doesn't mean we don't have issues. We do — but that's for another blog post.
This one is about change.
It's taken a long long long time for ebooks to take off. For the price of ereaders to come down. For self-publishing to its lose its stigma.
Now self-publishers have the aura of revolutionaries and are being lauded as heroes, paving the way for freedom.
I'm not sure yet that it will indeed prove to be the kind of freedom that serves us all equally. We're still in the early days on this new frontier. Some will find that traditional venues work better for them. Others will embrace being entrepreneurs or going it on their own.
But I am sure all this potential and possibility is something I never expected we would enjoy when I stood outside that bookstore thirteen years ago, on that cold day, in the falling snow.
~~~~~~~~~~~~~~~~~~~~~~~~~~~~~~~~~~
About the Author:

M.J. Rose, is the international bestselling author of several novels including Lip Service, In Fidelity, Flesh Tones, Sheet Music, Lying in Bed, The Halo Effect, The Delilah Complex, The Venus Fix, The Reincarnationist, The Memorist and The Hypnotist.
She lives in Connecticut with Doug Scofield, a composer, and their very spoiled dog, Winka.
About the book:
IN SESSION from international bestseller M.J. Rose, features the return of Dr. Morgan Snow, in a brand-new story collection!
As a therapist specializing in sexual issues, psychiatrist Dr. Morgan Snow isn't easily shocked, or shaken, as readers of the popular "Butterfield Institute" novels know. There are times, however, when the need for her services leads her out of the office… and into unfamiliar worlds.
In these stories the therapist matches her wits -and her training – against three men of mystery: Jack Reacher, John Rain, and Cotton Malone.
Those characters are, of course, familiar to readers as the creations, respectively, of NYT bestselling authors Lee Child, Barry Eisler, and Steve Berry. All three swore that their characters would never agree to therapy – unless Rose found a way to get then there. And she did.
In EXTENUATING CIRCUMSTANCES with Steve Berry's Cotton Malone, a woman seeks help for her lover, and sends Dr. Snow overseas on a most unusual house call….
DECISIONS, DECISIONS where Barry Eisler's John Rain forces Dr. Snow out of her own comfort zone, and into the world of a former patient's worst nightmare…
And KNOWING YOU'RE ALIVE with Lee Child's Jack Reacher results in revelations for both the injured Dr. Snow, and her unexpected savior/patient…
~~~~~~~~~~~~~~~~~~~~~~~~~~~~~~~~~
Thank you M.J Rose for sharing with us your experience!  
You can leave your question to the author or let us know what you think about Self-publishing. Have you ever read an enjoyed a self-published book? Or are you too scared to try?