Format Read: e-Book purchased by reviewer
Length: Novel
Genre: Sensual Contemporary Romance
Release Date: May 1, 2008
Formats Available: e-book, Kindle
Book Blurb:
Life is rough when you're gorgeous, rich, talented and so sexy that the media won't leave you alone.
It's certainly the truth in Christian Lasher's case. He returns to the neighborhood of his childhood to escape the spotlight, hungering for a change in his creative endeavors. In the midst of his soul searching he meets Megan and is captured by the tantalizing hint of her hidden fires. Megan knows nothing about his wild, rebellious youth or his career as a rock star—and Christian would prefer to keep it that way.
There was much, much more to her than the role of a fragile victim.
Megan Shreve is a sculptor with creative depths and passions that tragedy had forced into the shadows. When she looks into Christian's eyes she sees herself for the first time as an exciting, sexy woman. She longs to discover more of herself in Christian's arms and in his bed.
Two passionate souls destined for one another—unless the stifling roles imposed by tragedy and fame rip them apart.
My Thoughts
Megan Shreve teaches art at St. Catherine's a Chicago area parish school. A talented sculptor, she also teaches sculpting at a local gallery and uses the facility to work on her own pieces. When she was 3 years old, Megan was sexually abused while being cared for in a day care facility. The sexual predator was caught and brought to justice but the experience left Megan's family a shambles. She has lead an extremely sheltered existence, protected by a mother and sister who fear if Megan is ever in a relationship the horror of what happened to her will return. Megan has no recollection of being abused. She is a beautiful, sensitive human being, who because of the well-meaning, but over protective interference of her family has never seen herself as a sexual being.

Famous rock star Christian Lasher has returned Chicago for a sabbatical during a stressful, painful period of his career. A talented composer Christian rose to fame as the lead singer of his extraordinarily popular band Lasher Down. The group played to sold-out concert halls all over the world and Christian enjoyed a lifestyle that comes with being rich and famous. I love rock star heroes who have lived wild and matured from the experience. Christian is handsome and has a seductive aura that would attract even the most conservative and sophisticated of women. He has loved and lost, endured the scrutiny of the press, and he now longs to change musical direction. While making final plans to perform at an annual parish festival Christian is introduced to Megan Shreve, and he is drawn to her innocent softness like a moth to a flame. Christian has no idea of the tragedy surrounding Megan's childhood.
Christian had seen Megan with a young child in his condominium lobby and thinks she is married with a daughter. He doesn't get involved with married women so at first considers Megan taboo. When he later learns the little girl is Megan's niece, he makes it his mission to spend time with her. I found Beth Kery's portrayal of Megan extremely moving, she is so innocent and full of wonder at the first stirring of passion when Christian touches and kisses her.
His mouth was gentle, firm and very persuasive. He used it to fully discover the shape and nuances of her lips. He sipped, he nibbled, he sucked at his leisure. His mouth slanted unevenly over hers, sandwiching and caressing first her upper lip and then her lower lip. A cry caught in Megan's throat when he bit with exquisite care and dragged his white teeth over the sensitive skin of her lower lip.

"Open."

"What?" she murmured dazedly.

He took very un-gentlemanlike advantage when her lips parted to form the question. His tongue delved into the wet, sweet cove of her mouth, searching, seeking, stroking. The kiss became hot, insistent.

Gateway to Heaven © Beth Kery
At first Christian is full steam ahead to make Megan his, but respects her need to move slowly regarding intimacy. She doesn't know he is a famous rock star. Trouble and difficulty arrives when Megan's sister discovers who she is seeing. Hilary has Megan's best interest at heart when she interferes and confronts Christian who she sees as a womanizer out to use and abuse her fragile sister. When Christian learns about Megan's childhood he is beyond devastated, the wedge driven between them seems irreparable.
I thought Beth Kery's characterization of Megan was exemplary. Megan recognizes she is naïve regarding men and relationships but she is wise in many respects. It was wonderful to see her blossom, speak her mind regarding her needs and stand-up to her family. She develops an understanding of Christian's moods, that at times were unpredictable. Christian is awed by her strength and sensitivity. It was also wonderful to see Megan move past being defined as a victim, a tragedy to a beautiful, sexy and talented woman. Ms. Kery develops complex characters and weaves them into relationships that always provoke significant emotion.
There are a number of strong secondary characters that assist to advance the plot of Gateway to Heaven, most notable is Christian's wonderful mother, Caroline whose advice supports both her son and Megan over some very rough spots. Hilary, despite her meddling proves to be a good and caring person who eventually recognizes and accepts that Christian Lasher does love her sister. Christian's good friend Vic, a talented musician and bandmate. As for Megan's mother? Well that is a whole other issue.
I first read Gateway to Heaven about a year and a half ago and it earned it's way to my keeper shelf. In fact, it is one of my comfort reads that I've enjoyed at least 3 times. If you like an extremely sensual, emotional contemporary romance, you may like to give Gateway to Heaven a try. 😉

I give Gateway to Heaven 5 Bookies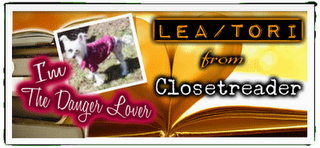 ***FTC Disclaimer: Most books reviewed on this site have been provided free of charge by the publisher, author or publicist. Some books we have purchased with our own money and will be noted as such. Any links to places to purchase books are provided as a convenience, and do not serve as an endorsement by this blog. All reviews are the true and honest opinion of the blogger reviewing the book. The method of acquiring the book does not have a bearing on the content of the review.